Quick Comparison Table
| | Ingersoll-Rand 429 | Chicago Pneumatic CP7901 | Astro Pneumatic 930 | Chicago Pneumatic CP7900 | AIRCAT 6350 | Ingersoll-Rand 4429 | SP Air Corporation SP-7610 | Ingersoll-Rand 529 |
| --- | --- | --- | --- | --- | --- | --- | --- | --- |
| | | | | | | | | |
| Price | $ | $ | $ | $ | $ | $ | $ | $ |
| Dimensions | 1.32 lbs | 1.9 lbs | 12.3 lbs | 1.68 lbs | 1.12 lbs | 1 lbs | 1.3 lbs | 1.5 lbs |
| Weight | 2.7 x 10.1 x 3.3 in | 8.7 x 2 x 2.4 in | 9.5 x 2 x 3 in | 9.5 x 6.8 x 2.7 in | 8 x 1.5 x 2.2 in | 13.5 x 2.7 x 6 in | 8.2 x 2 x 1 in | 12 x 3 x 2 in |
| Power Source | Air-powered | Air-powered | n/a | Air-powered | Air-powered | Air-powered | n/a | n/a |
| Warranty | 1-Year Warranty | 1-Year Warranty | n/a | 1-Year Warranty | 2-Year Warranty | 1-Year Warranty | n/a | n/a |
| Amazon FREE Shipping | | | | | | | | |
| | | | | | | | | |
How to Select the Best Air Reciprocating Saw?
---
An air reciprocating saw, otherwise known as air sawzall or a pneumatic reciprocating saw, is a tool that utilizes an air compressor to power the push and pull motion of a blade. Due to its light base and ergonomic handle for grip, an air sawzall is extremely easy to control. Whether you're into home-improvement projects, carpentry, or even exhaust work, this buying guide will break down the best air reciprocating saw for your job.
Air Reciprocating Saw Uses
The versatile air reciprocating saw is useful in a wide array of projects. Its air powered blade means it quickly glides through materials like sheet metal, plastic, panel, fiberglass and aluminum. Making it an effective tool for professional projects like body shop repair, or sunroof installations. However, it is not to be used on masonry and concrete. If you are looking for a tool for this purpose an electric reciprocating saw might work for you.
Efficiency
There are many variables to take into consideration when choosing the right air reciprocating saw. The best models have an ergonomic design, high strokes per minute, multiple speeds, safety lock, vibration reduction, and an adjustable blade guide.
Even the cheapest air reciprocating saw has a higher number of strokes per minute when compared to the electric reciprocating saw. When looking to purchase, keep in mind that a quality air reciprocating saw should deliver approximately 9,000-10,000 strokes per minute.
With the absence of an electric motor, the air reciprocating saw is light, easy to control, precise, and more powerful than an electric saw. Not to mention its small stature allows for the tool to maneuver in small crevices.
Safety And Maintenance
A quality air reciprocating saw should be designed in a way that protects the user from the blade. With this being said, security precautions should be taken when using such a powerful tool.
Equip air reciprocating saw with the appropriate blade for the job.
Users should always wear protective equipment: gloves, hard hat, eye protection, apron, etc., when operating the saw to ensure safety from things like flying debris, dust, and fumes.
Power saws should not be used under the influence of drugs, alcohol, etc.
No jewelry or loose clothing should be worn when operating because it may get caught in machinery.
Proper foothold and balance should be maintained at all times.
Hold machine tight and use proper clamps and vises when operating.
Ensure air pressure does not exceed maximum level specified by the manufacturer.
Never use the flexible hose as a lifting handle.
To avoid injury, the saw should never be directed at yourself or anyone else because of high amounts of concentrated air pressure.
Switch off the air reciprocating saw when finished.
To keep working properly and at its best, the air reciprocating saw should go through regular checks of both speed and vibration. When doing so, make sure to:
Clean saw and retainer seat.
Use cleaning solvents that meet the current safety and health standards in a well-ventilated area.
Check oil and level and fill up oiler if necessary.
In every 60 hours of use, check striking mechanisms, friction bearings, and antifriction bearings.
In every 300 hours of use, grease the gears and antifriction bearings.
Inner parts should be lubricated after extended use to prevent rust.
Replace and/or repair damaged parts.
Store in a dry room.
Features of Air Reciprocating Saws
There are many brands of air reciprocating saws and each one includes unique features. With so many options on the market, selecting a tool can seem overwhelming. So what features should you consider when choosing the best option for you? Things like speed, safety, strength, quality, reliability, fair price, and smooth performance are a must. Below are four additional features to consider before making the big purchase.
Safety lock throttle
A safety lock throttle is a great feature for anyone looking to add additional security measures as it prevents the tool from accidental startup. Whether you have a young child, multiple employees, or are just looking for extra protection, this feature may give you just what you need for peace of mind.
Adjustable Blade Guide
To extend blade life, reduce blade friction, and improve cutting accuracy an adjustable blade guide can help. It isn't necessary, but it is useful if you want an air reciprocating saw that achieves smoother cuts. It can also aid in better overall performance, quieter operation and less wasted materials.
Vibration Reduction
For long periods of operating time, vibration reduction can help make your project easier. This feature is great for reducing hand fatigue, and the best models on the market can even decrease vibration by more than 88%. If you want to purchase an air reciprocating saw for professional purposes, this mechanism will drastically eliminate the chances of incurring vibration shock injuries, not to mention decreasing wear and tear on the joints, and boosting comfort.
Speed Control
Speed control is extremely beneficial for someone who is looking to purchase an air saw for more than one purpose. This feature would allow you to use the maximum speed for quick cuts or decrease strokes per minute to perform a more precise job.
Reviews of 8 Top Rated Air Reciprocating Saw Reviews
---
1
Ingersoll-Rand 429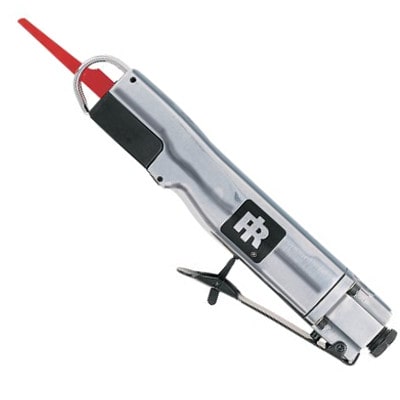 Pros:
This powerful air reciprocating saw scores 4 ½ stars online, making it one of the best tools for sale.
Ingersoll-Rand 429 produces a whopping 10,000 strokes per minute.
It also contains a vibration reduction mechanism for easy use, and includes both a positive blade retainer and adjustable blade guide.
It is made to withstand heavy-duty projects and cuts on flat and curved surfaces.
Cons:
On the negative side, the tool is a bit more pricey in comparison to some other models.
Also, in order to exchange the blade, the entire cover must be removed.
The Ingersoll-Rand 429 sometimes binds when used on metal and steel, and the included model manual contains little information on how to setup and maintain the saw.
six HSS blades
two hex wrenches
Heavy duty
Includes adjustable blade guide
10,000 strokes per minute
Cuts through a wide array of materials
Vibration reduction
Comes with six blades
Good for both flat and curved surfaces
Safety lock throttle
Like anything, the Ingersoll-Rand 429 has both positives and negatives. Although the price is higher than other air operated saws on the market, and it is a hassle to change out the blade – the good still undoubtedly outweighs the bad.
With its high strokes per minute, heavy duty machinery, vibration reduction, and adjustable blade guide, it makes it a safe and easy option for even the toughest of materials. If you're looking at an air powered saw to use for an extended period of time for things like body shop repair, muffler, or exhaust work, this might just be the best deal for you.
2
Chicago Pneumatic CP7901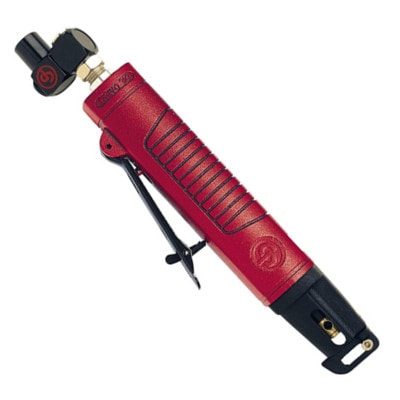 Pros:
The Chicago Pneumatic is loaded with all the essential features one needs in an air reciprocating saw.
Not only does it operate at 10,000 strokes per minute, but it also comes with a safety lock throttle to prevent users from accidental startups, is comfortable to handle due to its swivel, and includes an adjustable blade guide.
Cons:
With any positives do come negatives, and the power tool does have a few drawbacks.
The price of the Chicago Pneumatic is extremely high when compared to other tools which offer the same benefits.
Despite the high price tag, the tool is sold separately from the blades.
In addition, the air saw is not equipped with vibration reducing technology which is necessary for long-term projects.
1-year warranty.
Heavy duty.
10,000 strokes per minute.
Adjustable blade guide.
Safety lock throttle.
Ergonomic design.
Comes with a swivel.
All in all, the cost is high but the product is great. The Chicago Pneumatic falls under the saying "you get what you pay for." It may set you back, however, it comes with most of the features you need; high strokes per minute, safety lock throttle, heavy duty wear, and dependability.
With this being said, if you are working for long periods of time, a different option might be better suited to your needs as the air saw does not come with a vibration reduction mechanism.
3
Astro Pneumatic 930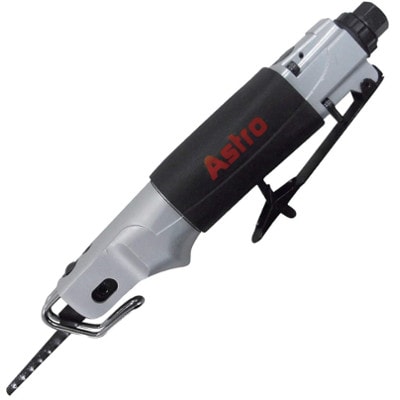 Pros:
Cutting with ease, the Astro Pneumatic securely lands in the top 8 pneumatic reciprocating saws.
It quickly slices objects both flat and curved whether it be aluminum, plastic, fiberglass, or sheet metal.
The Astro Pneumatic 930 is priced between $60 to $80 which is affordable for all of the features it includes, it also comes with five blades to make the deal even sweeter.
Cons:
Although still powerful, this model produces only 9,000 strokes per minute which is lower than some of its other competitors.
It also does not come with safety lock throttle nor a vibration reduction so it may take its toll on the hand and joints if used for prolonged periods of time.
Five blades and the tool.
Flat and curved surfaces
9,000 strokes per minute
Lightweight
Affordable
Adjustable blade guide
Blades included
If you want to buy a low-cost air powered saw to see if it is right for your needs, Astro Pneumatic 930 may be a good choice. It is priced low despite the fact it comes with five blades, 9,000 strokes per minute, an adjustable blade guide, and cuts smoothly on a wide array of materials.
While these features are promising, Astro Pneumatic has lower strokes per minute than other air powered tools on the market and lacks a vibration reduction mechanism. In addition the absence of a safety lock throttle may be a disadvantage.
4
Chicago Pneumatic CP7900
Pros:
Chicago Pneumatic CP7900 is one of the more affordable models on this list.
It comes with three replacement blades and is packed tightly with features despite its small ergonomic design.
On a positive note, the adjustable guard, safety lock throttle, and 10,000 strokes per minute makes for a top-rated tool. Uniquely enough, the rear exhaust even directs air away from the work area.
Cons:
On the other hand, the tool does not come with vibration reduction, speed control, or an adjustable blade guard.
Tool and three replacement blades are included.
10,000 strokes per minute
Ergonomic design
Adjustable guard
Well-priced
Replacement blades (3) included
Safety lock throttle
Air directed away from work area
The Chicago Pneumatic CP7900 has tons of features wrapped up in one great price. The versatile tool comes with three replacement blades of different tooth measurements and promises to cut through materials with ease.
Though it does lack some features necessary for easy, reliable handling like vibration reduction and an adjustable blade guide – what it does have, a lock off throttle, blade guard, and rear exhaust that directs air away from the project.
5
AIRCAT 6350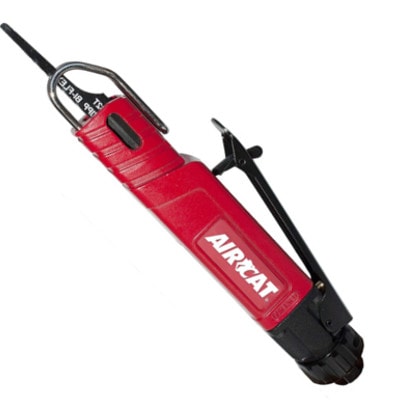 Pros:
With the AIRCAT 6350 low vibration saw you won't have to be worried about reliability.
With the affordable price, the tool comes with a two-year warranty which is twice the industry standard, so it's made to last.
The AIRCAT comes with two blades, and has many features including vibration reduction, rear exhaust, and an adjustable blade guard.
It cuts up to ⅜" steel and doesn't weigh much.
Cons:
For the cons, the AIRCAT 6350 does not come with safety lock throttle.
Tool, two blades, and a two-year warranty.
Vibration reduction
Lightweight
2 year warranty
Affordable
Adjustable rear exhaust
9,500 strokes per minute
Industrial use
Blade guard
Blades included
No plastic parts
With such low vibration, the AIRCAT 6350 shocks in its industrial power. The fact that the air sawzall comes with a two-year warranty is a also a plus, as you don't have to stress about buying and replacing a new saw if this one were to break. For all the features included above, the tool is extremely well-priced. The only drawback is that the AIRCAT 6350 does not come with a safety lock throttle.
6
Ingersoll-Rand 4429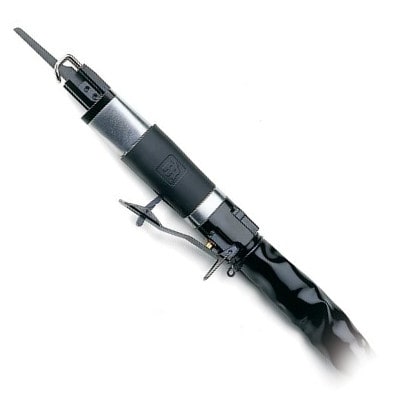 Pros:
The Ingersoll-Rand 4429 is moderately priced. It comes with a one-year warranty and six blades.
It has a good vibration reduction mechanism, an adjustable guard, a safety lock throttle, rear exhaust which directs air and debris away to make for a cleaner work area.
The saw works well on a wide variety of different materials. It also has a comfortable grip for increased control. This model is also very quiet while operating.
Cons:
A considerable drawback for this particular model is that it only produces about 5,750 strokes per minute which is significantly less than all of the pneumatic reciprocating saws on this list.
Sometimes the Ingersoll-Rand 4429 does come with a known defect; the drive piston is known to break extremely easily when used on tough materials.
Tool, six steel cutting blades, and a one-year warranty.
Rear exhaust
Good for heavy duty projects
Safety lock throttle
Grip
Vibration reduction
Adjustable guard
Reasonably priced
One year warranty
Blades included
Lightweight
If you desire an air sawzall for sheer power, this may not be the one for you. The cutting speed very low when compared to similarly priced models on the market. However, it does come with multiple features that make it extremely easy to use and handle, such as the comfortable grip, vibration reduction, safety lock throttle, and rear exhaust. In the end, the decision to purchase comes down to what you value most — power or comfortability.
7
SP Air Corporation SP-7610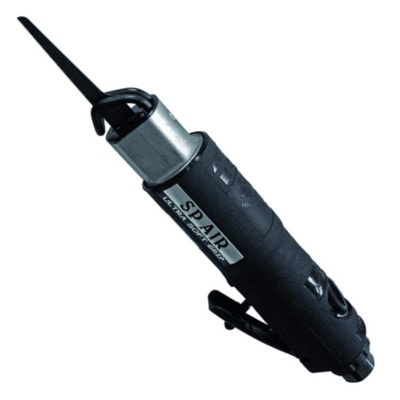 Pros:
Different from other pneumatic reciprocating saws on our list, the Air Corporation SP-7610 is gear driven so it exerts more power, but still maintains a low vibration.
It comes with a safety lock throttle, blade guide, air regulator, and rear exhaust.
Cons:
The manual for the Air Corporation SP-7610 contains little information about setup which can give newbies a hard time when trying to operate and exchange blades.
The product is also expensive, despite the fact that it comes with no blades and has a low cutting speed of 5,300 strokes per minute.
Tool, warranty available from manufacturer upon request.
Heavy duty
Rear exhaust
Safety lock throttle
Blade guide
Air regulator
Gear driven
With a high cost, the Air Corporation SP-7610 may not be the most affordable tool on the market, while exerting 5,300 strokes per minute. What it does have going for it is the unique air motor and gear driven design as well as the essential features; rear exhaust, air regulator, blade guide, lock off throttle.
Due to its extensive vibration reduction, the model is a good option for someone looking to use an air sawzall for a long period of time on material such as steel, rubber, FRP, and resin.
8
Ingersoll-Rand 529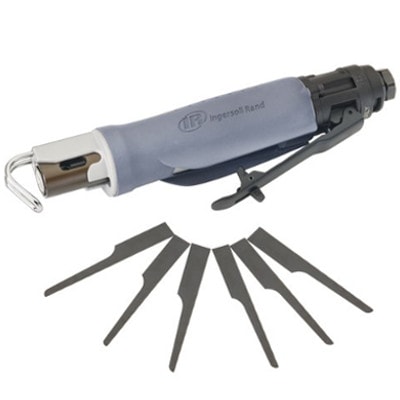 Pros:
The Ingersoll-Rand 529 has most of the essential features one needs; it is light in weight, easy to grip, contains six blades with purchase, and exerts 9,500 strokes per minute.
It also promises to drastically reduce hand fatigue by almost eliminating vibration with their patented technology by more than 88%.
Cons:
It is priced higher compared to other models with similar features, and does not come with a safety lock throttle, nor a speed control, and the manual is hard to follow.
Lightweight
Adjustable rear exhaust
Vibration reduction
Grip for easy handling
Blades included
9,500 strokes per minute
Being quite pricey, the Ingersoll-Rand 529 will set you back. Essentially, you are paying for the features making the use easy: patented vibration reduction technology, rear exhaust, small weight and comfortable grip. In addition the tool is efficient in terms of both cutting and air consumption. However, it lacks speed control and a safety lock throttle.
Where to Buy Air Reciprocating Saw?
An air powered sawzall can be easily found both in store and online. However, the best deals are always available online through reputable websites like Amazon, Ebay, and Walmart.
Leading Air Reciprocating Saw Brands and Manufacturers
Ingersoll-Rand
Chicago Pneumatics
Astro Pneumatic Tool
Ampro Tools

Harbor Freight Tools
Sioux Force Tools
Florida Pneumatic
Price Ranges of Air Reciprocating Saws
The cost of a pneumatic reciprocating saw can vary anywhere between $30 to $400. A more notable brand generally indicates a higher price, but cost also depends on design quality and type of work needed. Even the least expensive model can still deliver 10,000 strokes per minute so it is important to focus on features rather than brand name alone.
FAQs
What is a pneumatic reciprocating saw?
A pneumatic reciprocating saw is a tool that is powered by air to generate the push and pull motion of a blade. It is generally light, and equipped with an ergonomic handle for easy extended use. The power tool can effortlessly slice into metal, plastic, fiberglass, aluminum, and more. There are many variants of the air sawzall so it can handle both heavy duty and intricate projects.
How to cut with an air sawzall?
Before use make sure blade is acceptable for the job at hand. Make sure to tighten screws while installing and securing it in the blade holder.
Ensure each piece on air reciprocating saw is secure.
Choose proper blade speed.
Start up the saw and slowly bring the tool to the workpiece.
Use clamps or vices if needed to secure workpiece.
Allow blade to cut through material, do not remove until blade comes to a complete stop.
Where do I find air to power a pneumatic saber saw?
The air to power the pneumatic saber saw is produced by an air compressor that is sold separately from the device. This compressor runs off of either electricity or gas and can be found almost anywhere that the tool itself is purchased. Stores like Amazon, Ebay, and Walmart all carry air compressors.
Related Guides