Quick Comparison Table
| | SKILSAW SP770WM-01 | BOSCH 1661K-RT | SKILSAW SPT77WML-01 | SKIL 5280-01 | DEWALT DC5391B | BOSCH CCS180B | PORTER CABLE PCE300 | RIDGID 2RR3205 | TACKLIFE PES01A | TECCPO TACS22P |
| --- | --- | --- | --- | --- | --- | --- | --- | --- | --- | --- |
| | | | | | | | | | | |
| Price | $ | $ | $ | $ | $ | $ | $ | $ | $ | $ |
| Motor | 15 Amp dual-field motor. | 14.4 volt motor. | 15 Amp motor. | 15 Amp motor. | 20 volt motor. | 18 volt motor. | 15 Amp motor. | 15 Amp motor. | 12.5 Amp motor. | 10 Amp, 5800 RPM motor. |
| Operating speed | 4,700 RPM operating speed. | 3600 RPM operating speed. | 5,300 RPM operating speed. | 5,000 RPM operating speed. | 5,250 RPM motor. | 3,900 RPM operating speed. | 5500 RPM operating speed. | 5,800 RPM operating speed. | 4,500 RPM operating speed. | 5,800 RPM operating speed. |
| Diameter | 10 1/4" blade diameter. | 5 3/8" blade diameter. | Not specified | 7 1/4" blade diameter. | 6 1/2" blade diameter. | 6 1/2" blade diameter. | 7 1/4" blade diameter. | 7 1/4" blade diameter. | 7 1/4" blade diameter. | 7 1/4" blade diameter. |
| Amazon FREE Shipping | | | | | | | | | | |
| | | | | | | | | | | |
How to Select the Best Circular Saw?
---
Circular saws are often referred to as skill saws. This name was originally associated with the Skil brand of circular saws and later became a common term for any circular saw. Although Skil is a leading brand of circular saws, there are many brands of this power tool with various features
This buying guide will review and make comparisons between different top-rated circular saws. The guide will also describe types, sizes, efficiency, and features of circular saws in general and we will discuss safety and maintenance as well.
Circular Saw Uses
Circular saws are mainly used for framing and woodworking but also to cut metal, and steel. They can make cross cuts, lengthwise (rip) straight cuts, and bevel cuts. With the appropriate blade, circular saws are sometimes used for small concrete, masonry, or tile-cutting tasks. However, it's strongly recommended to use a saw made specifically for these materials, such as a reciprocating saw, tile saw, or concrete saw.
Types and Sizes of Circular Saws
Corded vs. Cordless
Circular saws are available as corded and cordless models. You can buy a corded saw alone or in a kit with some accessories. Cordless saws come in kits with a battery and charger or as a bare tool for use with a compatible battery from another tool you have on hand. Buying a bare tool is also beneficial if you want to purchase a battery of a certain capacity. Both types of saw have their advantages and disadvantages.
Corded saws put out more power for the same price as cordless models, and they're lighter in weight because they don't have a battery. Also, with a corded saw, you don't have to worry about charging and changing batteries. A few downsides to corded saws, however, are that you need an outlet nearby and you could accidentally cut through the cord.
One advantage to cordless saws is that there's no risk of electrical shock. Another plus is that you can work wherever you want without being near an outlet. The disadvantages of cordless saws involve price and convenience. Generally, you'll pay more for a cordless saw than for its corded competitor of similar power and quality. Your tool will weigh more, so it could be more cumbersome than a corded model. Batteries charge down especially quickly with this type of power tool, so you may have to stop your work to place the battery in a charger and install a backup.
Worm Drive vs. Sidewinder and Hypoid
Three types of circular saws are the worm drive saw, the hypoid drive, and the sidewinder. The gear design is different for each type, which affects power and functionality.
Heavy and bulky, the worm drive saw has lots of torque for cutting wet lumber, thick plywood or sometimes even making small cuts in concrete. It's especially good for making rip cuts in hardwoods. With the motor on the right and the blade on the left, it's easier to see the cut line and easier for right-handed people to use. The handle sets toward the rear of the saw, which lengthens your reach and lessens risk of injury from kickback.
The hypoid drive is very similar to the worm drive, but it has a fine-toothed, heat treated spiral bevel gear that makes for a more powerful, cooler-running and quieter mechanism. The hypoid gear is factory-lubricated and sealed, which eliminates the need to lubricate.
Both worm and hypoid drive models offer a better stability during straight rip cuts. Despite being heavier than sidewinder circular saws, they may be easier to control when the precision of the cut is important.
The sidewinder (or direct drive) saw's motor is usually positioned on the left side of the blade, which makes this type of saw more convenient for left-handed users. This saw is more compact, so it's easier to handle for most people. Sidewinder saws have a spur gear that makes the blade spin faster but with less torque than worm drive or hypoid saws.
The lack of torque may result in the blade bogging down while working with hard materials.These saws are good for cross cuts in softer woods. Since sidewinders are lightweight, they're also good for overhead cutting. For most do-it-yourselfers, the sidewinder saw is sufficient and is best for beginners, whereas the worm and hypoid drive saws are more commonly used in the construction and industrial trades.
Compact Skill Saws
Often there's a need for compact saws to make vertical cuts in items like rafter tails or for cuts in tight spaces. Compact saws, often called trim saws, are any circular saw with a blade diameter smaller than 6 1/2". You can buy small, one-handed trim saws designed for maneuverability and ease of use. Because of their light weight, your arm won't tire out with prolonged use of a handheld trim saw.
Wood vs. Metal Cutting
You might wonder if you can use your wood-cutting circular saw to cut metal. Manufacturers make metal-cutting blades that fit on wood-cutting saws. But using a wood saw for metal isn't the best idea. There are design differences between wood-cutting and metal-cutting circular saws that show why you should use each one for its intended purpose.
Metal can't be cut as fast and aggressively as wood; therefore, metal-cutting circular saws use smaller diameter blades (5 3/8" to 5 7/8") to achieve fewer RPMs (revolutions per minute) for a slower, smoother cut. Wood-cutting saws can use larger diameter blades (5 1/2" to 7 1/4"), which translates to higher RPMs of the blade. Higher RPMs contribute to less control and more flying sparks and metal chips. Metal-cutting saws also have a closed housing to protect the motor itself from metal particles.
Wood-cutting saws have an open housing, which allows metal particles to get inside and possibly damage the motor. Metal saws have a built-in collection bin for metal debris, but wood saws have a dust port to blow or extract particles away from the saw. Metal chips and dust blowing around your workspace when using a wood saw to cut metal present an obvious safety risk. Metal saws usually have a shield to deflect metal particles; wood saws have no such feature.
Therefore, you should use a metal-cutting circular saw for metals and a wood-cutting saw for wood. Because metal-cutting saws are more expensive and less versatile that wood-cutting saws, users going for the best budget sometimes opt to install metal-cutting blades on wood saws. If you choose to do this, do it only occasionally and with great caution to cut thinner, non-ferrous metals like copper, brass, aluminum, and lead.
Efficiency
Power & RPMs
The power of a cordless circular saw is signified in volts, and the power of corded saws is indicated in amps. The higher the amps or volts are, the greater the power is. The speed at which a circular saw blade rotates is indicated in RPMs. The RPMs a manufacturer signifies for a particular saw actually depends on the blade diameter.
A saw with a larger blade will cut faster because more teeth go through the material with each revolution of the blade. A different saw running at the same RPMs but with a smaller blade will cut slower because fewer teeth pass through the material with each turn of the blade. So if you're comparing saws on the basis of power output and RPMs, compare only saws that use the same size blades.
Depth of Cut
Depth of cut or blade capacity refers to the maximum depth of cut a saw can make. Blades with a large diameter have a greater depth of cut and, therefore, more cutting capacity. Circular saws have an adjustable base to allow the depth to be changed to accommodate the thickness of material you're cutting. To adjust the depth, release the base lock lever, set the blade to the desired depth, and then lock the base again. There's often a graduated scale near the lock lever to set your blade at various depths.
Features
Electric Brake
Many circular saws have a manual brake that's pressed to slow the blade. However, some models have an integral electric brake that reverses the flow of electricity when the power trigger is released. This automatically slows the momentum and stops the blade quickly.
Bevel Angle
The bevel adjustment allows you to tilt the base of your circular saw to a specific angle for making bevel cuts.
Laser Guide
A laser guide comes on when you press the trigger of the saw and projects a straight beam of red light onto your workpiece to help you make a more accurate cut.
LED Light
Many saws come with an LED light to illuminate your work. Some models have LED lights that can be adjusted for desired intensity.
Safety
As with any power tool, you should follow basic safety guidelines when operating a circular saw, whether it's cordless or corded. Before operating your saw, always put on protective gear, such as shatterproof glasses or goggles, an approved respirator, and ear muffs, and change blades or set blade depth only with the saw unplugged. Also, never set blade depth more than 1/8" beyond the thickness of the material you're going to cut.
While cutting, keep the cord clear of the saw, make sure the retractable guard is in place, and use two hands. Always use the right blade for the piece you're cutting, and make sure your workpiece is held securely. Don't overreach when making cuts. Don't twist the saw while cutting or force the blade through your workpiece. Never use your circular saw in a wet or damp environment.
Maintenance
It's important to keep your circular saw well-maintained to make it last longer, perform better, and keep you safe while using it. The following tips will help keep your saw in good working order.
Inspect the cord for nicks and cuts and repair if damaged. For cordless saws, make sure batteries are damage-free and fit properly in the saw. Make sure the blade and guard move freely. Check the housing for cracks or loose screws. Be sure the blade bolt is properly tightened. Clean air vents with an air hose at low pressure. Lubricate gears if necessary. Wipe down the saw body with a damp cloth. Store your saw in a clean, dry place.
Reviews of 10 Top Rated Circular Saws
---
1
SKILSAW SP770WM-01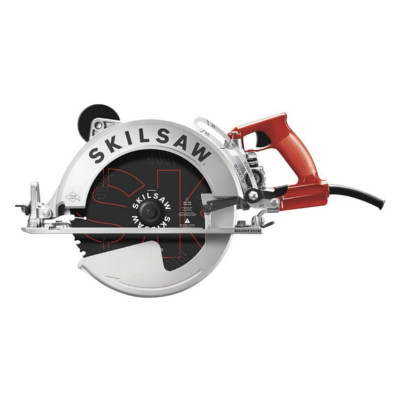 Pros:
Left-side blade can provide better line of sight for right-handed users.

Easily cuts thick material.

Good for cutting hardwoods.

Easy to handle.
Cons:
Heavy and bulky.

Somewhat expensive.
Circular saw.

40-tooth carbide-tipped blade.

Auxiliary handle.

Wrench.

Manual.
15 Amp dual-field motor.

4,700 RPM operating speed.

10 1/4" blade diameter.

Worm drive.

Anti-snag lower guard.

51° bevel.
This worm drive circular saw is capable of cutting through 4x4s in one pass. Its dual-field motor ensures power and durability, and the anti-snag lower guard provides smooth cutting for small cut-off pieces. At over $300, it's not cheap, but this best-rated saw could be well worth the price for the power, productivity, and long lifetime you'll get from it.
2
BOSCH 1661K-RT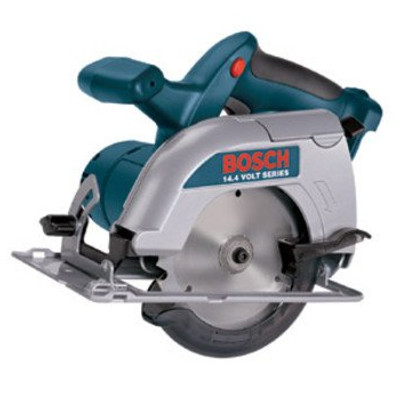 Pros:
Provides good control.

Lightweight.

Quiet .
Cons:
n/a
Battery.

Charger.

Rip fence.

18-tooth carbide-tipped blade.

Carrying case.
14.4 volt motor.

Sidewinder (direct) drive.

5 3/8" blade diameter.

3600 RPM operating speed.
This Bosch cordless circular saw is quiet, and it gives you smooth cuts with plenty of power from its 14.4 volt motor. This saw's smaller size and light weight allows you more versatility to make cuts in awkward or tight spaces. The kit includes a handy rip fence and a carbide-tipped blade, but you'll have to buy a backup battery separately.
3
SKILSAW SPT77WML-01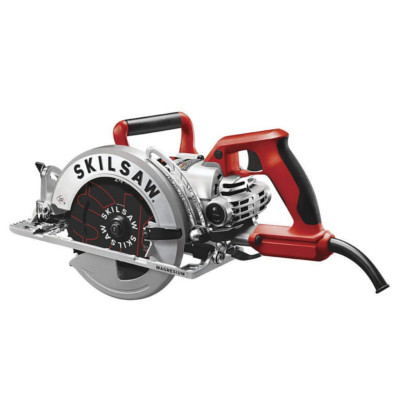 Pros:
Lightweight.

Easy-to-read degree indicator for bevel adjustment.

Comfortable-grip handle.
Cons:
Noisy motor.

Pins holding shoe in place tend to slide back and forth.
15 Amp motor.

5,300 RPM operating speed.

Worm drive.

Magnesium shoe.

Cut-ready depth adjustment system.

53° bevel adjustment.

Anti-snag lower guard.
The lightweight magnesium construction of this saw makes it easier to handle with less fatigue than some worm drive circular saws. The anti-snag lower guard is good for small cut-off pieces, and the tilt protractor degree indicator is easy to read. Although this is a good medium-priced saw, it can be noisy during operation.
4
SKIL 5280-01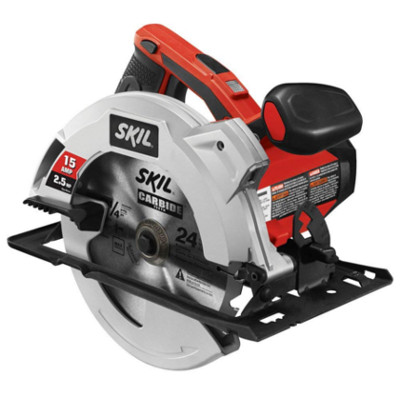 Pros:
Accurate laser guide.

On-board wrench storage.

Lightweight.

Torque clutch lessens risk of kickback.
Cons:
Blade tends to jam easily.

Shoe can bend easily.

Bag is too small.
Saw.

Carrying bag.

Wrench.

24-tooth carbide-tipped blade.
15 Amp motor.

5,000 RPM operating speed.

Direct drive.

7 1/4" blade diameter.

Single beam laser.

Dust blower.

51° bevel adjustment.
For a lower priced circular saw, this lightweight Skilsaw has useful features, such as a laser guide and dust blower. It offers a convenient on-board storage slot for the blade changing wrench and has a smooth-retracting blade guard. Some users have reported that the blade jams easily and that the shoe can bend easily.
5
DEWALT DC5391B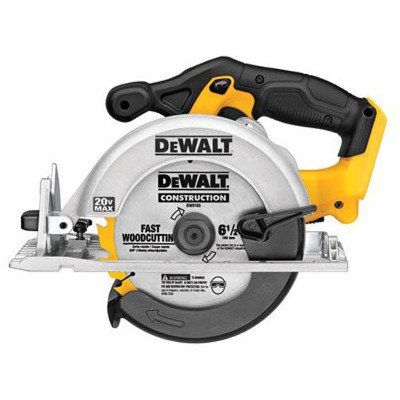 Pros:
Smooth-running motor.

Has electric brake.

Saw blade is on left for clear line of sight.
Cons:
Regular DeWalt batteries drain quickly with this saw.

Blade can be difficult to change.
Saw.

6.5" carbide-tipped blade.
Sidewinder drive.

6 1/2" blade diameter.

High-strength, lightweight magnesium shoe.

20 volt, 5,250 RPM motor.

Zero to 50° bevel capacity.

Rubber comfort grip.
This DeWalt cordless saw is made for durability and accuracy. Its 20 volt motor provides power and speed for demanding cuts. The comfort grip handle gives balance and control during use, and the brushless motor eliminates the need to change brushes. Since the saw comes as a bare tool, you have to buy batteries and a charger. It's better to get the higher capacity batteries for this saw because they'll hold charge longer, which is critical particularly for circular saws.
6
BOSCH CCS180B
Pros:
Left-handed blade provides clear view of cut line.

Compact and lightweight.

Good location for depth lock lever.

Powerful.
Cons:
Safety button hard to reach.

Somewhat loud during operation.

No positive stops on bevel gauge.
Saw (bare tool).

Insert tray.
18 volt motor.

3,900 RPM operating speed.

Sidewinder drive.

6 1/2" blade diameter.

Heavy duty aluminum shoe and upper blade guard.

Anti-snag lower guard.

Spindle lock.

Electric brake.
This Bosch cordless circular saw is both lightweight and powerful. The motor has an electronic protection feature to keep it from overloading and to make it last longer. The integral electronic cell protection protects batteries against overheating, overload, and deep discharge. Able to keep up with many corded saws, this saw easily cuts through 2x4s with a motor speed of 3900 RPMs. The electric brake adds safety, while the spindle lock makes blade changes quick and easy.
7
PORTER CABLE PCE300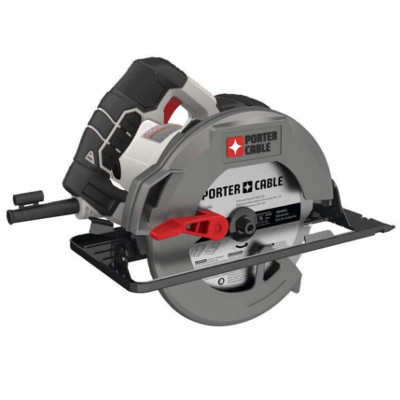 Pros:
Powerful but lightweight.

Can cut landscape timber with one pass.

Cuts hardwoods with ease.
Cons:
Difficult to see depth gauge.

Steel shoe not as strong as magnesium.
Saw.

7 1/4" 18-tooth carbide-tipped blade.

Allen wrench.
15 Amp motor.

5500 RPM operating speed.

Sidewinder drive.

7 1/4" blade diameter.

Heavy duty steel shoe.

Spindle lock.

Auxiliary handle.
One of the best circular saws for under $100, this model has a steel shoe designed to provide optimum line of sight. The comfortable auxiliary handle located toward the rear makes it easier to control and to see your cut line, and the 15 amp motor has ample power for cutting hard materials.
8
RIDGID 2RR3205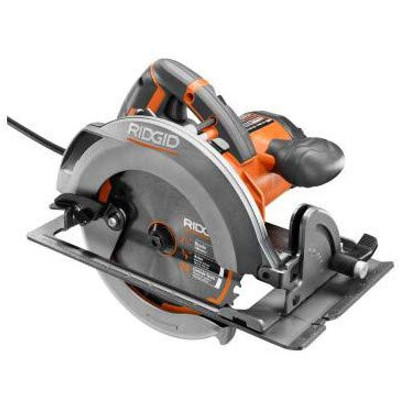 Pros:
Makes clean, accurate cuts.

Easy-to-use depth gauge.

Blower provides good visibility of cut line.
Cons:
15 Amp motor.

5,800 RPM operating speed.

Direct drive.

7 1/4" blade diameter.

Heavy gauge aluminum base.

Zero to 56° bevel system with six common stops.

Sight line blower.
The reconditioned Ridgid circular saw can be a good value for under $100. The 15 amp motor puts out plenty of power, and the sight line blower helps you make accurate cuts. For many users this saw gives the best value, compared to new in-class saws.
9
TACKLIFE PES01A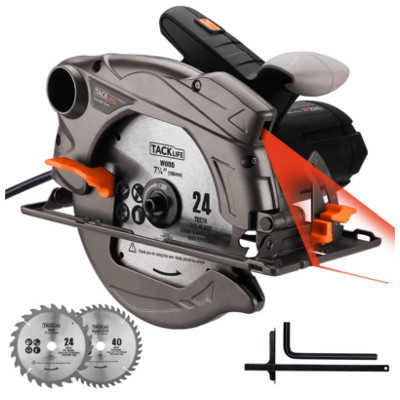 Pros:
Compact and powerful.

Comfortable grip.

Well-balanced motor.

Moderately priced.
Cons:
Laser is dim.

Trigger switch is stiff.
Saw.

One 24-tooth blade and one 40-tooth blade.

Rip guide.
12.5 Amp motor.

4,500 RPM operating speed.

Direct drive.

7 1/4" blade diameter.

Zero to 45° bevel tilt.

Aluminum guard.

Thickened iron shoe.

10 foot cord.

Laser guide.

Double switch (finger and thumb).

Sight line blower.
The Tacklife circular saw offers a lot of features for a moderate price. The ten foot cord gives mobility, and the thickened iron shoe provides durability and accuracy. This saw can cut tile, wood, metal panels, and flooring with ease.
10
TECCPO TACS22P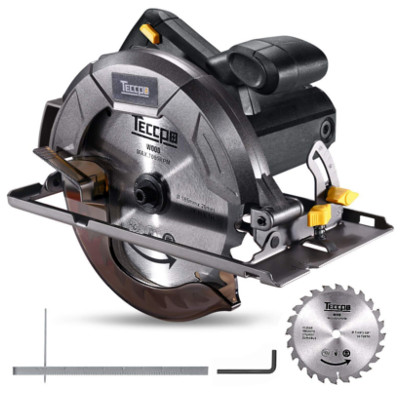 Pros:
Lightweight.

Easy to use.
Cons:
Saw.

24-tooth carbide-tipped blade.

Scale ruler.

Hex key.

User manual.
10 Amp, 5800 RPM motor.

5,800 RPM operating speed.

Direct drive (sidewinder).

7 1/4" blade diameter.

45° to 90° bevel capacity.

Dust blower.
A less expensive saw, the Teccpo circular saw has an economical, power-saving 1200 watt motor that reaches 5800 RPM quickly. It has a comfortable rubber grip and a sight line blower to keep dust off your cut line. This saw is one of the best for beginners.
Brands
There are many circular saw manufacturers, but some leading makers of circular saws are Skil, DeWalt, Bosch, Makita and Porter Cable.
Circular Saw Prices
The cost of a circular saw can range generally from $35 to around $350 dollars, depending on the type and quality of the product. However, special high-quality circular saws can cost as much as $750. In the $350 range, you'll find powerful, reliable saws suitable for heavy duty applications.
For good quality cordless circular saws in the medium price range, you might pay around $120 to $140, depending on the features and whether or not it's a bare tool with no battery and charger. Lower cost saws sell for $50 to $70, where you still can find good options for small projects, and the cheapest saws cost around $35.
Where to Buy a Circular Saw
Circular saws are for sale at many local superstores, hardware stores, or tool outlet stores. For the best deals, however, you should go online. The best prices and the widest selection will be found on the Amazon, Ebay, and Walmart sites.
FAQs
What is a circular saw or skill saw?
A circular saw is by definition a power tool with a rapidly rotating toothed blade or abrasive disc for cutting wood and other materials. There are many types of circular saws, including miter and table saws, but nowadays this name is mostly used for a handheld tool. Handheld circular saws can be corded or cordless and are often referred to as "skill saws", thanks to the manufacturer Skil who created the first popular handheld version of a circular saw.
What is a circular saw used for?
Most circular saws are designed for framing and woodworking. Circular saws can make straight cuts, rip (lengthwise) cuts, and bevel cuts in wood. Sometimes they are used to cut small workpieces of metal, concrete, and other materials harder than wood with an appropriate blade. However, it's not recommended to use a wood-cutting circular saw for any material harder than wood because a wood-cutting saw doesn't meet safety requirements for cutting metal, steel, concrete, or masonry.
For metalwork there are metal-cutting circular saws designed specifically for cutting metal. There are also saws that are designed specifically for cutting concrete, masonry, or tile: tile saws, concrete saws and masonry saws. They also have a circular, rotating blade, but the term "circular saw" usually means the type of tool this guide is dedicated to.
What is the best circular saw?
The best circular saw is the one that best fits your needs. If you'll be using your saw to cut metal, a metal-cutting circular saw is best. If you'll be mainly cutting wood, a regular wood-cutting saw will work fine. If you're a do-it-yourselfer or weekend warrior, a moderately priced saw might be a good option, but for professional carpenters or trade workers who use their saw daily for heavy work, a higher end tool would be a better fit.
When choosing a saw, make sure you're comfortable with the blade position because some saws work better for left-handed people than for right-handed users. Make sure you can handle the weight of the saw as well. You might also want to purchase a tool with some important features, such as a laser guide, sight line blower, LED light, or electric brake. Importantly, you should be sure the saw you buy is a well-constructed, reliable one that's made by an established manufacturer like Skil, Bosch, DeWalt, or Porter Cable.
Who invented the circular saw?
A Shaker woman named Tabitha Babbitt from Harvard, Massachusetts, is said to have been the inventor of the circular saw. She supposedly invented it in 1810 to improve efficiency at sawmills, and the first prototype was made out of her spinning wheel.
Can a circular saw cut metal?
In some cases you can use a wood-cutting circular saw to cut metal with a special metal-cutting blade, but it's not a recommended practice to do so. For safe and efficient metalwork you should use a metal-cutting circular saw. They are designed in a special way, having a protective housing and a particle collection bin to keep the motor from being damaged by metal debris.
Related Guides
No results found.