Quick Comparison Table
| | BobsCNC | MYSWEETY | Next Wave Automation | Gowe | Qiilu |
| --- | --- | --- | --- | --- | --- |
| | | | | | |
| Price | $ | $ | $ | $ | $ |
| Weight | 26 lbs | 11.2 lbs | 75 lbs | 61.7 lbs | 4 lbs |
| Dimensions | 25 x 19 x 25 in | 14.2 x 9.2 x 6.5 in | 36 x 24.5 x 25 in | 24.2 x 20 x 15.4 in | 5.8 x 6.3 x 7.9 in |
| Power Source | Electric | Electric | Electric | Electric | Electric, battery |
| Motor Size | 600 watts | 775 spindle motor | n/a | 1.8 amps | 1 amp |
| Cutting Area | 17.7 x 15.3 x 3.3 in | 6.3 x 3.94 x 1.78 in | 12 x 24 in | 15.4 x 11 x 2.17 in | 1.7 x 3.07 in |
| Warranty | 30-day hardware warranty | 1-year warranty | 1-year warranty | 1 year warranty | 0-day money back guarantee, 3-month laser head warranty |
| Amazon FREE Shipping | | | | | |
| | | | | | |
How to Select the Best CNC Wood Router?
---
A CNC wood router machine is used to carve, engrave, cut, mill, drill, and groove. It's suitable for use on not only wood but on glass, copper, brass, aluminum, acrylic and even stone. While a standard wood router can take care of many of these processes as well, they aren't nearly as efficient or as versatile as a CNC wood router.
If you've decided that your needs are far beyond what a standard wood router is capable of, you might be in the market for a CNC wood router. Considered the "big brother" of both wood routers and rotary tools, you can use them in a home, commercial and industrial situation, or by anyone who has complex cutting requirements.
Our buying guide details five top-rated CNC routers, and how they could potentially be just what you're looking for. Some may tick all the boxes in terms of features, while others might be in your budget and are going to meet your needs just nicely. Review each product, and you might just end up finding the best CNC wood router for the money.
Work Type
The most important reason for establishing your work type before going ahead with a sometimes costly CNC router purchase is that a standard wood router might be able to carry out the task as well.
CNC wood routers can carve in 2D and 3D as well as being able to complete acrylic fabrication, fixtures, sign making, cabinetry, aluminum fabrication and agricultural millwork.
If your needs are not as complicated as what this machine is capable of, you could save yourself thousands of dollars.
Safety
Your safety when operating any tool is essential, but an industrial device such as a woodworking CNC router requires diligence and extra concentration.
Most safety guidelines are included in the user guide supplied along with the machine, but we've added what we believe are essential operating guidelines for professionals:
Wear safety glasses and hearing protection.
Always check the material for defects before using on the machine.
Never leave the machine unattended while it's in use.
Don't put your hands in the working envelope when it's running.
Never perform maintenance or cleaning tasks when the lockout switch is not in the off position.
Do not run the machine without all guards in place.
Always be within reaching distance of the emergency stop button.
Efficiency
If you want your CNC router always to be running efficiently, it's helpful to know what its limitations are. When you first decide to purchase one, be aware of the tasks you need to be doing in comparison to its capacity.
If the machine is not capable of doing what you need it to, it's best to find one that can. It also pays to be aware of the material's density concerning the RPM, inches it can cut per minute, and the cutting tool itself.
Features
When you've decided to buy online, there are options aplenty. Not only can you spend the time to review different products, but you can find out as much as possible about each product and read what other customers have to say as well. This just isn't possible in a physical store.
We recommend paying particular attention to:

The motor – you might need a high speed, high torque motor, or a low-medium speed high-torque motor.
Drive system – there are three kinds – rack and pinion, leadscrew and ballscrew. If you plan on working with large material and require accuracy, the best option is a ballscrew drive system.
Automatic tool changer – cuts down time on changing tools.
Spindle – a type of motor that can cut.
The weight – the more substantial the machine, the better it's constructed.
Table size – ensure the table is large enough to handle your workpieces.
Software – what does the program do and do your staff need to be trained?
Router bits – are there long-life bits available at a reasonable price?
All these features can help you choose the best CNC wood router for the money.
Maintenance
CNC routers are complicated, and it's always helpful to have a qualified technician available to take care of any significant maintenance tasks and repairs. However, it doesn't take long to learn how to care for a CNC router properly.
To keep it in good working condition, you can:

Keep it free of debris with an air gun (daily).
Inspect the tool holders for cleanliness (daily).
Check the pneumatic oil levels (weekly).
Empty the water out of the regulator or separator (weekly).
Check and clean the filters (weekly).
Grease the leadscrews and linear guides (weekly).
Upload all your machine data and store it in a safe place (monthly).
Inspect pneumatic connections and electrical components (monthly).
Check the belt and pulley assembly (monthly).
Clean and grease axis assemblies (monthly).
Budget
CNC wood routers don't come cheap, in fact, depending on the brand, manufacturer, model, features and size, you could spend between $200 and $180,000. The options are vast, but the costs also don't end with the initial purchase.
Once you've found the best deal on a CNC router, you then have to factor in the cost of the software associated with the computer program, the consumables it requires, training for you or your staff, as well as installation costs.
There's no denying it's going to increase your productivity tenfold, but you need to make sure the money and labor saved are going to more than cover the costs.
Top 5 CNC Wood Router Reviews
---
1
BobsCNC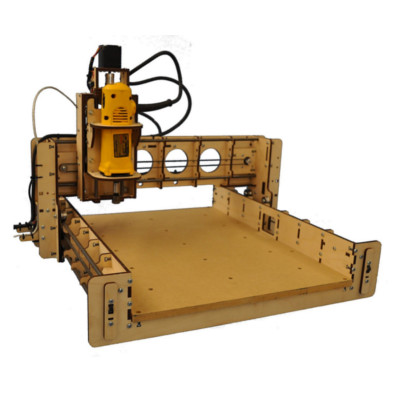 Pros:
It's very affordable.
It has a large cutting area.
The laser cut frame is rigid.
It offers an SG20U supported rail system.
It has a GT2 bet drive on X and Y axis.
It offers 5/16-18 dual brass nuts on the z-axis.
Cons:
It doesn't come pre-assembled.
It's challenging to put together and can take many days.
It's quite a basic machine in comparison to others on the market.
It's lightweight which gives off the illusion that it's poorly made.
The warranty guidelines are stringent and unclear.
BobsCNC CNC Router.
⅛-inch and ¼-inch collets.
30-day hardware warranty.
Weight: 26 pounds.
Dimensions: 25 x 19 x 25 inches.
Power Source: Electric.
Motor Size: 600 watts.
Cutting Area: 17.7 x 15.3 x 3.3 inches.
Warranty: 30-day hardware warranty.
Q
What voltage is it?
A
115 volts.
---
Q
What bits work with this machine?
A
Straight, vee or rounded.
---
Q
How does the computer software work?
A
It uses an Arduino microprocessor to interpret the g-code file.
Husqvarna is known for its quality outdoor power equipment, therefore it's unsurprising that the brand has delivered once again. Any Husqvarna product owner will know that an unbelievable amount of power is contained within a small Husqvarna frame.
With this stump grinder, the Honda engine is very powerful, it runs very well and will cut through the toughest of stumps. It's also for sale at a relatively affordable price, and comes with an extensive manual for accurate use. Overall, it's one of the best stump grinders for the money. Just ask any current operator.
2
MYSWEETY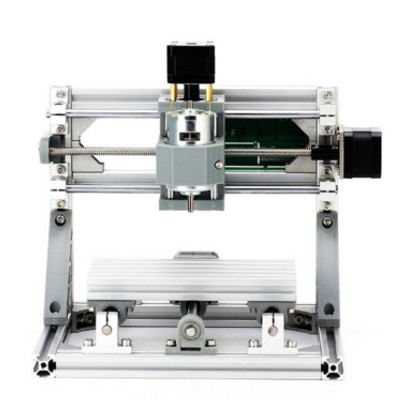 Pros:
The lead screws and double copper nuts eliminate backlash.
It's very affordable.
It can be used to engrave a range of materials.
It has a powerful spindle motor.
It has a cutting depth of 0 to 4mm.
Cons:
The power supply is sold separately.
It can be difficult to assemble.
It doesn't come with an English manual unless you specifically ask for one.
MYSWEETY CNC router.
10 PCB cutters.
4 plates.
1-year warranty.
Weight: 11.2 pounds.
Dimensions: 14.2 x 9.2 x 6.5 inches.
Power Source: Electric.
Motor Size: 775 spindle motor.
Cutting Area: 6.3 x 3.94 x 1.78 inches.
Warranty: 1-year warranty.
Q
What voltage does it run on?
A
110 to 240 volts.
---
Q
How many axis does it have?
A
3.
---
Q
What systems will the software run on?
A
Windows XP, Windows 7, Windows 8, Linux.
For home and small business owners, this is a top-quality CNC machine. It can handle most soft materials and has a decent cutting depth of 0 to 4mm which is acceptable for its size. It's also for sale at a reasonable price and costs very little to run as well.
While it's not going to be suitable for an industrial setting, it does suit the needs of many people who have tasks a little over the capabilities of a handheld wood router.
3
Next Wave Automation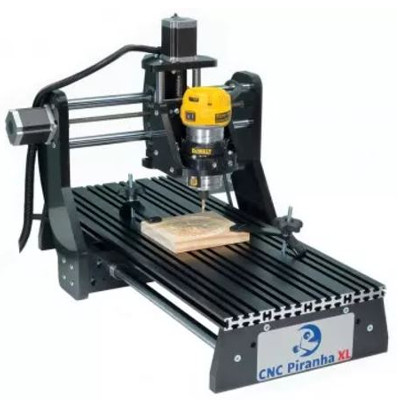 Pros:
It's made in the USA.
It has a large table which suits large workpieces.
It's very well made.
It's durable.
It's suitable for a range of buyers.
It has auto-edge and rotational sensing technology.
It has touchscreen color graphics pendant controlled software.
It comes fully assembled.
If your design is larger than the cutting area, you can split it into pieces and glue the final product together at the end.
Cons:
It doesn't come with the palm router, mounting bracket, and USB flash drive you need to make it run.
Customer service is poor if you have a problem.
Next Wave Automation CNC wood router.
1-year warranty.
Weight: 75 pounds.
Dimensions: 36 x 24.5 x 25 inches.
Power Source: Electric.
Cutting Area: 12 x 24 inches.
Warranty: 1-year warranty.
Q
Does it work with MAC computers?
A
No.
---
Q
What is the cutting capacity?
A
12 x 24 inches.
---
Q
Do you have to assemble it?
A
It comes fully assembled.
The best thing about this CNC router, aside from it offering a lot of bang for your buck, is that it comes fully assembled. Many on the market require you to spend hours assembling it yourself, even if you're not sure how to.
Because it arrives ready to go, you can simply install the software on your computer and get started. However, there's one final step. You need to purchase a palm router, a USB stick, and a mounting bracket. These aren't included in the purchase price. It's well made, well priced, and it will provide you with no-end of faithful service.
4
Gowe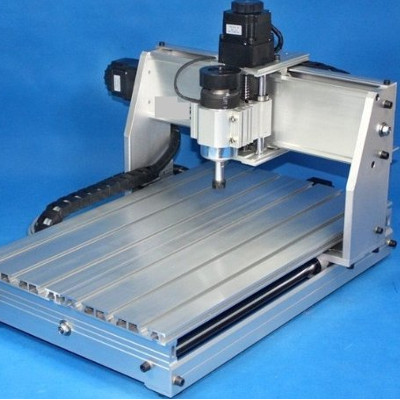 Pros:
It's affordable.
It comes with an automatic tool setting function.
It offers a ballscrew motor for accuracy.
Everything you need is included in the purchase price.
It's suitable for a range of industries.
It can cut a variety of materials.
Cons:
You have to assemble it yourself.
You can't use a laptop with it.
If you're new to CNC machines, it's exceptionally complex to get your head around.
Gowe CNC wood router.
Controller box.
Parallel cable.
Software.
5 engraving bits.
Clamp tools.
1-year warranty.
Weight: 61.7 pounds.
Dimensions: 24.2 x 20 x 15.4 inches.
Power Source: Electric.
Motor Size: 1.8 amps.
Cutting Area: 15.4 x 11 x 2.17 inches.
Warranty: 1 year warranty.
Q
What is its maximum speed?
A
300 to 3,000mm/minute.
---
Q
What kind of drive unit does it have?
A
Ballscrew.
---
Q
How big is the table?
A
20.7 x 12.6 inches.
For the CNC expert, this machine runs like a dream. It offers top-of-the-line technology, features everything you need to plug in and go, and can cut a range of materials. It can be used in most industries, and is affordable as well.
However, you do need to assemble it yourself, and it can't be used with a laptop. These two disadvantages can make your CNC routing experience a little more challenging. All in all, it still offers exceptional value.
5
Qiilu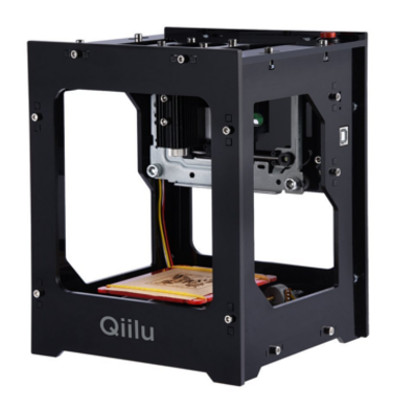 Pros:
It's a good option for a homeowner.
It's very well priced.
It supports a range of computer systems, including phones.
It has a strong alloy frame.
It can be used with or without a computer system.
It can be operated in a range of languages.
It can cut a range of materials.
Cons:
It can't be used for cutting metal or glass.
It has a small cutting area.
The software is difficult to use.
The hardware is slow and limited.
Many people have problems with the laser malfunctioning, or not working at all.
Qiilu CNC router.
Laser protective glasses.
Allen wrench.
USB cable.
Software, app and manual CD.
30-day money back guarantee, 3-month laser head warranty.
Weight: 4 pounds.
Dimensions: 5.8 x 6.3 x 7.9 inches.
Power Source: Electric, battery.
Motor Size: 1 amp.
Cutting Area: 1.7 x 3.07 inches.
Warranty: 30-day money back guarantee, 3-month laser head warranty.
Q
What computer systems can be used with it?
A
Windows 7, Windows 8, XP, Windows 10, iOS 9 for iPhone, iPad and iPod, and Android 4.0 and above for any Android device.
---
Q
What battery does it require?
A
It has a built-in 6,000mAh polymer Li-ion battery.
---
Q
What resolution can it print at?
A
500 x 500 pixels.
If you're interested in using CNC routers for your hobby, there's no reason why this machine won't suit your needs perfectly. It's small, compact, easy to use and comes with everything you need to get started. It's also exceptionally affordable.
However, many users have said the laser can malfunction, and this might be reason enough for you to look elsewhere. In saying that, if it stops working within a 3-month window, you can have that component replaced for free!
Where to Buy CNC Wood Router?
Once you've decided a CNC wood router is indeed the very machine you need, it's time to shop around. A top-rated model can cost a substantial amount of money, but you can also save thousands simply by choosing to buy online. Amazon.com is one of the many platforms that provide a range of top-rated CNC brands.
Leading CNC Wood Router Brands and Manufacturers
Next Wave Automation
Gowe
Related Guides