Quick Comparison Table
| | Bosch JS572EK | Makita 4351FCT | DeWalt DW331K | Craftsman 28223 | Black & Decker JS660 | Porter-Cable PCE345 | Skil 4495-02 |
| --- | --- | --- | --- | --- | --- | --- | --- |
| | | | | | | | |
| Price | $ | $ | $ | $ | $ | $ | $ |
| Features | Multidirectional blade clamp for T-shank blades. | Tool-less blade change for T-shank blades. | Tool-less blade clamp for T-shank blades. | On-board blade storage. | Curve Control technology — 4 customized orbital settings. | 7-position speed dial with accelerator trigger. | 4-position orbital control. |
| Amazon FREE Shipping | | | | | | | |
| | | | | | | | |
How to Select the Best Corded Jigsaw?
---
When shopping for a jigsaw, you might want to consider a corded tool. Corded models generally put out more power for the same price as cordless jigsaws, and there are no limited-life batteries to charge and maintain. Corded jigsaws are lighter in weight, thus easier to maneuver.
More corded jigsaws than cordless ones are on the market, giving you more features to choose from. This buying guide will help you make an informed choice when deciding which model and brand of corded jigsaw to buy.
Types of Work for a Corded Jigsaw
Jigsaws are used for a variety of purposes, often for cutting detailed patterns, scrollwork or circles. However, jigsaws are commonly used in the DIY realm for making cuts that other hand held saws can't manage, such as sink or faucet cutouts in a laminate countertop. Straight cuts and beveled cuts can also be made with jigsaws.
The jigsaw can be used to cut a variety of materials like soft and hard woods, plywood, nail-embedded construction lumber, metal, steel, and plastic. If you need to cut a curve or a hole in ceramic tile, a jigsaw can do the job. Even masonry can be cut with a jigsaw, but cast iron and concrete can't. Keep in mind that cutting various materials requires specific types and sizes of blades.
Efficiency
The efficiency or power of a jigsaw is important to understand when buying one. Each power saw for sale by different manufacturers has certain technical specifications regarding efficiency. Before purchasing a saw, make sure these specifications (described below) correlate with the types of cuts you'll be making.
Power And Amperage
Many jigsaw manufacturers indicate saw motor power in amps. Some manufacturers like Festool show power in Watts. Portable (cordless) jigsaws are less powerful than corded saws and put out an average of 4.5 to 5 amps. Corded jigsaws, depending on the model, put out considerably more power—6 to 7 amps.
Saws with a small power rating (4.5 amps or 500 Watts) are suitable for most cutting tasks with occasional use. On the other hand, greater power output (7 amps or 700 Watts) allows for more aggressive and frequent cutting of hard or thick materials. Therefore, corded jigsaws are usually the most popular choice with trade professionals and do-it-yourselfers alike.
Cutting Capacity (Depth)
Cutting capacity refers to the deepest possible cut a saw can make and is dependent on the jigsaw model and length of blade. Some jigsaws are manufactured to allow a greater cutting capacity than other brands. Generally, jigsaws cut different materials at the following depths: wood—between 1 ½ to 6 inches, non-ferrous metals like aluminum and copper—3/8 to 1 ½ inches, and mild steel—1/4 to 5/8 inches. Saws with greater cutting depth are more useful for a wider variety of materials.
Strokes Per Minute
Strokes per minute (SPM) refers to the number of times a jigsaw blade goes up and down in one minute, ranging between 3/4 inch and 1 inch. Generally, maximum jigsaw stroke rate is 3000 SPM. Some saws can operate at speeds up to 3800 SPM, although you can expect to pay more for these.
Stroke Length
The stroke length of a jigsaw is the distance the blade moves up and down during operation. Standard stroke length for jigsaws ranges from 3/4 inch to 1 inch. Many trade workers choose saws with more stroke length because longer stroke length allows faster and deeper cutting. Also, a long stroke length allows waste material to fall away more easily and ultimately helps blades last longer. Shorter stroke length makes for slower cutting with less vibration, which results in a smoother cut with better control of the saw. A jigsaw with a shorter stroke length is usually sufficient for common DIY projects.
Features
When you are ready to purchase a jigsaw, understanding optional features may help you decide which saw to buy. Consider the features outlined below before you choose a new saw.
Orbital or Pendulum Action
Older jigsaws were designed simply for the blade to move up and down. Most modern jigsaws, however, are equipped with orbital or pendulum action. Although jigsaws can be used for straight up-and-down cutting, orbital action often makes cutting easier and prolongs blade life.
The difference between straight cutting and orbital cutting is this: with straight cutting, the blade moves only up and down; with orbital cutting, the blade moves up and down and forwards and backwards with a pendulum or oscillating motion. When straight cutting, the blade has no room on the downward stroke to release scrap material (chips) or for air flow to help it cool off.
The result can sometimes be a jagged cut or burned material. With orbital cutting, the blade moves backward on the down stroke, allowing waste material to drop out and air to contact and cool the blade. Using the orbital setting helps prevent blades from becoming jammed in material and reduces blade burn-out, which minimizes blade changes.
When using a jigsaw, orbital action not only helps preserve blade life, it is essential for certain types of cuts with various materials. The orbital action setting, adjusted with a switch on the saw body, should be higher for soft wood. This allows for fast, aggressive cutting. Higher levels of orbital action are also good for cross cutting thick or hardwood.
If you want a smooth cut, you should set the orbital action to a lower level. When cutting thin metal, orbital action should not be used because it will cause your piece to vibrate. Plastic should be cut with a lower or medium orbital setting. For thick metal, you should use a low orbital setting.
The proper orbital setting is also important for the type of cut you are making. Scrolled or curved cuts should be made with less orbital action, which gives you more control while making these types of cuts. This also applies to making straight freehand cuts because the lower orbital action will cause less vibration and help you stay on the line. When making a plunge cut (cutting into the surface of the material and not from the end or side), orbital action should not be used.
Brushless vs. Brushed
Depending on your budget and needs, you may choose either a jigsaw with a brushed motor or one with a brushless motor. Both types have their advantages and disadvantages.
Older corded jigsaws or modern lower-cost saws have brushes that maintain contact with the rotor (rotating part of the saw motor). The rotor contains an electromagnet. As the brushes make contact with the rotor, the polarity of the electromagnet changes, causing a pushing and pulling action that makes the rotor spin. Because the brushes are in constant contact with the rotor during operation of the saw, they eventually wear out and have to be changed.
Although brushed jigsaws have been around for a long time and are still in common use, they have some disadvantages when compared to brushless DC powered jigsaws. As stated above, the main disadvantage is that brushes wear out and usually need to be replaced every two to seven years, depending on amount of use.
Another downside to brushed jigsaws is that they tend to be somewhat noisy and can take a while to cool down after heavy use. As brushes contact the rotor of the saw motor, friction occurs, which causes the motor to heat up and slow down, diminishing the overall power of the saw. An advantage to buying a brushed jigsaw is that they are considerably less expensive than brushed models and are perfectly suitable for a lot of DIY tasks.
Many jigsaws are equipped with brushless DC motors and have become very popular in recent years. Brushless motors use an electronic controller to change the polarity of the electromagnet inside the motor and spin the shaft. This technology eliminates the use of brushes altogether, along with the need to replace them. Therefore, brushless jigsaws can far outlast brushed saws, sometimes well beyond the warranty period.
Brushless jigsaws use electrical current more efficiently, which means they are more powerful amp per amp than their brushed counterparts. Because no brushes contact the rotor, these saws run quieter and cooler than brushed saws. The brushless motor construction also makes brushless jigsaws more compact and lighter in weight.
Some brushless jigsaws are being marketed as "smart" saws. Smart saws sense the type of material being cut and adjust the power output and other functions accordingly. Black & Decker, for example, advertises jigsaws with "Smart Select" technology, which automatically adjusts the saw to any cutting application.
The advantages of brushless jigsaws over brushed jigsaws are many. The main advantage is brushless saws last longer without repair. The drawback to purchasing a brushless jigsaw is the price. They can be much more expensive than brushed jigsaws. This is mainly because of the electronic components used in manufacturing, when, in essence, a small computer is built into the saw. However, the costs saved by eliminating brush replacement can offset the initial higher cost of the brushless saw.
Variable Speed
Almost every jigsaw available today comes with variable speed control. Variable speed usually allows up to five speed settings, most often adjusted by a numbered dial on the top or side of the tool. The highest number on the dial corresponds to the highest speed available, and the lowest number represents the lowest speed at which the saw can operate. Some saws come with a variable speed trigger instead of or in addition to a speed dial.
The more pressure you put on the trigger, the faster the saw will run. As you decrease pressure, the saw will run slower. Along with a variable speed trigger, certain models also have a trigger lock that allows the saw to be locked at a particular speed. Some people find the variable speed trigger superior to the speed dial because it allows you easily to adjust the speed while cutting and provides more control. Others prefer to set the speed with a dial in order to maintain consistent speed without worrying about applying consistent pressure on the trigger to maintain speed.
The ability to adjust the speed of your saw is important, depending on the material you are cutting and the type of cut you need to make. For example, cutting thick metal is done best with a slow blade motion. A lower speed also helps when you need increased accuracy for making curved or scrolled cuts, although simple curves often can be cut at medium speed. When cutting thin wood like paneling or wood veneer, a lower speed should be selected. This also applies to cutting thin or soft metals such as sheet metal.
For very straight cuts, a lower speed should be used because it helps you keep the blade directly on the line. Higher speed settings allow for aggressive cutting in softer woods, and a faster speed should be used for dense materials like hardwood and plastic. Cutting at higher speeds causes more friction, which can contribute to a low-quality cut and shorter blade life. Therefore, it is beneficial to use the proper speed setting for each cut.
Scrolling Jigsaws
In a woodshop, complicated curves or scrolls are cut on a band saw. For the average do-it-yourselfer, a scrolling jigsaw may help accomplish these types of cuts. Scrolling mode is usually selected with a knob on top of the saw that allows the blade direction to be changed up to 360 degrees without turning the saw body. This function enables you to use your jigsaw to make contoured cuts in tight spaces. A caution when using scrolling action–keep consistent pressure behind the blade while cutting.
Anti-Splintering Insert
Common jigsaw blades are flexible and have upward-pointing teeth, which can cause uneven cuts and splintering on the top of the material. An anti-splintering insert, available with some models, holds the blade firmly and can help keep your cuts clean and splinter-free. The anti-splintering insert is clipped against the sole plate on the bottom of the saw and can be removed when not in use. The insert is helpful for cutting laminates and veneers.
Laser Guide
Some jigsaws come with a laser guide that places a straight, red line on your workpiece. By aligning the laser line with the line marked on the piece, you may achieve a more accurate cut.
LED Light
When the lighting in your work area is insufficient, an LED light, built into many jigsaws, is useful for making precise cuts without eye strain.
T-Shank vs. U-Shank and Hook/Bayonet Shank Blades
There are three types of jigsaw blades: the Hook or Bayonet Shank blade, which is no longer in common use; the U-Shank or Universal blade, which sometimes must be fastened with a screw; and the T-Shank (tang shank) blade, popular because it allows quick and easy no-tool blade changes. No-tool blade changes are done by pressing a lever to release the old blade, inserting the new T-Shank blade between the roller guide while keeping the lever pressed, and then releasing the lever.
Some saws accept both T-Shank and U-Shank blades, but T-Shank blades are stronger and cause less tear-out. Keep in mind that U-Shank blades are not really "universal" because they won't fit saws made only for T-Shank blades. Therefore, you should check blades for compatibility with your saw before purchasing.
Dust Collection (Extraction) vs. Dust Blower
Some jigsaws have a dust blower that blows air onto the blade path to keep the cutting line free of dust. Although helpful, this feature doesn't remove dust but allows it to settle throughout your work area. Other models are made to adapt a dust-collection bag or vacuum cleaner to a port at the rear of the saw.
This feature is helpful for extracting dust as it is created and maintaining a dust-free workspace. Vacuum cleaner adapter kits are available for saws without a vacuum-ready dust port, but before buying an adaptor, make sure it is compatible with your jigsaw and vacuum cleaner.
Bevel Cut Setting
With many jigsaws, the sole plate can tilted 45 degrees in either direction for making bevel cuts, and some models allow angles to be set anywhere between 45 and 90 degrees, which is useful for a variety of cuts. Certain saws have a screw that must be loosened to set the angle and then re-tightened before cutting.
Other models have a convenient lever for quick, tool-less angle change. Some models also allow you to tilt the sole backward or forward, which makes vertical cutting easier, especially in tight spaces.
Anti-Vibration Technology
Jigsaws vibrate, and vibration can cause fatigue. Excess vibration can also affect the quality of your cuts. To help lessen vibration, manufacturers use smooth-running, dynamically balanced motors and soft-grip handles. Proper use of speed variation and orbital action can also help reduce vibration.
On Board Blade Storage
Some jigsaw manufacturers integrate a blade storage compartment into the side of the saw. On-board blade storage keeps you from leaving your work to retrieve a blade. You simply pop open a hinged lid on the saw body and grab a blade.
Weight
Although lighter than cordless jigsaws, corded saws can weigh over six pounds, depending on whether or not they contain brushes. A jigsaw's weight can affect handling and maneuverability. For example, if you need to make vertical or upside-down cuts, weight might be a factor.
Because jigsaws usually rest on a flat surface, however, weight may not be that much of a consideration. If weight is a concern, you may want to consider purchasing a lighter weight brushless jigsaw.
Safety
It's important to take proper safety precautions when using a corded jigsaw. Your saw will come with a manual that discusses safety measures. Be sure to read it before using the saw. Good jigsaw safety practices include eye and lung protection, avoidance of electrical shock, and use of the right blade for the job.
Use shatter-resistant goggles to keep dust and chips out of your eyes. A good dust mask will help keep you from breathing in dust and particles. If possible connect a vacuum or dust bag to your saw to clear dust out of your work space.
A dull blade can cause saw kickback, a main cause of injuries, so always use a sharp blade. Also, select the right blade for the cut you're making. There are various blades available for cutting different materials. By using the right blade, you'll have better control of your saw and minimize risk of accidents. Furthermore, never force your saw through your workpiece. Let the saw do the cutting while you guide it.
When using a corded jigsaw, always keep the cord away from it. Otherwise, you might accidentally cut into the cord and expose yourself to electrical current. Never use your saw in a wet or damp workspace. It's also a safe practice to plug your saw only into an RCB circuit breaker.
Maintenance
In order to keep your jigsaw working safely, efficiently, and accurately, you should keep it well-maintained. Before use always check the cord for nicks and cuts, and replace the cord if damaged. Never toss your saw, and be careful not to drop it so you won't damage the shoe. A bent shoe will affect your saw's ability to cut accurately.
Keep the blade roller guide free of debris, and occasionally put a drop of oil on it. Use a small brush to clean the ventilation slots to keep your saw from overheating. Clean the jigsaw body with a damp, soapy cloth, and always make sure the handle is dry and free of dust and grease. Store your saw in a case or bag or other clean, dry place. If your saw has worn-out brushes, you should replace them yourself or have the saw repaired.
Types Of Corded Jigsaws
Corded jigsaws are generally classified by size and power. Smaller saws don't have as much power as larger saws. Micro jigsaws are small saws that are used for modelling, cutting puzzle pieces and other intricate crafting. They require a transformer or power adapter to regulate electrical current. Pneumatic jigsaws, used for more heavy-duty trade or industrial applications, must be hooked up to an air compressor.
Some jigsaws come with different handles or cords than other brands. Certain jigsaws have plastic cords. Others have rubber cords, which are more flexible and easier to manage. Most jigsaws have a bow handle on top, where the trigger and speed control are located. Sometimes bow handles include a knob near the front of the saw for two-handed gripping. Many jigsaws on the market have a barrel handle at the rear of the saw that also serves as the motor housing. Jigsaws with a barrel grip can allow for more control and accuracy and often include a grip knob as well.
Reviews of Top 7 Rated Corded Jigsaws
---
1
Bosch JS572EK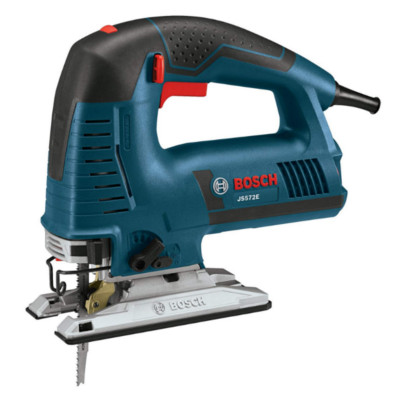 Pros:
Smooth-running motor.

Tool-less blade change system.

Long cord.

Minimal blade deflection.

Low vibration.

LED light can be switched on and off.
Cons:
No laser guide.

Thick Sole—Hard to see cutting line.
JS572 jigsaw.

Three assorted jigsaw blades.

Anti-splinter insert.

Plastic shoe.

Carrying case.
Top Handle.

Double roller blade guide.

Variable-speed control.

LED light.

Dust blower.

Tool-less blade change system.

Multidirectional blade clamp for T-shank blades.
Though higher priced than some models, the Bosch JS572EK jigsaw is a lightweight but heavy duty saw that is especially good for curve-cutting and scallop-cutting. Its double-roller system provides for precise operation, and its Constant Response circuitry maintains constant speed during heavy cutting. A dual variable-speed dial and accelerator trigger help the user fine tune operating speed. Tool-less blade change and bevel adjustment add convenience. Internal counterbalancing provides for smooth, low-vibration operation.
2
Makita 4351FCT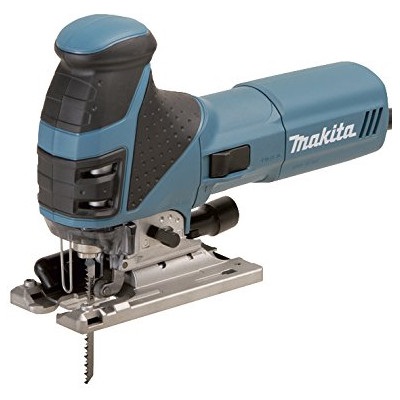 Pros:
Bright LED light.

Low vibration.

Comfortable barrel grip.
Cons:
Lateral blade flex when cutting thick lumber.

No accelerator trigger.

No tool-less bevel adjustment.
Barrel grip jig saw.

Six blades.

Anti-splintering device.

Cover plate.

Wrench and tool case.
Barrel grip handle.

Tool-less blade change for T-shank blades.

Variable-speed dial.

Orbital action.

Low vibration.

Low noise.

Soft start feature.

Adjustable base for bevel cuts.

Dust blower.

Hex wrench for bevel adjustments.
The Makita 4351FCT jigsaw is built with anti-vibration technology. Its dynamically balanced motor provides 40% less vibration and noise than other comparable jigsaws. Its smooth start feature lets you begin your cut more slowly with greater control for less damage to material. The comfort-grip barrel handle makes for good control and maneuverability for accurate cutting at a medium price.
3
DeWalt DW331K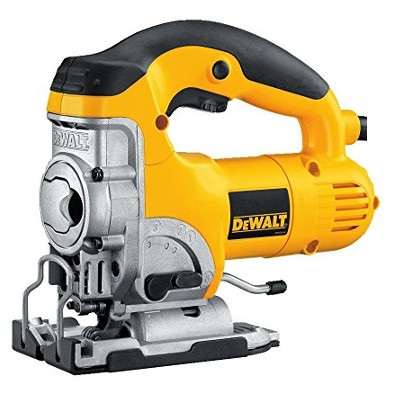 Pros:
Powerful motor.

Plastic case molded to fit saw.

Non-scratch, removable pad for cutting finished material.

Good for cutting metal.
Cons:
Smaller blades can fall out of blade clamp, based on several customer reviews.

No LED light.
Top handle jigsaw.

Kit box.
Tool-less blade clamp for T-shank blades.

4-position orbital action.

Extra-large rubber grip.

Plastic shoe cover.

Variable speed.

Bevel adjustment.

Dust blower.
Able to hold up to construction or industrial work, the DeWalt 331K is a workhorse that cuts metals and other tough materials with ease. Its variable speed capabilities and 4-position orbital action feature provide for fast, aggressive cutting. The all-metal shoe bevel and metal blade clamp lever withstand rugged use and allow quick blade changes and angle adjustments. By comparison to other saws in its class, this is a powerful tool for a moderate price.
4
Craftsman 28223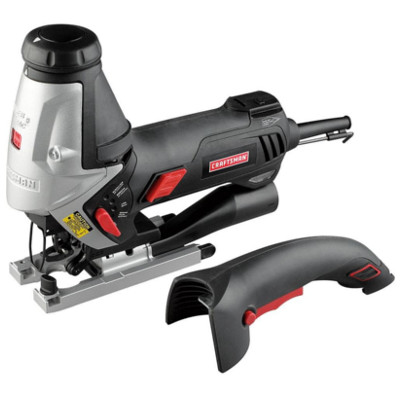 Pros:
Detachable handle.

Comfortable barrel grip.

Convenient scrolling feature.

Has laser guide.

Large base for greater stability.

Accepts T-shank or U-shank blades.
Cons:
Switch located on side.

Requires tool for bevel adjustment.
Barrel grip scrolling jigsaw.

1 ¼ vacuum adapter.

Hex key.

Storage case.
Laser guide.

Dual bevel adjustment.

Scratch-resistant sole.

Dust blower.

Vacuum adapter.

On-board blade storage.

Hex key holder on cord.

Tool-less blade change.

Detachable 2-in-1 handle.

Orbital action.
For a medium-priced jigsaw the Craftsman 6 amp orbital scrolling sabre saw has many useful features. Its scroll feature allows for curved cuts in tight spaces, and the convenient on-board blade storage compartment provides for fast blade retrieval. Although some customers insist the saw tends to pull to the left, it comes with a laser guide to help make straight cuts.
5
Black & Decker JS660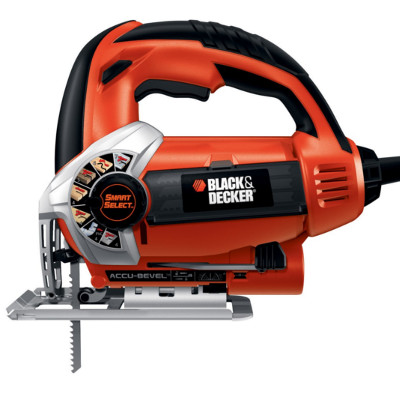 Pros:
Light weight.

Handles well.

Good for cutting curves.

Affordable.
Cons:
Best only for lighter duty work.

Blade clamp can break or loosen, according to some reviews.
Curve Control technology — 4 customized orbital settings.

Variable-speed control.

Bevel adjustment.

Wire guard in front of blade for aligning cuts.
This low-cost jigsaw is capable of handling many do-it-yourself jobs around the house but might not serve as well for heavy use with thick or hard materials. Four orbital settings make this jigsaw good for scrollwork and cutting curves. Some owners noted that the blade clamp pin tends to come loose or break.
6
Porter-Cable PCE345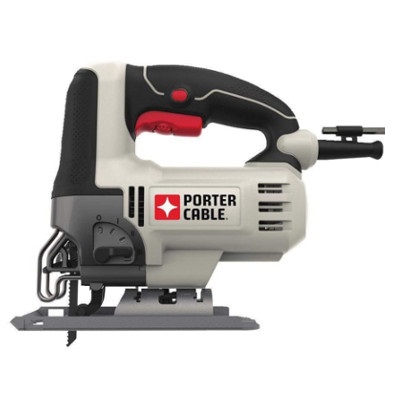 Pros:
Cuts straight and smooth.

Well-balanced and easy to control.

Low vibration.

Oversized front and over-molded handle for comfort.
Cons:
No protective shoe cover.
6-amp orbital jigsaw.

1 blade.

Wrench.
7-position speed dial with accelerator trigger.

4 orbital settings.

Lock-on button.

Tool-free bevel adjustment.

Tool-free blade change.
Also a lower priced saw, the Porter-Cable PCE345 is a solid saw with useful functions. Trigger speed control and four orbital settings provide for smooth, accurate cutting with minimal vibration. For greater versatility, this saw accepts both T-shank and U-shank blades.
7
Skil 4495-02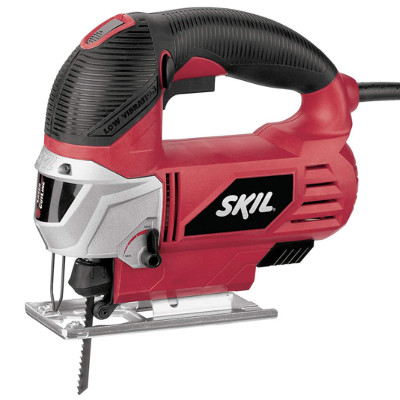 Pros:
On-board blade storage.

U-shank and T-shank blade compatible.

Comfortable handle.
Cons:
Laser guide is inaccurate.
Skil 6.0 amp jigsaw.

Attachments.
4-position orbital control.

Laser guide.

Variable-speed trigger.

Tool-less blade change.

Tool-less shoe adjustment for bevel cuts.

On-board blade storage.
This modestly-priced Skil 6.0 amp jigsaw comes with lots of perks — on-board storage for blades, variable-speed trigger and a comfortable handle. According to customer reviews, many owners are well-satisfied with this saw, but some believed the laser guide was not sufficiently accurate.
Corded Jigsaw Prices
Prices for corded models start from as little as $30. Jigsaws in this range are meant for light-duty cutting and will be the best choice for a beginner hobbyist with a tight budget. Sometimes they even happen to include nice features, like a dust blower, in addition to orbital action, speed control and other basic functions.
Despite most cheap products are made by no-name brands, it's possible to find a couple of reliable models of well-established manufacturers. With higher price comes more power, so if you need an affordable tool for occasional heavy duty applications, look for a jigsaw within $100-$300. The cost of a hi-end professional corded jigsaw varies from $300 to $600.
Leading Corded Jigsaw Brands and Manufacturers
When it comes to choosing which brand of corded jigsaw to buy, the possibilities are many. If you want a jigsaw that will hold up to heavy, regular use, you're better off purchasing a more expensive saw built for rugged applications with thick and tough materials. Bosch jigsaws fall into this category and are the most popular. Other leading jigsaw manufacturers are:
Milwaukee
Dewalt
Makita
Ryobi

Ridgid

Bosch

Festool

Black & Decker
Hitachi
Porter-Cable
Craftsman
Skil

Harbor Freight
Festool specializes in high-end, professional-grade jigsaws. The key to buying the right brand of jigsaw is to assess your needs. For small, DIY projects, a Porter-Cable or Skil jigsaw might suit you. If you use your saw for heavy work like construction, you may want to buy a more expensive, top-rated saw such as a Bosch.
Where to Buy a Corded Jigsaw?
Corded jigsaws are available to buy in many local stores. A wide selection of best value jigsaws is also available online, where you will find the best deals, including free shipping. Good online jigsaw deals can be found at Amazon, Ebay, and Walmart.
Related Guides