Quick Comparison Table
| | Makita JR3070CT AVT | Milwaukee 6538-21 | Bosch RS7 | Hitachi CR13VBY | Makita JR3050T | DEWALT DWE304 | PORTER CABLE PC85TRSOK | BLACK DECKER RS500 | SKIL 9206-02 | Chicago Electric |
| --- | --- | --- | --- | --- | --- | --- | --- | --- | --- | --- |
| | | | | | | | | | | |
| Price | $ | $ | $ | $ | $ | $ | $ | $ | $ | $ |
| Dimensions | 27 x 11 x 5 in | 22.6 x 11 x 5.3 in | 22 x 4 x 9 in | 24.8 x 11.1 x 5.4 in | 27 x 11 x 5 in | 19.2 x 9.4 x 4 in | 4.8 x 24.5 x 10.5 in | 23 x 4.5 x 9.9 in | 20.8 x 6 x 3.8 in | 18 x 5 x 10 in |
| Weight | 16.98 lbs | 13.65 lbs | 12 lbs | 9.7 lbs | 10 lbs | 8.19 bs | 12.25 lbs | 5.35 lbs | 8.46 lbs | 6 lbs |
| Power Source | Corded Electric | DC | Corded Electric | Corded Electric | Corded Electric | Corded Electric | Corded Electric | Corded Electric | Corded Electric | AC |
| Warranty | 1 Year Parts & Labor | 5 years warranty | 30-day money back guarantee, 1 year manufactuer warranty | 30 day satisfaction guarantee and 1 Year warranty | 1 Year Parts & Labor | 3-year limited warranty and one-year service contract | 3 Year Limited | 2 Year Warranty | n/a | n/a |
| Amazon FREE Shipping | | | | | | | | | | |
| | | | | | | | | | | |
How to Select the Best Corded Sawzall?
---
A corded reciprocating saw, also referred to as sawzall, saber saw or hognose, is one of the handheld power tools that is great to have in your workshop whether you are a DIY-enthusiast or a professional contractor.
Corded models offer more power in comparison to cordless at the same cost. They usually have a longer life and are more cost effective since the batteries in cordless sawzall models have a limited life span and eventually need to be replaced. They also weigh less since there is no battery weight added.
In our comprehensive buying guide, you will learn everything you need to know about the best corded recip saws on the market to reach an informed buying decision.
What Can A Corded Reciprocating Saw Deal With?
The reciprocating saw was originally invented for demolition, but it's a versatile tool, as long as you need a straight rough cut. It cuts through materials of a very wide density range: from softwood and plastic to cast iron and concrete. However, it cannot be used for any fine crafting work.
A saber saw is also a good tool for pruning, if using an extension cable is not a problem for you, and you can even cut frozen meat or butcher a carcass of a large animal after hunting. For each material and purpose it's important to pick an appropriate blade. There is a wide choice of them available whether you want to prune trees, cut through wood, metal pipes, nails and even ceramic tiles, cast iron and concrete.
Efficiency
Having the right power output will determine the type of tasks you can perform with your sawzall. The power in corded models is specified in amperes, as opposed to volts in cordless tools.
Most of the corded reciprocating saws come with power ranging from 5 to 15 amps. For any small domestic jobs, 5-6 amps may be enough but it is recommended to choose a minimum of 10 amps for a heavier-duty work. However, for any really intensive work, you must consider a model of around 15 amp.
The cutting speed of a saw is expressed by the number of strokes the blade makes per minute referred to as SPM. The majority of reciprocating saws on the market come with 2800-3000 SPM, which is considered to be enough for almost all types of projects.
The stroke length indicates the distance the blade covers with each stroke. The longer stroke results in faster cutting. The average range for a saber saw is approximately 1-1/8 inches.
You must take into consideration that many consumers have been bitten by buying cheap products from no-name brands. Here are the reasons to buy models from known and reputable manufacturers:
Higher efficiency due to better design and materials the tool is made of.

Higher safety as they are manufactured under strict safety regulations.

Longevity, saving you money in the long run.

Good after-sale service.
Types of Corded Sawzalls
Corded reciprocating saws vary in sizes. Apart from full-size two handed sawzalls you will also find smaller one-handed mini saws that are sometimes very useful due to being portable and serve well for small jobs in a confined space.
Safety
Because of the angle of the blade and the type of work you are likely to do with the reciprocating saw, it is important to take the following safety measures.
Beware of the cable so you don't cut it accidentally or trip over it.

Keep children and pets away from the work area.

Wear protection gloves to prevent lacerations.

Wear protective goggles and a dust mask, especially while working with masonry.

Avoid any exposure to water while using the saw.

Hold the saw firmly in both hands except for one-handed saws.

Do not force the tool when cutting hard materials.

Lubricate the blade depending on the type of material you are cutting.
Maintenance
Prevent the tool from overheating by cleaning all the ventilation slots.

Lubricate the saw regularly to ensure it does not jam during the project.

Use an air can to clean out the inside of the tool.

Check for any damage to the power cord.

Remove any debris from the head of the saw.
Features
Various models of recip saws come with different features and it is important to have a good understanding of them before you finally decide to buy one.
Brushless and Brushed Motors
Brushless motors have gained popularity in the last decade mainly due to their efficiency. They are considered better due to less friction which results in the motor generating less heat and offering you better performance. Brushless reciprocating saw is lighter which gives the operator better control. In addition, the brushless motor produces less noise and vibration.
Additionally, as carbon brushes wear out, brushless models do not require their replacement. The brushed motors, on the other hand, are less expensive, and if you don't use your tool very often you don't really need to worry about frequent brushes replacement.
Orbital vs Non Orbital
Some of the basic reciprocating saws come only with a normal straight stroke that moves the blade back and forth. However, it is recommended to choose the model that also comes with an orbital action.
An orbital cutting action makes the blade move also slightly up and down in a kind of a circular motion. This more aggressive stroke allows to cut softer materials a lot quicker and helps to remove the sawdust from the path giving you a clear view of the cutting surface and reducing the load on the tool. However, it is not recommended to use orbital action when cutting metals or nail-embedded wood.
Adjustable Shoe
The shoe is the metal part surrounding the blade. In some models it allows to adjust the cutting depth in order to use different parts of the blade. This helps to extend its life by letting you use the teeth closer to the shank. Or you can reduce the depth to cut into walls so that you don't risk to damage wires or plumbing behind it.
Variable Speed
The cutting speed of a recip saw can be controlled with a rotating dial or a trigger. The variable speed trigger allows you change the speed instantly, depending on how hard you are pushing it. For instance, you can start cutting the workpiece slowly at first and then speed up gradually.
The dial control enables you to set the maximum speed of the saw. It can be adjusted only when the sawzall is not running. We recommend you to look for a saber saw with a variable speed trigger.
No Tool Blade Change
Many of the modern saws allow you to quickly change the blade without using any tool. Otherwise, you will need to carry an Allen wrench or a screwdriver with your power saw. Choose a sawzall with the tool-less blade change system to avoid this inconvenience.
Multi-Position Blade Clamp
It lets you install the blade in additional angles: upside down and perpendicularly. This lets you have the versatility in cutting in different directions without turning the saw.
Rotating Handle
Almost the same thing, but instead of the blade you turn the handle. Most saws will allow you to set it in five different positions. You simply press the button on the body of the tool and rotate the handle to your desired angle.
Cord Type
The cable of the recip saw may come either with a rubber or plastic insulation. It is recommended to choose the rubber cord since it's more flexible than plastic.
Reviews of 10 Top Rated Corded Sawzalls
---
1
Makita JR3070CT AVT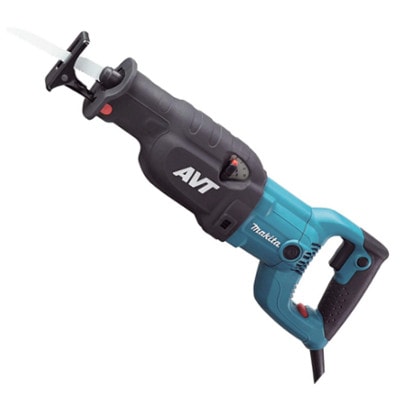 Pros:
Good anti-vibration mechanism, quiet performance.

Comfortable ergonomic rubber grip.

Very powerful tool.
Cons:
No trigger speed control.
The tool.

Two blades.

Metal tool case.
Efficient anti-vibration technology.

No-tool blade change system.

4-position orbital action.

15 AMP motor.

1-1/4″ stroke length.

Dial variable speed control (0-2800 SPM).

The clutch assembly helps to protect the gears if the blade binds.
Whether you are a DIY enthusiast or a professional contractor, Makita JR3070CT reciprocating saw will not fail you. The powerful 15 AMP motor and a long-lasting body design will serve you well for many years and handle the most difficult cutting jobs with ease. The anti vibration technology (AVT) effectively reduces the stress on your hands and the clutch assembly provides protection to the gears in case the blade binds.
2
Milwaukee 6538-21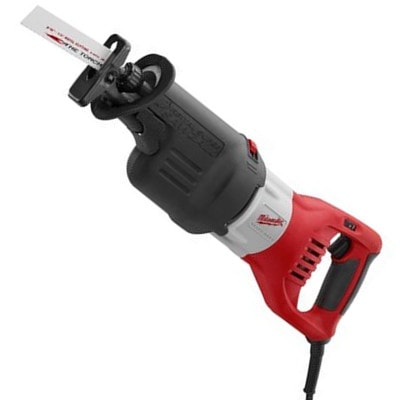 Pros:
Tool-less blade change.

The saw feels very well balanced.

The gear protection clutch extends the life of the motor.

5-year warranty.
Cons:
A little bulky if you are not an experienced sawzall user.

The storage case does not have much space for extra blades.
Trigger and dial speed controls.

Orbital Action.

Powerful 15 AMP motor.

Constant power technology provides constant speed even under heavy use.

Overload protection.
This Milwaukee is an excellent tool to include in your toolbox. The 15 Amp motor makes it powerful enough for medium and large projects. The combination of variable speed trigger and the dial give you full control over the cutting speed. The reliability of the tool is reinforced with the gear protection clutch, constant power technology and overload protection.
3
Bosch RS7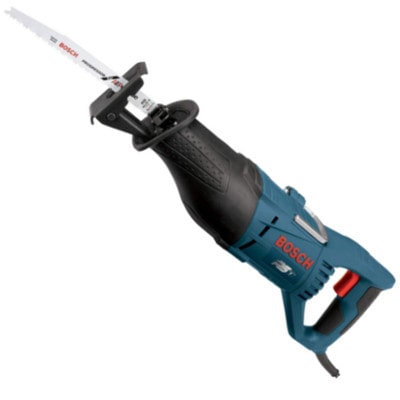 Pros:
Soft and comfortable grip.

Low vibration rate.

Well-balanced.

Compact and ergonomically designed.
Cons:
Poor quality LED light.

Tool-less blade change system isn't very reliable.
11 Amps of power.

Tool-less blade change system.

LED light to illuminate the cutting area.

Trigger speed control.
The Bosch RS7 comes with a few nice features making it suitable for your home projects as well as for some professional applications. Although the 11-Amp motor provides ample power for smaller projects, it may not handle the heavy duty tasks very efficiently. Overall, considering the functions of the saw, durability and the price, it is without a doubt a worthwhile investment if you don't need the most powerful tool.
4
Hitachi CR13VBY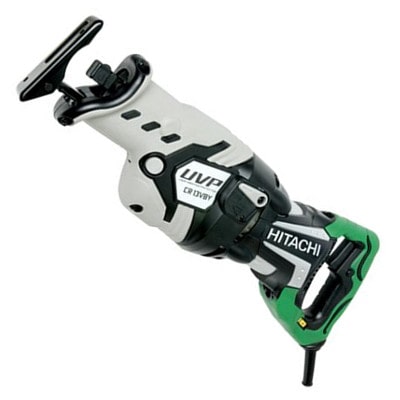 Pros:
Combination of variable speed trigger and dial for more accurate control.

Good anti-vibration system.

5-year warranty.
Cons:
The tool.

One all-purpose blade.

Storage case.
User Vibration Protection (UVP) system.

12 AMP motor.

1-1/4 inch stroke length.

Modified orbital action ("swing mode") to reduce the rebound effect.

Triple sealing on the tool to protect from debris and dust.
The Hitachi CR13VBY is a very versatile reciprocating saw packed with features like 12 A motor, unique orbital action system, variable speed trigger and dial. As long as you can handle a 10lb tool it feels comfortable to work with, considering the low vibration rate and ergonomical heat resistant grip.
5
Makita JR3050T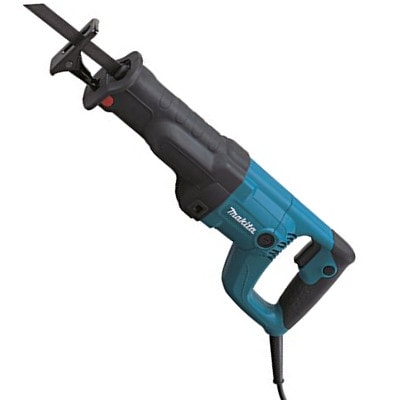 Pros:
Ball and needle bearings help to extend the life of the tool.

Reasonable price.

The brushes are accessible externally making it easy for repairs and maintenance.
Cons:
No orbital action.

1-year limited warranty.
Tool.

6 blades.

Hard tool case.
Tool-less shoe adjustment and blade change.

11-amp motor and 1-1/8-inch-long stroke.

Built-in sawdust blower.

Lightweight (7.1 pounds).
If you are searching for an affordable reciprocating saw, then the Makita JR3050T could be a good choice. The power of 11 amp is more than sufficient for cutting wood, metal and plastics. However, it may not be enough for a commercial grade applications. Features like tool-less blade change, lock-on speed trigger, dust blower and the price make it an attractive tool to consider if the lack of orbital action is not a deal breaker for you.

6
DEWALT DWE304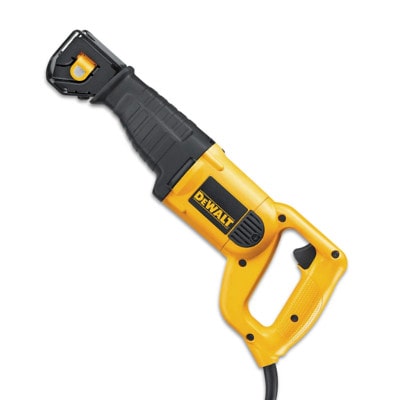 Pros:
Good price.

3-year limited warranty and one-year service contract.
Cons:
10 Amp motor.

4-position blade clamp.

0-2800 SPM.

1-1/8″ stroke length.

Variable speed trigger.
If you are looking for a reliable reciprocating saw for smaller projects, then DEWALT DWE304 is certainly worth a deeper look. It is fitted with 10 Amp motor and a speed trigger which will provide you 2800 SPM and 1-1/8 inch stroke length. In addition, it features a no-tool blade change clamp that also can be set in 4 angles. However, the saw lacks orbital action.
7
PORTER-CABLE PC85TRSOK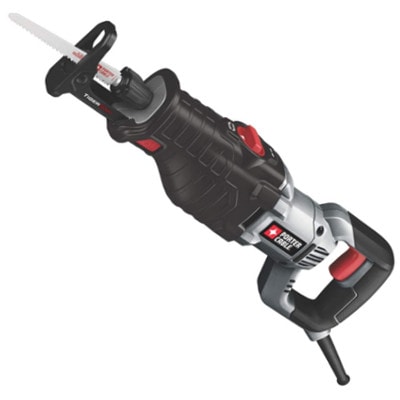 Pros:
Tool-less adjustable shoe.

Convenient twist lock tool-less blade change system.

Compact design helps to cut in tight areas.
Cons:
The storage case is made of cheap plastic.
8.5 Amp motor.

Variable speed trigger (0-3200 SPM).

Orbital action.

7.3 Lbs.

1-1/8″ stroke length.
PORTER-CABLE PC85TRSOK tiger saw offers comfort and control with its soft grip, lightweight and compact size. The variable speed motor makes up to 3200 SPM. Tool-less shoe adjustment, as well as twist lock blade clamp, make it easy to replace blades. This model is a good option for small DIY projects.
8
BLACK+DECKER RS500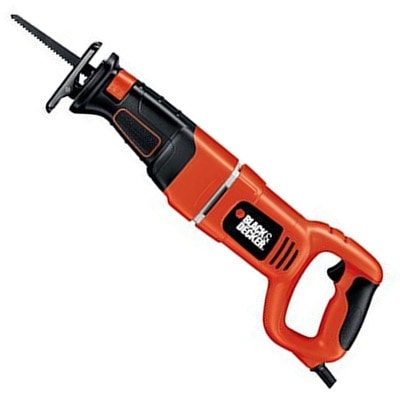 Pros:
Cons:
The model is discontinued by the manufacturer.
8.5 Amp motor.

Variable speed 0-2400 SPM.

Soft comfortable grip.

Tool-less blade change system.
The Black & Decker RS500 is lightweight weighing only 6.8 pounds and compact which makes it easy to use and transport. It comes with a tool-less blade change clamp and a comfortable soft grip. The saw features a variable speed control of 0-2400 SPM which is somewhat lower than in other models. Overall, the tool is suitable for light-duty applications and performs well enough for its price.
9
SKIL 9206-02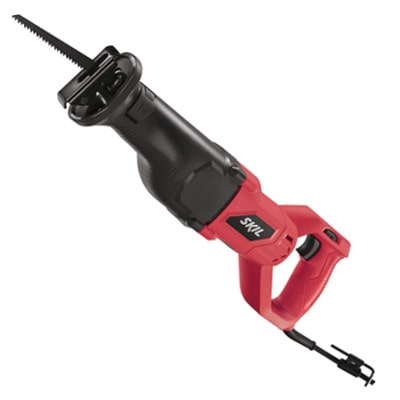 Pros:
Compact and lightweight.

Extremely low price.
Cons:
The blade holder is unreliable.

No trigger variable speed control.
7.5 Amp motor.

Reduced vibration rate.

Tool-less blade change system.

Dial variable speed control.
With an average size motor of 7.5 Amp, this reciprocating saw is good for a variety of small home jobs. It comes with basic nice features like a no-tool blade change system, reduced vibration and a variable speed dial. The tool is a good option for light-duty projects considering its low price.
10
Chicago Electric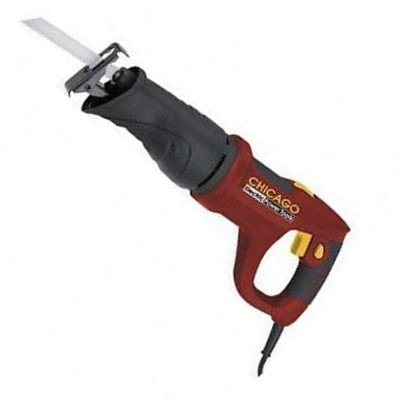 Pros:
Rotating handle.

Low price.
Cons:
Only good for small projects.
Pivoting shoe up to 30°.

6 Amp motor.

180° 5-position rotating handle.

0-2500 SPM variable speed trigger with a lock-on button.
Chicago Electric recip saw is adequate for smaller jobs. The ergonomic handle and compact size offer you a good control. The pivoting shoe and the rotating handle enhance the maneuverability of the tool. The 6-amp motor delivering 2500 SPM maximum may not be enough for large projects but the saw performs well cutting softwood and thin mild metal pieces. If you are on a budget and don't need a heavy duty sawzall this might be a good option to consider.
Brands
The two strongest manufacturers are Milwaukee Tool (the inventor of the Sawzall) and Dewalt. Their products are always in demand due to their quality. Other well-known brands are: Makita, Ryobi, Ridgid, Bosch, Black & Decker, Hitachi, Porter-Cable, Craftsman, Skil and Hilti.
Prices of Corded Reciprocating Saws
As you can see from our reviews, the prices of recip saws widely vary depending on the types of projects they are capable to be used for.
Reciprocating Saw Under $100
We have given you examples of cheap models which are on sale for even less than $50 and are manufactured by well-established brands. Within this range they don't come with accessories like blades or storage box. Some vendors also offer refurbished/reconditioned recip saws which are certified by the manufacturers and come with a warranty.
Sawzalls Within $100 – $200
Within this budget you can easily find a few comparatively powerful and almost heavy duty corded saws. In some cases, they may even come with accessories.
$200-$300 And Over
If you are prepared to spend over $200, then you can afford a superior model. They may also come with accessories like blades, hard cases, etc.
Where To Buy A Corded Sawzall?
A local hardware store may offer you a few options for sale, but the best deals and the widest choice are always online, particularly on Amazon, eBay and Walmart.
Related Guides