Quick Comparison Table
| | DeWalt DCCS690M1 | Oregon CS250 | EGO Power+ CS1403 | Zombi ZCS5817 | GreenWorks 20312 G-MAX |
| --- | --- | --- | --- | --- | --- |
| | | | | | |
| Price | $ | $ | $ | $ | $ |
| Weight | 18.4 lbs | 10.5 lbs | 13.4 lbs | 16 lbs | 6.9 lbs |
| Dimensions | 9.4 x 36 x 9.3 in | 12.13 x 11.13 x 32 in | 9.8 x 9.4 x 30.1 in | 11 x 10 x 35 in | 31 x 9 x 8.5 in |
| Bar Length | 16 inch | 14 in | 14 in | 16 in | 16 in |
| Battery | 40V MAX 4AH lithium ion | 40-volt lithium-ion | 2.5Ah lithium-ion | 58-volt 4Ah lithium | 4Ah |
| Warranty | n/a | n/a | 5-year limited warranty | 5 year warranty | 4-year limited warranty |
| Amazon FREE Shipping | | | | | |
| | | | | | |
How to Select the Best Cordless Electric Chainsaw?
---
Homeowners should be very careful when deciding on any particular cordless electric chainsaw. They should first consider what their need for the chainsaw is, followed by their household's requirements. Is your yard expansive with quite a few trees needing attention?
Or is it a small garden with smaller trees needing maintenance? Once you've identified your needs, the buying process begins and you can work out what's affordable and within your budget. There are many cordless electric chainsaws for sale. The hardest part is finding the best one for your needs.
Work Type
Not every chainsaw is suitable for every job, which is why we've put this buying guide together, to identify those which will be suitable for your particular requirements.
If you're after a commercial grade chainsaw which can help take down forest lots as a professional lopper, a cordless electric chainsaw is not for you. If you need something for the odd lopping in the yard, you may find it's exactly what you've been looking for.
Safety
As the average chainsaw accident requires 110 stitches, it pays to stay safe around your equipment. Cordless electric chainsaws are no different. Even if you're a professional, don't get complacent. When operating your chainsaw, you should ensure you're comfortable handling it, and that it's not too heavy.
Does it have a top handle or a rear handle? Which do you prefer? You should also check all the components such as the controls, chain tension, handle, chain sharpness and belts to ensure everything is in working order.
Your cordless electric chainsaw should come with the following safety features:
Chain brake
Right hand guard
Centrifugal clutch
Chain catcher
Safety throttle
Anti-vibration handle
Efficiency
If you're looking for efficiency, you will certainly find it with a cordless electric chainsaw. Because it doesn't run on gas, you are able to use it for the entirety of its charge time with zero emissions into the environment. There's very little maintenance as well, therefore it's quick to start, quick to use, and quick to put away. This is the epitome of efficient.
Features
Each and every chainsaw manufacturer aims to offer something different to put its brand ahead of others. Be on the lookout for standout features such as self-sharpening blades and batteries that last longer than any other. Batteries that last longer than average will be the main feature you should be looking out for in each model.
Maintenance
The great thing about cordless electric chainsaws is the lack of maintenance. Although not all brands are the same, most offer push button starts, self-lubricating chains and very few problems with wear and tear. You will find these particular saws are perfect for those who just need something for minimal home maintenance. You don't need to worry about fuel or spark plugs.
Budget
When it comes to purchasing the best cordless electric chainsaw/s for the money, you need to be sure the chainsaw will effectively meet your needs. Do a feature comparison against the price, and look at a few options and what they offer.
For example, a chainsaw with more amps may be a better price than one with less amps, but its battery life might be shorter. Weigh up the pros and cons in comparison to the cost, and this will ensure you get the best bang for your buck.
Top 5 Cordless Electric Chainsaws Reviews
---
1
DeWalt DCCS690M1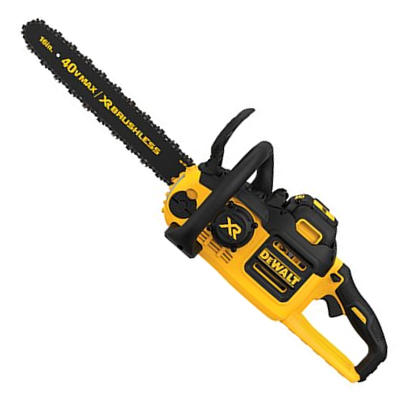 Pros:
It starts at the push of a button
It stops rather than idles which is great for safety
It's quiet
It's affordable
It needs less maintenance
Cons:
Battery life doesn't last as long as some brands
It can't be used in all weather as the battery doesn't have a waterproof seal
Additional batteries are expensive
There's a common issue with the oiler not working
It requires quite a bit of chain oil
DCCS690 brushless chainsaw
40V MAX 4AH lithium ion battery
Charger
16 inch Oregon bar and chain
Bar sheath
Q
How much does it weigh?
A
18.4 pounds.
---
Q
What are its dimensions?
A
9.4 x 36 x 9.3 inches.
---
Q
What battery does it come with?
A
40V Lithium 4AH battery.
---
Q
How long does the battery last?
A
30-60 minutes of continuous use, approximately.
The DeWalt DCCS690M1 is an excellent example of a battery-powered chainsaw that gives you full control and efficiency. The battery life is mid-range, but it has an incredible amount of power which allows you to do a lot of home maintenance with ease.
It's easy to start, easy to maintain, and almost anyone can use one – whether you're professional or amateur. It also has low kickback, and a chain brake for when it does occur. It auto-oils so you only need to refill it, and it has a variable speed trigger as well. Overall, for the money, this battery-operated chainsaw is a winner.
2
Oregon CS250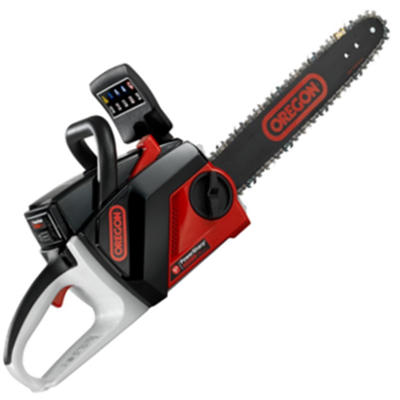 Pros:
It starts with the push of a button
It has a built-in chain sharpening system
It cuts approximately 250 2-3 inch diameter branches on one battery charge
There's no warm up time
Battery life is good
It's low maintenance
Cons:
It's a bit more expensive than other battery-operated saws
It can become heavy to carry for long periods of time
The battery can't be used with other tools of the same brand
Some users note problems with oil leakage
CS250-E6 40-volt Max cordless chainsaw
14-inch guide bar
PowerSharp chain
40-volt lithium-ion battery pack
Charger
Q
How much does it weigh?
A
10.5 pounds.
---
Q
What are its dimensions?
A
12.13 x 11.13 x 32 inches
---
Q
What is the bar length?
A
14 inches
---
Q
What kind of chain does it have?
A
PowerSharp, self sharpening
---
Q
What is the chain pitch?
A
⅜ inch low profile pitch
---
Q
What is no-load chain speed?
A
2,300 RPM
---
Q
How long does the battery last?
A
Up to 250 2-3 inch branches
If you thought the electric battery chainsaw couldn't require any less maintenance, the Oregon CS250-E6 arrived! With its self-sharpening blade, it takes the term 'low maintenance' to a whole new level. Simply check the chain oil levels, give it a wipe down and that's maintenance complete!
It has amazing cutting power on one charge, requires no warming before use, and it's known for its reliability. This chainsaw is definitely a great option for those looking for something exceptional for the money.
3
EGO Power+ CS1403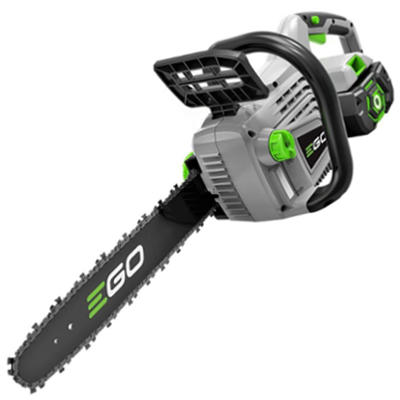 Pros:
It comes with a five year warranty – almost unheard of in power equipment
It's lightweight for both men and women
It has a high efficiency brushless motor
It has good battery power for long usage
All batteries are interchangeable between this brand's products
Cons:
Some users experience problems with the chain oiler
The oil reservoir isn't big enough to allow a lot of oil at once to be poured in
Some users note problems with the throttle turning off by itself
The chain loosens really quickly and can fall off
EGO Power+ cordless battery chainsaw
2.5Ah lithium-ion battery
Charger kit
14 inch bar and chain
Q
How much does it weigh?
A
13.4 pounds.
---
Q
What are its dimensions?
A
9.8 x 9.4 x 30.1 inches
---
Q
What is the battery life like?
A
Up to 100 cuts per charge
---
Q
How big is the bar and chain?
A
14 inches
---
Q
Is the battery interchangeable with other EGO Power+ products?
A
Yes
The Ego Power+ chainsaw is easily one of the most convenient battery-operated chainsaws on the market. Because of its interchangeable batteries, it enables you to swap power tools with ease by simply putting the battery from one tool into another.
It has great battery life coupled with a high efficiency motor for extreme power. It's also weather resistant which is another plus and offers premium safety with a chain kickback brake. Overall, the Ego Power+ chainsaw is effective for home use and many homeowners love the five year warranty that comes with it.
4
Zombi ZCS5817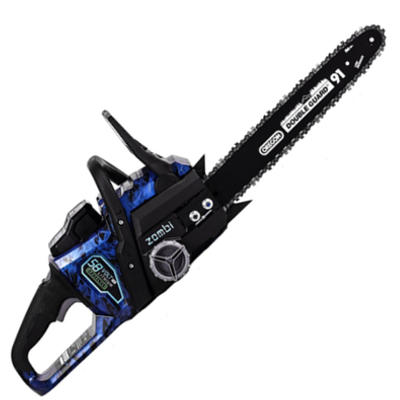 Pros:
It comes with a five year chainsaw warranty
It has low kickback
It has great safety features
It's got a unique design unlike its competition
There's a battery life indicator
Battery life is very good
It's lightweight
It's quiet
Comfortable safety switch
Cons:
It's on the higher end of the price scale
It can leak oil – you may need o-rings
There's a lot of plastic which makes it look cheap
Some of the molding isn't very well constructed
Zombi chainsaw
16-Inch Oregon chain and bar
58-volt 4Ah lithium battery
Battery charger
Q
How much does it weigh?
A
16 pounds.
---
Q
What are its dimensions?
A
11 x 10 x 35 inches
---
Q
What is the chain and bar length?
A
16 inches
---
Q
What is the battery type?
A
58-volt 4Ah lithium battery
The Zombi electric chainsaw is a little overpriced for what's on offer. Although it comes with a five year warranty for your peace of mind, the build of the saw looks and feels cheap. The design is nice and different however, and the battery life and power is great.
It also offers a battery life indicator so you know when it's time to swap out the battery. Overall, it's not a bad saw, but priced against others online with similar features, it doesn't rate as the best.
5
GreenWorks 20312 G-MAX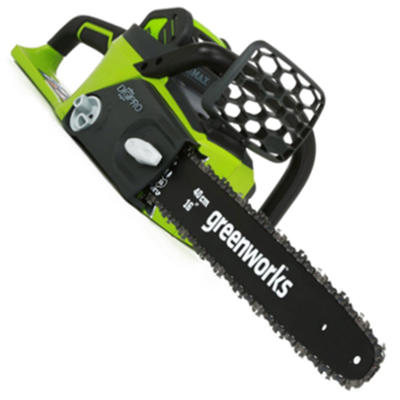 Pros:
Its battery is interchangeable with other GreenWorks products
It's affordable
It's incredibly lightweight
You can get up to 150 cuts with one battery charge
It's easy to handle
It has great safety features
It is very powerful to cut through quite large branches
Cons:
There was a batch of defective batteries which users will need to get replaced
It is recommended you empty the oil reservoir when storing to avoid leakage due to a manufacturing fault
The chain is known to fall off when tensioning gets loose
GreenWorks cordless chainsaw
4Ah battery
Charger
16 inch bar and chain
Q
What are its dimensions?
A
31 x 9 x 8.5 inches
---
Q
How much does it weigh?
A
6.9 pounds.
---
Q
What is the battery life like?
A
You can get up to 150 cuts with one charge
---
Q
Is the battery interchangeable with other GreenWorks products?
A
Yes
Lightweight and affordable with great battery life and a strong bar and chain, the GreenWorks cordless electric chainsaw is a good product. The only thing that lets it down is its manufacturing fault with a leaky oil reservoir.
Some users also experienced no battery life because of a faulty batch. However, the manufacturers are very open and communicative in fixing any issues. It's a great saw for a great price and many consumers are happy.
Cordless Electric Chainsaws Prices
There is a large price variance in cordless electric chainsaws. This will vary from brand and manufacturer through to model. If you are looking to purchase a new battery powered chainsaw, it helps to refer to our buying guides with product features to work out how to get the best deals.
Prices can vary for these chainsaws from as little as $79.00 to $500. This would include the battery, chain and bar, and optional bar lube as well. Price is normally an indication of quality, but not in all cases.
Read reviews, find out what's for the home owner or the professional, what's top rated and what's not, and do your homework. Always be ready to make a comparison between the safety features of two chainsaws. You want the best for the money.
Where to Buy Cordless Electric Chainsaw?
The United States has an abundance of stores offering top quality battery powered chainsaws with the best deals. However, it pays to shop around and find out what's on the market.
Often the best deals can be found online, on websites such as Amazon. In this buying guide we outlined some of the best cordless battery operated chainsaws on the market – each are available in different physical and online stores.
Leading Cordless Electric Chainsaw Brands and Manufacturers
Related Guides