Quick Comparison Table
| | Hilti WSR 18-A | Makita XRJ05T | Bosch CRS180K | Milwaukee 2720-21 | DEWALT DCS380L1 | VonHaus | Craftsman C3 | Hitachi CR18DGLP4 | Ryobi P515 | Black and Decker BDCR20B |
| --- | --- | --- | --- | --- | --- | --- | --- | --- | --- | --- |
| | | | | | | | | | | |
| Price | $ | $ | $ | $ | $ | $ | $ | $ | $ | $ |
| Dimensions | n/a | 6 x 21.6 x 13.2 in | 19.1 x 12.5 x 12.3 in | 15 x 20 x 21 in | 10.8 x 24.9 x 4.9 in | 17.3 x 9.8 x 4.4 in | 15 x 3.5 x 6.5 in | 1 x 1 x 1 in | 15 x 6 x 6 in | 15.6 x 3.4 x 7.1 in |
| Weight | 17 lbs shipping weight | 19 lbs | 13.4 lbs | 13 lbs | 13.3 lbs | 7.79 bs | 4.8 lbs | 3.44 lbs | 4.45 lbs | 3.55 lbs |
| Power Source | Battery | 2 Lithium ion batteries required | Battery powered | Battery | Cordless electric | Battery | Battery | Battery | Battery | Battery |
| Warranty | n/a | n/a | Batter Premium Service, 24 months after the product purchase | n/a | 3 Year Limited | n/a | n/a | 5-Year Limited Warranty | n/a | 2 year limited warranty |
| Amazon FREE Shipping | | | | | | | | | | |
| | | | | | | | | | | |
How to Select the Best Cordless Sawzall?
---
Mobile and efficient, a battery powered cordless sawzall allows users the freedom to operate far away from a power outlet. The appeal to such a tool is that, unlike a corded sawzall, you no longer have to worry about searching for a socket or an extension cord in order to begin working.
The downside when compared to a corded recip saw is that the cordless model operates solely on batteries, so constant charging is required. Cordless models are also heavier and often exert a bit less power for the same price as a corded reciprocating saw.
If a cordless sawzall is a tool that interests you, the buying guide below goes into depth on features, maintenance, safety, the best models, and more.
What Can a Cordless Reciprocating Saw Handle?
A cordless sawzall is the perfect tool for both professionals and DIY enthusiasts. It was intended for strenuous demolition work (cutting nail-embedded wood), but can quickly slice through harder materials such as cast iron, masonry and concrete.
Any rechargeable reciprocating saw can be customized with a blade of a specific type. They vary in number of teeth per inch, blade material, and shape. There are blades for wood, metal, masonry and concrete as well as designed for specific tasks, such as pruning or plunge cuts in drywall. Read our buying guide on reciprocating saw blades to learn the details.
Efficiency Of A Battery Sawzall
Quality materials and design, battery voltage, strokes per minute (SPM), and stroke length, all play a part on efficiency when it comes to a battery powered sawzall.
The most powerful models of a rechargeable recip saw have a cutting speed up to 3,500 SPM, a voltage of 18 to 20 volts, and a stroke length varying from ¾ inch to 1-¼ ". They usually weigh anywhere between 3 to 8 pounds.
Most often a better made tool equates to a well-established brand and with that comes dependability.
Types Of Battery Saber Saws
Nickel-Cadmium
Nickel-Cadmium or NiCad, is the most affordable battery type for electric power tools. It has a high cycle durability which means it can be charged and discharged a larger amount of times before it dies out. On the negative side it is heavier than lithium ion, so the reciprocating saw as a whole will weigh more. NiCad cannot be recharged as frequently as lithium ion and is also known to deteriorate over time.
A NiCad battery should always be stored in a cool, dry place.
Before the first use of the reciprocating saw a NiCad battery should be "primed" with 14-16 hours of charge. Do not speed the charge because it shortens the life span. A NiCad battery should also be discharged every 1 to 3 months. When disposing make sure to remember that NiCad is a highly toxic metal, therefore it should never be burned or thrown away. Instead take your batteries to an official NiCad recycling center.
Lithium Ion
Lithium ion is a smaller and lighter type of battery. It is convenient, as it requires very little maintenance, can be charged at any time, gains charge quickly, and can operate well in a wide range of temperatures. A lithium ion battery can also be stored for long periods of time without losing any charge whereas NiCad cannot.
Although the battery may not lose charge if left unused, it may become damaged if stored uncharged. In addition, a lithium ion battery is more expensive when compared to NiCad.
Lithium ion functions best when stored in room temperature. The battery should be regularly charged in a temp above freezing but below 122 degrees fahrenheit.
Before use, you should avoid "topping" (charging for a long period of time) as no priming for the battery is needed. Lithium ion should always be kept at least partially charged. After about 30 charges a lithium ion battery should be discharged almost completely. But never fully discharge it, because it will appear dead to the charger. If this happens a regular charger will not be able to recharge your battery.
Whether your battery is Li Ion or NiCad, follow the user's manual to maintain them properly.
Small Cordless Sawzalls
Small cordless sawzalls are useful tools for anyone who is "on the go." Weighing only a couple pounds they are extremely light. But with decreased size comes decreased power. Depending on the model and blade type, compact reciprocating saws can cut a wide variety of materials including plaster, drywall, softwood, hardwood, plastic, and metals.
If this tool is something that interests you, take a look at our Mini Reciprocating Saw Buying Guide here: which provides a detailed look into features to look for, best models comparison, and more.
Safety
A reciprocating saw is a powerful tool and with such strength users need to take the proper safety precautions which are listed below:
Keep your workspace free from clutter.

Make sure the blade is compatible with the workpiece.

Ensure safety equipment like goggles, mask, and gloves are put on.

No open-toed shoes should be worn in case of flying debris.

Do not adjust a dial variable speed control in the midst of cutting.

Balanced and secure foothold should be maintained at all times.

Turn off the saw completely before making any adjustments of accessories or storing.

Only use the designated battery pack with your cordless reciprocating saw.

Charge the battery pack only with the charger specified by the manufacturer. An incorrect charger can create an increased risk of fire.
Maintenance
Due to the fact that a cordless sawzall is battery operated, there are additional steps you need to take in order to keep the saw and battery working properly. The following are suggested tips for maintenance.
Every 2-6 months take your saber saw to a service center for regular maintenance.

Do not use any solvents when cleaning plastic parts as it can cause damage.

Blow dust and dirt out of all air vents with clean, dry air.

Clean the battery pack with a dry cloth only.

Clean the charger regularly with only a dry cloth or soft non-metallic brush. Make sure it is disconnected from the AC outlet.
Features
The cordless sawzall of your demolition dreams is out there, luckily features can be easily customized to meet your exact needs. Below are things to take into consideration in order to determine which saw is the right one for you.
Brushless vs Brushed
There are two types of motors; brushless and brushed. The difference between the two lies in the inner workings of the motor shaft. They both use magnets to ignite the spinning motion, but a brushless motor connects to the magnet via a circuit board, while a brushed motor connects to the magnet through carbon brushes.
Brushless power tools were invented decades ago, but with re-introduction from brands like Makita, DeWalt and Milwaukee, brushless models have skyrocketed in popularity the last decade. With a brushless motor, the motor shaft adjusts according to the task. Brushless motors are more efficient than brushed and longer-lasting, since they don't have the carbon brushes that are worn out over the time. However they are also more expensive.
On the contrary, brushed motors are more affordable. However, you get the same amount of current passing through the motor at any given time. In addition, because the carbon brushes are in constant contact with the rotating commutator, friction is created. With this friction, both energy loss and wear & tear will occur. If you use the saw often one day you will have to replace the brushes.
In the end, the debate on brushless vs brushed should be settled by your use. If you constantly operate a reciprocating saw, you may want to invest in a brushless motor for the purpose of durability. On the other hand, if you have a sawzall for occasional home projects or small repairs, a brushed motor may be a better, cost saving option.
Orbital vs Non Orbital
When the orbital action is absent or turned off, the blade moves back and forth in a straight line. Orbital cutting function makes it move also up and down at the same time. This creates a more aggressive stroke, which is useful while cutting thick pieces of wood, plastic and other materials. But it should be turned off when working with metals, including wooden pieces containing nails, as well as if you need a fine or intricate cut.
Adjustable Shoe
No matter the model, every cordless reciprocating comes with a shoe. A shoe provides a flat surface to hold the saw which gives users stability while operating.
But a recip saw can also have an adjustable shoe that also lets you customize the cutting depth. Increasing it lets you use the part of the blade that usually goes unworn. Therefore, an adjustable shoe spreads even wear on the blade, making it last much longer. You can also decrease the cutting depth with an adjustable shoe. For example if it's possible to damage pipes or wires behind a wall in which you are making a pocket cut.
Because of all the benefits of this feature, we recommend to choose a model which includes an adjustable shoe for more precise cuts and overall stability.
Variable Speed
There are two types of variable speed control; dial and trigger. One of which is included in most cordless reciprocating saws. The trigger control lets you change the speed while operating whereas a dial has a fixed speed.
A trigger is pressure sensitive – forcefully push down on the trigger for a faster cut or push gently for slow and controlled cuts. Like stated above a dial operates on a fixed speed that you select before starting on your workpiece. Resembling a wheel, the user turns the dial speed based on the material and needed precision of the cut.
Anti-Vibration Technology
Vibration reduction reduces the amount of vibration the reciprocating saw gives off to the operator. With absence of this feature, the vibration is damaging to the engine's parts over the time not to mention your joints.
Anti-vibration mechanism means less hand fatigue, and little to no wear and tear on the joints. It also reduces the precision of the cut and accelerates the wear of mechanical parts of the tool itself.
No Tool Blade Change
It is critical to have a no tool blade change in your cordless sawzall if you work with a variety of different materials and need to switch blades frequently. It has been increasingly popular for newer models to include the tool-less blade change feature. With such a feature, you will no longer have to deal with the annoyance of using a screwdriver or wrench to replace a blade on your sawzall.
Multi Position Blade Clamp
The multi position blade clamp is especially useful for flush cuts, as it allows you to install the blade in a several different angles, most often four. The blade can go upright or sideways, with the right side up or down, left or right, without you having to physically turn your saw.
Electronic Speed Compensation
The electronic speed compensation (ESC) is a high-end feature only present in select cordless sawzalls. It can often be seen on models with brushless motors. ESC allows the user to maintain a blade speed regardless of cutting load.
Rotating Handle
A rotating handle increases your flexibility while working in an uncomfortable position. Depending on the model, handles rotate either 180 or 360 degrees with additional position stops along the way. The position stops once selected lock in place. Such a feature improves accuracy, precision, and overall comfort.
Reviews of 10 Top Rated Cordless Sawzalls
---
Kit (battery and charger included):
1
Hilti WSR 18-A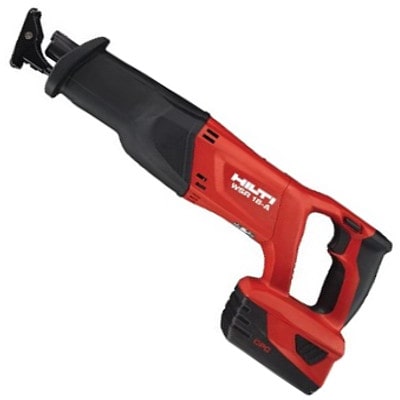 Pros:
Efficient and reliable hi-end tool.

Long battery life, tool-less blade change system as well as a two-step injection molded grip for greater comfort.
Cons:
This model is expensive even in the category of professional power saws.

At the same time, it's not meant to cut masonry and concrete and the shoe is not adjustable.
Saw

lithium ion battery

charger

impact resistant kit box
Tool-less blade change

Safety lock

Two-year warranty

Comfortable grip

0-3,000 SPM

Variable speed trigger

Lithium ion battery
Hilti is a reputable manufacturer specializing in producing professional reliable high-end tools. Although the Hilti WSR 18-A doesn't come cheap, it does come loaded with power and a durable battery. This tool is designed to cut wood, plastic and metals, but not meant for masonry and concrete and doesn't allow to adjust the pivoting shoe. Depending on your project it may be a good investment for you, as this tool is durable and reliable.
2
Makita XRJ05T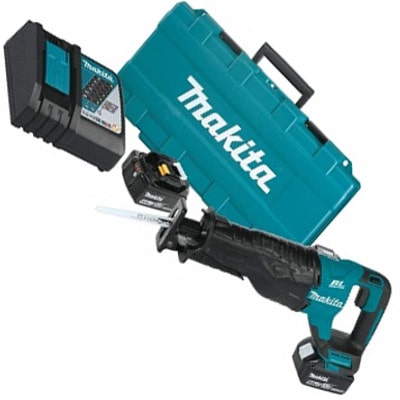 Pros:
A really cool feature of the Makita XRJO5T is that it includes a powerful two-speed brushless motor: 0-2,300 SPM and 0-3,000 SPM.

It also feeds off of a fast-charging lithium ion battery.

As additional features, this model has a good vibration reduction, a rubberized grip handle, tool-less blade change, and an LED light.
Cons:
Unfortunately this model only comes with a fixed shoe.
Saw itself

2 lithium ion batteries

rapid optimum charger

saw blade

tool case.
2 Lithium ion batteries

Two-speed brushless motor

0-2,300 SPM & 0-3,000 SPM

1-¼" stroke length

Vibration reduction

LED light

Tool-less blade change

Rubberized handle
From plumbing to heating to demolition, the Makita XRJO5T has you covered. Due to its versatility in cutting speed and long stroke it can efficiently cut a wide variety of materials. The model comes with two durable and fast-charging lithium ion batteries, brushless motor, vibration reduction, tool-less blade change system and a mechanism preventing the deflection of the blade. However, this saw doesn't feature an adjustable shoe.
3
Bosch CRS180K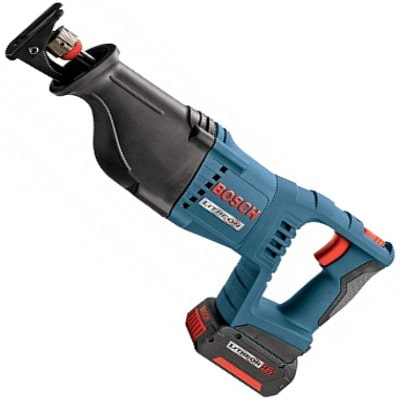 Pros:
The

Bosch CRS180K contains an electronic motor protection, a high-end feature only available via select models that protects the motor from overload and allows for a constant speed despite how thick the cutting material may be.

It has a two-speed motor (one up to 2,400 SPM, and the other up to 2,700 SPM) as well as a 1-⅛" stroke length, and an 18-volt lithium ion battery.

Tool-less blade change system is also included.
Cons:
The cutting speed could be higher for a product in this price category and the shoe is not adjustable.
Reciprocating Saw

lithium ion battery

charger

two reciprocating saw blades

contractor bag
Two-speed motor (0-2,400 and 0-2,700)

Tool-less blade change system

1-⅛" stroke length

Lightweight and compact

Lithium ion battery

Rubberized handle for grip

Two-year free battery replacement
The Bosch CRS180K is a reliable recip saw allowing you to perform various tasks with ease. Two-speed motor with trigger speed control makes it more adaptable to your needs. The saw doesn't weigh much for a cordless tool. It has a long stroke – 1 ⅛ inch for a quicker cutting of thick pieces. This model allows you to work with practically any material you can find a blade for. But unfortunately it lacks an adjustable shoe feature.
4
Milwaukee 2720-21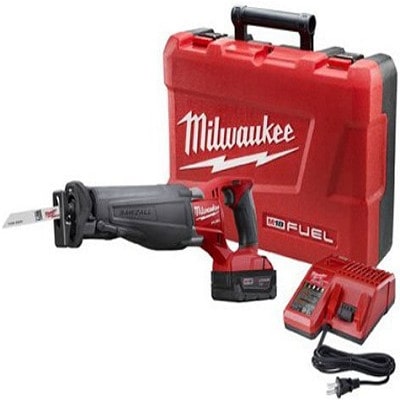 Pros:
The Milwaukee 2720-21 contains a bunch of features like a brushless motor, lithium ion battery, and overloading protection.

It also has an adjustable shoe to change cutting depth.

The Milwaukee 2720-21 also has a LED light, up to 3,000 SPM, 1 ⅛" stroke length.
Cons:
The battery, despite being claimed to have an extended capacity, isn't as durable as expected.

The tool also comes with a soft bag instead of the hard case.
Tool

multi-voltage charger

extended capacity battery pack

bag

one blade
Brushless motor

Lithium ion battery

Extended capacity battery pack

Redlink plus system for overloading protection

Adjustable shoe

LED light

Five-year warranty

1-⅛" stroke length

0-3,000 SPM
The Milwaukee 2720-21 is a dependable and advanced tool, having lithium ion batteries, a brushless motor and an LED light, making the use more comfortable. This saber saw is very powerful and does a wide range of jobs as easily as a recip saw can do. The Redlink plus system also strengthens the appeal of this model as it provides protection from overloading, overheating and over-discharging. The only disadvantage is that the battery life of the Extended Capacity Pack was expected to be longer.
5
DEWALT DCS380L1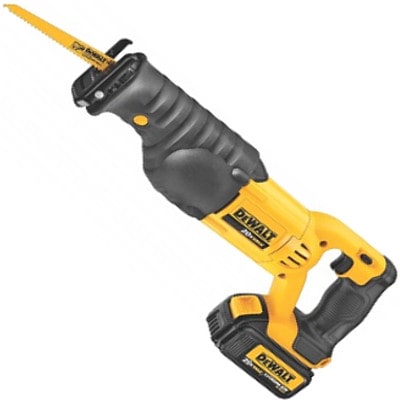 Pros:
The powerful DEWALT DCS380L1 has a four position blade clamp, helpful for making flush cuts quickly.

It also has a molded grip and three-year warranty.

Powerwise, the model can cut up to 3,000 SPM with a stroke length of 1-⅛."

Another plus is that the battery charger takes both 12-volt and 20-volt batteries.
Cons:
Short battery life, which can be an issue when using for professional work or prolonged periods of time.

The vibration is a bit too strong.
The saw

20-volt max lithium-ion battery

charger

carrying case
Four position blade clamp

1-⅛" stroke length

0-3,000 SPM

Molded grip

20 volt lithium ion battery

Three-year warranty

Dual voltage charger
Thanks to its the 20 V MAX battery and quality design, the DEWALT DCS380L1 is a powerful and reliable tool. It cuts easily through thick wood, hard metals and masonry. Additional features such as four position blade clamp and molded grip make its use even easier. However, for such a powerful tool one battery will not be enough, as it doesn't provide a continuous use. The saw optionally allows you to use a compatible 12V battery, but it will not be a backup option of a full value, so you will likely need to buy another one or two 20 V packs, depending on the frequency of using.
6
VonHaus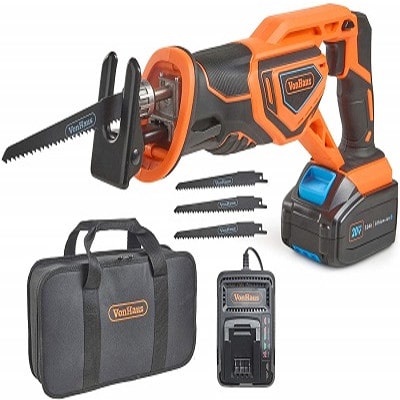 Pros:
VonHaus cordless recip saw has all the must-haves like an adjustable shoe, tool-less blade change mechanism and varying speed control.

It also has a fast charger which promises to fully charge the lithium ion battery in 75 minutes, and a LED indicator light to tell you when it's ready for use.
Cons:
The battery included with this model has been known to drain fairly quickly.
The saw

4 blades for wood

a lithium ion battery

charger

tool bag
0-3,000 SPM

Tool-less blade change

Rubber grip handle

20 volts lithium ion battery

Adjustable shoe

Rapid battery charger

Charger LED indicator lights
Cutting a wide variety of materials such as wood, plastics, and metals, the Vonhaus Cordless Reciprocating Saw is designed for versatility. The features this model boasts aren't necessarily the most high-tech, but they are crucial for easy and carefree operation. If you want a tool with long battery life and/or a rotating handle one of the other models may be a better option.
Bare Tool:
7
Craftsman C3
Pros:
The Craftsman C3 seems like a great model for extended use as it is both lightweight and has a soft-grip handle.

It has an adjustable shoe to lengthen or shorten cutting depth and doesn't fall short when it comes to the cutting speed, delivering up to 3,100 strokes per minute.
Cons:
The saw lacks power while working with thick or hard workpieces.
0-3,100 SPM

Soft-grip handle

Adjustable shoe

Safety lock

Tool-less blade change

⅞ inch stroke
In this model Craftsman as a manufacturer puts safety and comfort as a priority, equipping it with a safety lock and an ergonomic soft-grip handle. The tool-less blade change and adjustable shoe are added to give you ease of use and flexibility. The tool works fine with wood and mild metals, but lacks power while cutting anything harder. It will be a good choice if you occasionally perform a light duty job like pruning or simple DIY projects.
8
Hitachi CR18DGLP4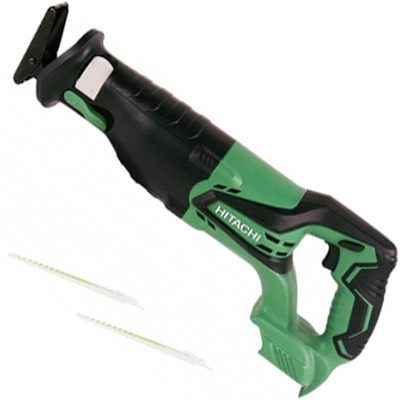 Pros:
The Hitachi CR18DGLP4 comes with a lifetime warranty.

It also has a LED light to make your workspace better-lit, a soft-grip handle for more comfortable use, and up to 3,300 strokes per minute.

An adjustable shoe and tooless blade change mechanism are also included.
Cons:
While operating you are required to hold down the safety switch and trigger which may pose an inconvenience.

It also does not come with a vibration reduction system.
The tool

lithium ion battery
Tool-less blade change

Soft-grip handle

Adjustable shoe

LED light

Lifetime warranty

0-3,300 SPM
Considering its high rating there's no doubt that a Hitachi CR18DGLP4 is a quality cordless sawzall. It is affordable, packed full with helpful features. The saw doesn't weigh too much (3.44 pounds), so will be handy for tasks like pruning. However the fact that the safety switch and trigger must be held down in unison presents the only serious inconvenience of this model. This saber saw is quite powerful, so it's recommended to purchase a battery with higher capacity for it. Otherwise it will be drained too fast.
9
Ryobi P515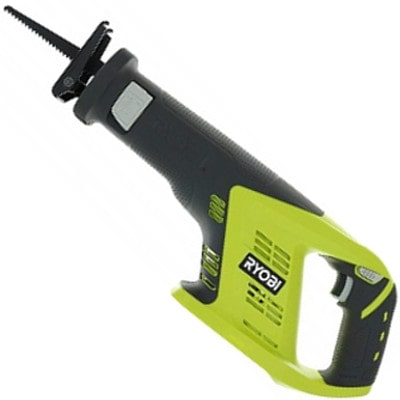 Pros:
With the Ryobi P515 delivering up to 3,100 strokes per minute, drywall, wood, and metals don't stand a chance.

This model has vibration reduction, a quick blade replacement system, adjustable shoe, and rubber grip.
Cons:
Although it comes with an adjustable shoe, the boot and case sometimes prevents from adjusting the shoe and setting screws, making the process inconvenient.

Like the model directly above, the trigger safety device may hinder you from cutting in certain positions.
Vibration reduction

0-3,100 SPM

Quick blade change system

Rubber grip

Adjustable shoe
As we have seen, vibration reduction is a rare occurrence in cordless reciprocating saws, but is present in the Ryobi P515. This means the tool will be easier to use for long periods of time and will probably last longer. The trigger safety device may cause setbacks in use, but in the end it is designed for the purpose of keeping you as protected as possible. If you are on-the-go and don't have a backup battery, this model might not be the best, as it drains the charge very quickly due to its power.
10
Black and Decker BDCR20B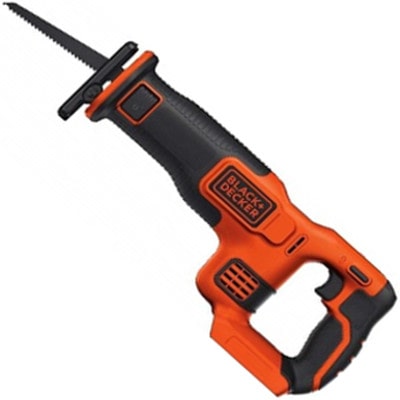 Pros:
The saw has an adjustable pivoting shoe, tool-free blade change mechanism, and pushes 3,000 strokes per minute.

Not to mention it is extremely lightweight at only 2.9 pounds.
Cons:
The saw lacks power, so it's suitable only for light work.

Strong vibrations is another problem users have found when operating this model.
Pivoting shoe

Tool-less blade change

Two-year warranty

Lightweight (2.9 pounds)

Up to 3,000 SPM
The affordable Black and Decker BDCR20B is good for a light-duty job, such as pruning or cutting sheet metal. Compared to heavier cordless models, it will be significantly easier to handle if working over your head. It also does have flaws: the pivoting shoe may have structural issues and the vibration is strong. but if you are willing to look past them the Black and Decker BDCR20B is a solid model for a light job considering its low price.
Brands
The two dominating leaders on the market are Milwaukee Tools, the inventor of the handheld sawzall, and Dewalt. Their reputation precedes them as they are reliable and produce quality products. Other popular brands include: Makita, Ryobi, Ridgid, Bosch, Black & Decker, Hitachi, Porter-Cable, Craftsman, Skil, Hilti.
Prices of Cordless Reciprocating Saws
Depending on the class, features, and quality of a cordless reciprocating saw prices will vary. There are affordable and expensive models both of which may share many of the same features. Ultimately, how much you are going to pay for a cordless sawzall depends on what you need in one.
Reciprocating Saw Under $100
There are many quality options to choose from when it comes to cordless reciprocating saws under $100. Many models in this price range are of well-established brands, generally without batteries and accessories. If you are open to certified refurbished/reconditioned recip saws your selection will only further expand. Occasionally, refurbished saws come with batteries, battery charger, case, and/or blades. So essentially you are getting a quality saw for a cheap price. But in this case we recommend to make sure that the product is offered with a full warranty.
There are even well-rated models under $50. However, in this category a saw will not come with a battery and a charger, so you will need to purchase them additionally. Or if you have a battery of other power tool of the same brand and it's compatible with your purchased model, you can use them with your new saw.
Sawzalls Within $100 – $200
If your budget ranges in the $100's or $200's you have more choice. Powerful, heavy-duty tools start in this range and most of them have the essential features you need to work efficiently. If you are going for a well-established brand, often times it will not include accessories. Nevertheless, with a deeper search it is possible.
$200-$300 And Over
Upwards of $200, you will see superior, professional tools in kits with batteries, chargers, blades, and cases.
Where to Buy a Battery-Operated Reciprocating Saw?
Cordless sawzalls are available for sale in many department, hardware, and superstores near you. However, the best deals are usually on such online marketplaces as Amazon, Walmart and Ebay. Be sure to check them for the widest variety of products at the best prices.
Related Guides