Quick Comparison Table
| | Makita UC4051A | WORX WG304.1 | Oregon CS1500 | GreenWorks 20022 | Craftsman |
| --- | --- | --- | --- | --- | --- |
| | | | | | |
| Price | $ | $ | $ | $ | $ |
| Weight | 15.7 lbs | 11.3 lbs | 12.6 lb | 20.05 lbs | 11.1 lbs |
| Dimensions | 10.5 inches x 24.2 x 10 in | 20.6 x 14.6 x 8.1 in | 18 x 37.5 x 10.5 inc | 32.4 x 9.7 x 7.6 in | 35.8 x 9.5 x 4.2 in |
| Warranty | 1-year limited warranty | 3-year manufacturer's warranty | 3-year warranty | 4-year warranty | 2-year warranty |
| Amazon FREE Shipping | | | | | |
| | | | | | |
How to Select the Best Electric Chainsaw?
---
Choosing the best electric chainsaw for the money all comes down to what you need it to do. By working through your requirements and what the best brands, manufacturers and models are for that particular type of work, you can find the perfect chainsaw to get the job done correctly.
Work Type
What will your electric chainsaw need to do? You first need to establish the scale of the job. Will it require much manpower and labor? Will it be close to a power source?
Do you need it for around the home, in a commercial setting, or in an industrial location? Are you using it in a professional or personal location? Establish first what you will be using it for, then the rest will fall into place.
Safety
Your safety is paramount. The majority of new chainsaws are fitted with safety features to allow you to operate your selected electric powered chainsaw of choice with ease.
This can include (but is not limited to):
Protective scabbard over the bar and chain
Front handguard
Combined chain brake lever
Safety throttle
On/off switch
Chain catcher
Centrifugal switch and clutch
Rubber bush
Commercial grade chainsaws may also offer additional safety features for bigger engined machines.
Efficiency
We live in a world where efficiency counts for a lot. We are looking for efficiency in every product and service we buy and use. Choosing a chainsaw is no different.
Manufacturers of chainsaws are constantly looking for ways to make their own brand stand out in a league of its own. Be on the lookout for leading brands who focus on:
Optimum engine power
Chain oil capacity
Fuel capacity
Powerhead weight
Compare these components with the task at hand to ensure all will be suitable for the job.
Features
Once again, leading brands are spending a lot of time adding features to chainsaws to set them apart from their competitors. This is all to a consumer's advantage. Note the:
Engine size
The bar and chain length
The machine's handle configuration – does it have a top or side handle
And other features which make operation of the chainsaw a breeze
As consumers we are always choosing products which have premium marketing strategies. Look for words such as "extra" or "additional" or "leading". This is their way of showing you they offer many features.
Maintenance
Unlike their gasoline-fuelled counterparts, the electric chainsaw maintenance is minimal. This is what we love to hear, as we can often lack the time to keep tabs on components we should be filling up, draining, lubricating and checking.
The extent of your maintenance will include blade sharpening – and this is important. When making your choice, consider its maintenance requirements. Each brand will be different, but there's certainly no fiddling with spark plugs, mixing 2-stroke oils and dealing with grease and grime.
Budget
Everyone wants a chainsaw which is not only affordable, but is great value for money and is the best deal on the market. In this buying guide you will find a lot of information pertaining to the pros and cons of certain electric powered chainsaws, comparable with their cost.
Read all information carefully when you're looking for the best option. What might seem like a bargain may end up costing you money. Make comparisons between a few different models and get a gauge on what's a good price for what's being offered.
Available Electric Chainsaw Types on the Market
---
#1 Corded Electric Chainsaws
Below you will find our top five corded electric chainsaws, with pros and cons, their application of use, maintenance required and general information to aid you in your purchase.
Pros:
The cord feature means there's no battery charging.
They are a lot more powerful than people expect.
The extension cords can be up to 100 feet in length which makes them a good option for around the home.
Cons:
They aren't as powerful as gas chainsaws.
They are limited in their reach due to their power cord.
They aren't suitable for big jobs.
Each electric chainsaw will also offer different options for its use. Some will be best suited for around the home, whilst others may offer a wider reach – into a small workplace or a lifestyle block.
Maintenance of electric chainsaws is fairly similar in each brand, but it's not identical. Pay careful attention to what each brand requires. Some may be self-lubricating, whilst others need more attention to detail on your part.
Top 5 Corded Electric Chainsaws Reviews
---
1
Makita UC4051A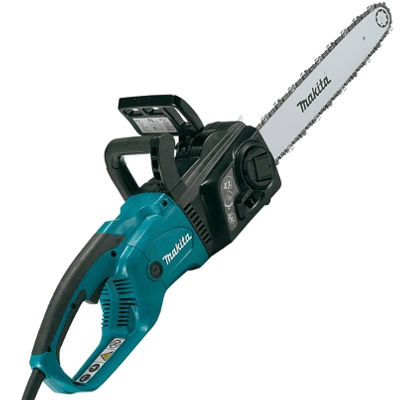 Pros:
Safer to use
Push start button
Doesn't need gas
Requires little maintenance
It's light and easy to handle
The chain offers low kickback
The chain stays sharper much longer
It runs very quietly
It can handle most household tasks
Cons:
The cord limits the reach
The chain oiling system is messy and poorly located
You may need to purchase a heavy duty extension cord
It has some assembly issues where glue may come apart
It's not as powerful as a gas powered chainsaw
Makita UC4051A
16 

inch 

Saw Chain, 3/8″‑.050"
16 

inch 

guide bar
16  

inch 

chain cover
1 year Manufacturer's Warranty
Q
What are the dimensions?
A
10.5 inches x 24.2 x 10 inches
---
Q
What is the chain speed?
A
2,900 FPM
---
Q
Can the bar length be changed?
A
Yes
---
Q
What is the oil tank capacity?
A
6.8 oz
---
Q
What is the overall length?
A
19-⅞ inches.
---
Q
What is the weight without the bar and chain?
A
12.3 lbs
---
Q
What is the power type?
A
Corded
If you're looking for a leading brand which has delivered on its promise to create a zero-emission, powerful chainsaw, this is the answer.
This Makita UC4051A does what all chainsaws do best – cut wood. It's fast, lightweight, easy to handle, requires less maintenance and is underrated in terms of its power. It's perfect for around home and can tackle most general backyard trees.
2
WORX WG304.1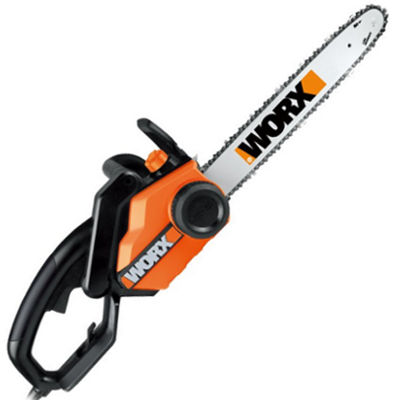 Pros:
Phenomenal power
The chain stays sharper for longer
The 18 inch bar ensures most household chores are completed with ease
It's lightweight
Push button start
Low maintenance
Quiet to use
Cons:
The brake lever is too close to the hand so can be hit by accident
It runs on cord power which limits reach
Customers say some parts are hard to find as replacements
Some customers experience chain tensioner problems
14.5 amp chainsaw
18 inch bar and chain.
Lubrication oil
Blade protection cover
3 year Manufacturer's warranty
Q
What is the bar length?
A
18 inches
---
Q
What is the power input?
A
15 amps
---
Q
What is the chain speed?
A
12M/s
---
Q
What is the chain gauge?
A
0.05"
---
Q
What is the machine weight?
A
11.2 lbs
The WORX WG304.1 offers consumers a lightweight and environmentally friendly alternative to a chainsaw. It has a 15 amp motor, auto-tension chain system and built-in chain brake for added safety. Maintenance is kept to a minimum, and it even offers automatic oil lubrication with a built-in oil reservoir.
In terms of power, this WORX chainsaw can tackle backyard trees and shrubs with ease. It's no stranger to tree branches and consumer ratings for this chainsaw have been high. It's definitely a chainsaw worth adding to the garden shed.
3
Oregon CS1500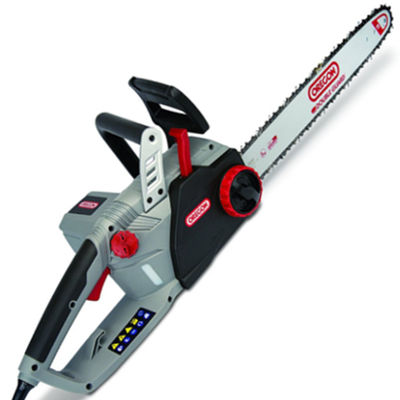 Pros:
It's self-sharpening
It's lightweight and compact
It's quiet
It requires minimal maintenance
It's inexpensive to buy
It has an integrated brake chain for safety
It takes care of backyard trees with ease
Cons:
Low lubrication levels cause it to completely break down
The side mounted motor can get in the way
The lube fill cap seems to be ill-positioned
It requires a power source which can affect its reach
Oregon CS1500 Electric chainsaw
18

inch

 guide bar
18

inch 

PowerSharp self-sharpening chain
Q
What is the power level?
A
15 amp/120v
---
Q
What is the bar length?
A
18
inch
/45cm
---
Q
What kind of chain does it use?
A
PowerSharp – self sharpening
---
Q
What is its pitch?
A
⅜
inch
Low Profile
---
Q
What is its resting chain speed?
A
2887 FPM / 48 FPS
---
Q
How much does it weigh?
A
12.6 lb with guide bar and saw chain attached
What was generally the electric chainsaw's only form of maintenance has now been removed thanks to the Oregon CS1500. Aside from being lightweight, inexpensive, powerful and energy efficient, it now boasts the only self-sharpening chain on the market – PowerSharp.
This is a top-rated product which many homeowners swear by. This chainsaw also has a powerful 15 amp electric motor, an 18 inch bar with great cutting ability, and it's perfect for getting firewood cut and ready for winter.
All the maintenance this chainsaw now requires is lubrication. It really is one of the most convenient chainsaws on the market.
4
GreenWorks 20022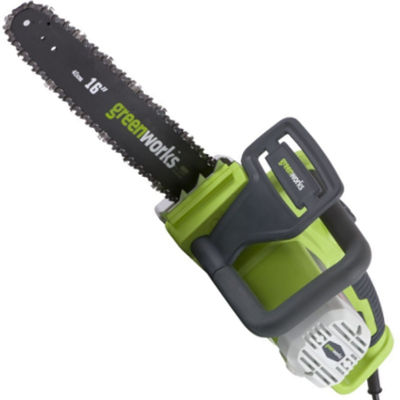 Pros:
4 year warranty – far more than standard
It releases zero emissions
Mechanical brake works well
It's light
Costs are low
Chain and chain bar are made by Oregon
Cons:
It's not as powerful as other electric chainsaws
The tool-less bar tension loosens during heavy use and can cause the chain to come off
The teeth for the tool-less tension are plastic
The electrical cord hook doesn't work well
The oil reservoir overfills too easily
12 amp electric chainsaw
16

inch

or 18

inch

bar and chain
4 year warranty
Q
What are the dimensions?
A
9.1 x 29.25 x 7.37 inches
---
Q
How much does it weigh?
A
9.2 lbs
---
Q
What is its power source?
A
Corded electric
---
Q
What is the bar length?
A
Choose from 16
inch
or 18
inch
---
Q
What is the voltage?
A
120 volts
Although this 12 amp chainsaw is lacking power against its other electric counterparts, it seems to cope with most backyard trees with ease. It's a little clunky in design, with seemingly 'cheap' parts, but it can still get the job done.
A major drawcard of this item, and the entire GreenWorks brand, is that it comes with a four year warranty. It also releases zero emissions. Overall, this chainsaw is a great option for those looking to only do the odd bit of property maintenance.
5
Craftsman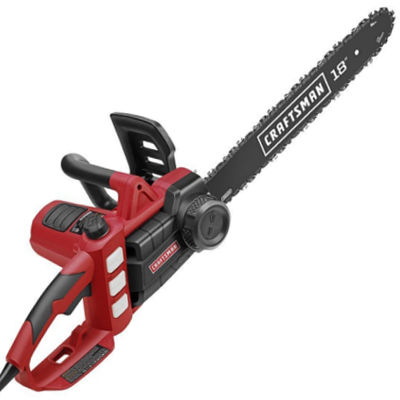 Pros:
Can cut up to 16

inch

diameter tree branches
It's powerful for being electric
It's great for homeowners
It's lightweight
It's cost-effective
It's easy to maintain
It has great safety features
Cons:
When it's been in use for a while the engine heats up and starts smoking. You need to stop using it until it cools down.
The chain falls off often
The automatic chain lube stops working
It's restricted by its power cord
15 amp chainsaw
1 extra chain
1 bar
2 year warranty
Q
How many amps is it?
A
15 amps
---
Q
What bar does it come with?
A
18 
inches
---
Q
What size is the chain?
A
18 
inches
---
Q
What is the chain gauge?
A
0.05 
inches
---
Q
What is the chain oil capacity?
A
6.75 ounces
---
Q
What is the chain pitch?
A
⅜ 
inches
---
Q
What is the length?
A
33.5 inches
---
Q
What is the weight?
A
17 lbs
For the homeowner who doesn't require a large saw, this one is perfect. It features great safety features, a two year warranty and an 18 inch chain and bar which is perfect for around the home.
Smaller parts aren't as well manufactured as you would want them to be, but replacement parts are inexpensive and repairing them is not complicated. It's lightweight, very easy to use and doesn't make much noise.
As with any electric chainsaw, the cord can result in a reduced reach but a heavy duty extension cord can amend this.
#2 Cordless Electric Chainsaws (battery powered)
Cordless electric chainsaws remove the need for extension cords, as well as having a less restrictive reach. They are perfect for small home cutting jobs, and are lightweight and agile for those who are not strong enough to control a larger, fuel operated chainsaw. Maintenance is also minimal.
Pros:
Cordless electric chainsaws with an 18 inch chain and bar will suit a majority of household owners for property maintenance.
Safety chains help reduce kickbacks.
They make less noise than fuel chainsaws.
They don't need any fuel to operate – just a power source for the battery.
Cons:
They don't have the same cutting power that gas saws have.
Cutting large trees can put stress on the machine.
You have a short cutting time before the battery needs charged.
The batteries are expensive to replace once they stop holding a charge.
A cordless electric top handle chainsaw which is battery powered is largely used for home maintenance. Because of its rather short battery life, you will need to be near a power source to fully take advantage of all it has to offer.
It is not suitable for commercial or industrial use on a large scale, and is more in its prime when up against small trees and small lots of firewood.
Maintenance for cordless electric chainsaws with batteries is minimal. There is no need for oil changes, spark plugs, air filters or fuel draining for storage.
The extent of maintenance includes the correct charging of the battery as per the manual's instructions, the correct sharpening techniques of the blade and chain tensioning.
#3 Electric Pole Chainsaws
For those hard-to-reach branches, an electric pole chainsaw is an ideal addition to your toolshed. Although quite different from a standard chainsaw, they are used by many people looking to undertake pruning jobs.
Pros:
The price is right – they are a cost-effective option when compared with other chainsaws.
They can reach places which may be difficult for handheld, heavier chainsaws.
They are lightweight.
They run on power, therefore do not need fuel.
They can be purchased at almost any hardware store and online
Cons:
Cord length – the cord length can sometimes not be long enough, and using extension cords can drop the power.
They are not as powerful as gas chainsaws.
Many people prefer the poles to be made out of aluminium which is often not standard.
They have short bars.
The electric pole chainsaw is best suited in a home environment for trimming trees, hedges and small suburban shelter belts.
Maintenance is limited to general wear and tear, and chain sharpening. There is no worrying about filters, spark plugs or fuel. There's also no need to drain fuel for storage as it doesn't require it for use.
With age, it will pay to have the power supply checked by an electrician, and the pole will need strength tested.
Where to Buy Elecric Chainsaw?
There are so many stockists of chainsaws, including the manufacturers themselves. You can purchase from your local hardware store – even Walmart – but the best places to purchase them include direct from the manufacturer, a trusted supplier, and on websites such as Amazon or Ebay.
Leading Electric Chainsaw Brands and Manufacturers
Ranges of Electric Chainsaw Prices
Cordless electric chainsaws: $70 – $300
Corded electric chainsaws: $50 – $300
Electric pole chainsaws: $99 – $500
Related Guides