Quick Comparison Table
| | Black and Decker LPP120 | GreenWorks 20672 | Poulan Pro 967044201 | WORX WG309 | Sun Joe SWJ802E |
| --- | --- | --- | --- | --- | --- |
| | | | | | |
| Price | $ | $ | $ | $ | $ |
| Weight | 10.4 lbs | 8.4 lbs | 15.25 lbs | 10 lbs | 7.9 lbs |
| Dimensions | 44.5 x 8.13 x 8.25 in | 107 x 7 x 7.5 in | 10 x 5 x 98 in | 42 x 8 x 9 in | 3.6 x 5.5 x 112.7 in |
| Bar & Chain | 8 in | 8 in | 8 in | 10 in | 8 in |
| Warranty | 2-year limited warranty | 4-year limited warranty | 4-year warranty | 3-year warranty | 2-year warranty |
| Amazon FREE Shipping | | | | | |
| | | | | | |
How to Select the Best Electric Pole Chainsaw?
---
Choosing the best electric pole chainsaw for the money is not an easy process as there is a lot to take into consideration. There are so many manufacturers of electric pole chainsaws, including many brands and models.
Each have varying price tags and are aimed at different markets such as for professionals, homeowners and commercial grade use. This buying guide aims to show you the best deals available online, as well as making comparisons against each model and/or brand.
Work Type
You first need to establish what your intended use is for a pole electric chainsaw. Will you be using it for trimming branches and hedges around the home? Or do you intend to go work in the field?
There are some great options on the market, but not all are suited to all work types. Do your research, and compare different features for different work types. This will enable you to end up with the saw that's suited for your exact line of work.
Safety
Pole electric chainsaws remove an element of danger in the respect that they enable you to get rid of the ladder. By being able to reach higher by having the saw on a stick, part of the risk is removed.
However, chainsaws – regardless of their make and model – are still dangerous power tools. You will need to make comparisons on safety features for each brand to ensure it meets your exact safety requirements.
Most pole chainsaws still feature the same great safety options those without poles have. This includes:
Chain brake
Right hand guard
Centrifugal clutch
Chain catcher
Safety throttle
Anti-vibration handle
Efficiency
There must be a reason why so many people – both professionals and homeowners – are opting for pole electric chainsaws. They are extremely efficient at getting the job done quickly, safely and effectively.
Because they are on a pole, you can leave the ladder at home and be secure in the knowledge both your feet can remain firmly planted on the ground. They also require as little maintenance as a standard electric saw – pretty much none!
Manufacturers are constantly on the ball in terms of providing power tools which meet the mark for effectiveness. The pole electric chainsaw is one of them.
Features
Features vary from one pole chainsaw to the next, with each manufacturer trying to outdo its competition. However, a standard list of features you can expect for any number of models are:
Anti-rotation design for stability
Optimized electric motors
Push button oilers
Lockable cords to stop extension cords coming out
Extendable poles for added convenience
Lightweight and agile to make it easier to hold up
Warranties for peace of mind
Cutting extensions
Long-life batteries
Maintenance
The great thing about pole electric chainsaws is their lack of maintenance required. Not only do they not require fuel, 2-stroke oil, spark plugs or greasing, but they don't need warmed up or constantly tuned either!
All an electric chainsaw needs is chain lube, any debris removed from areas that affect its use, its chain sharpened and its battery, if it has one, charged. These electric powered chainsaws are in a league of their own when it comes to the ultimate consumer experience.
Budget
Whatever your budget, you are sure to find the best electric pole chainsaw for the money. Make comparisons between certain manufacturers, brands and models to ensure you are getting the best deal.
The key is to know what features you require. This buying guide aims to show you the many features each top electric pole chainsaw has, and the price it is available for.
Top 5 Electric Pole Chainsaw Reviews
---
1
Black and Decker LPP120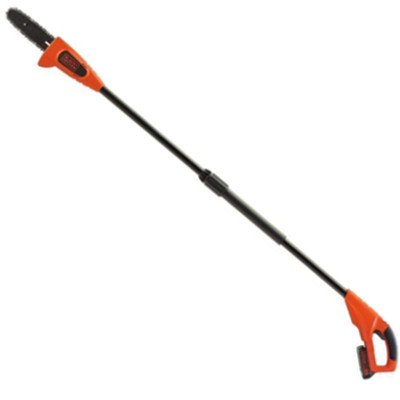 Pros:
It's lightweight.
It's easy to put together.
The pole can be varying lengths.
Additional batteries and the saw itself are very affordable.
It's easy to maintain.
It can make up to 100 cuts of small branches per charge.
Cons:
Users find the chain can come off easily.
The battery isn't long-lasting and takes approximately 3-6 hours to fully charge.
It's more suited to light, occasional jobs rather than heavy duty ones.
Extending the pole the full length makes it unstable.
Black and Decker LPP120 cordless electric pole saw
Battery
Charger
Oil bottle
Blade guard
Wrench
Q
Can this pole saw be used to chop wood?
A
No. Its intended use is for tree and hedge trimming
---
Q
What battery does it hold?
A
A 20-volt MAX lithium-ion battery
---
Q
How big is the bar and chain?
A
8 inches
---
Q
How much does it weigh?
A
10.4 pounds.
---
Q
What are its dimensions?
A
44.5 x 8.13 x 8.25 inches
Overall, for the homeowner and general gardener, this Black+Decker LPP120 is perfect for you. It provides the 'get up and go' required to get those minor pruning and trimming jobs done, without the hassle of maintenance at the end of it.
However, its battery life is noted as being poor, and many people state it doesn't handle many big trimming or pruning jobs like others on the market do.
However, it does allow for a 10 foot extension cord, and it also comes with a two year limited warranty on the saw, the battery and the charger. It also very well and is light – perfect for those with limited strength.
2
GreenWorks 20672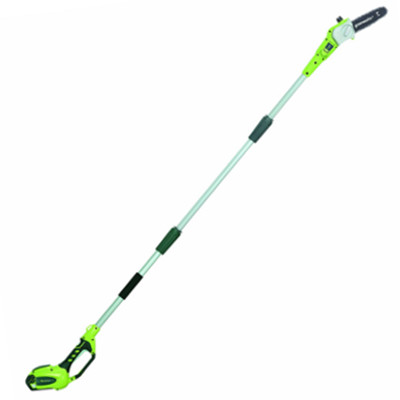 Pros:
It's lightweight and easy to operate.
It's got great stability.
It's affordable, especially when purchasing online.
Four year limited warranty.
Chain and bar are high quality steel.
It has an extendable pole.
It has incredibly battery life.
It's economical on chain oil.
It has an automatic oiler.
Instant electric start.
Cons:
Can suffer from broken motor brackets easily.
The chain tension adjustment screw is located in a poor position.
It can't chop wood like a standard chainsaw or axe – it can only prune and trim.
GreenWorks 20672 cordless electric pole saw
8 inch bar and chain
Battery
Charger
Q
How much does it weigh?
A
8.4 pounds
---
Q
What are its dimensions?
A
107 x 7 x 7.5 inches
---
Q
Are the batteries interchangeable?
A
Yes
---
Q
Is the shaft extendable?
A
Yes, to 8 feet
The GreenWorks 20672 has proven itself time and time again as an electric pole saw that stands the test of time. Not only have consumers used it around home, but it's also been known to perform well on small lifestyle blocks – as long as you take replacement batteries with you.
It offers up to 50 cuts per charge, has a self oiler, is light and requires little to no maintenance. It's top of the class for handling, and is well priced on the market.
3
Poulan Pro 967044201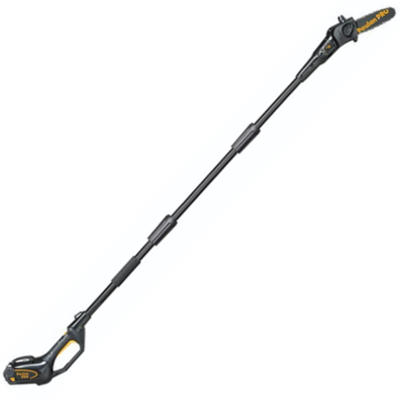 Pros:
Push button start.
Quiet to operate.
Balanced in its weight for comfort and easier control.
The chain and bar quality is very good.
It has an extendable pole.
The battery is long-lasting.
The charge time is fast.
Cons:
Some consumers noted the blade did not come sharpened.
It rips and tears instead of cutting nicely.
It is known to leak oil easily from the reservoir.
Poulan Pro 967044201 cordless electric pole chainsaw
8 inch chain and bar
4 year warranty
Q
How much does it weigh?
A
15.25 pounds.
---
Q
What are its dimensions?
A
10 x 5 x 98 inches
---
Q
How big is the bar and chain?
A
8 inches
---
Q
Is the battery interchangeable with other Poulan Pro products?
A
Yes
The Poulan Pro pole electric chainsaw offers exceptional value in the electric chainsaw market. It's easy to operate, has great battery life due to being 40 volt, and a large focus has been put on its ergonomic design.
This makes it more comfortable, more stable, and easier to handle. It can tackle any small branches with ease, and is well designed with minimal flaws.
4
WORX WG309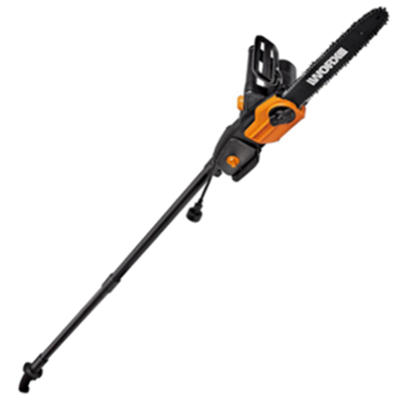 Pros:
It has an auto tensioning system to extend the life of the chain and bar.
It has an extendable 8 inch pole.
It has an automatic oil pump.
It's lightweight and agile.
It's a 2-in-1 product, enabling you to remove the pole for those shorter trimming jobs.
Cons:
It is known to leak oil.
Some users find it does not release enough oil to lubricate the chain.
The chain is known to come off easily.
It's hard to balance correctly with poor weight distribution.
WORX WG309electric pole saw
10 inch chain and bar
3 year warranty
Q
How much does it weigh?
A
10 pounds.
---
Q
What are its measurements?
A
42 x 8 x 9 inches
---
Q
How long is the pole?
A
8 inches
---
Q
What is the 2-in-1 feature?
A
The chainsaw can be removed from the pole to be used as a standard handheld chainsaw.
The WORX electric pole chainsaw is a great multi-functional power tool that offers versatility for operators. It works well at trimming and pruning, and can then finish the job by cutting the fallen limbs as well.
It has a push button to start, is lightweight, and has a powerful 8 amp motor. It is also one of the most affordable electric pole chainsaws, and gives great value for its cost.
5
Sun Joe SWJ802E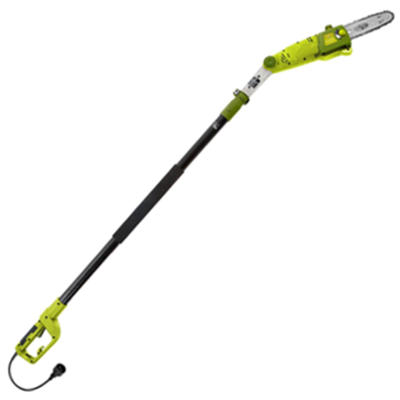 Pros:
It has a telescoping pole which provides 15 feet of overhead reach.
It can cut on angles.
It can cut up to 7.5 inches thick with ease.
It's lightweight and easy to handle.
It has an auto-oiler to keep the chain lubricated.
Cons:
The chain frequently becomes loose and can fall off.
There can often be imperfections that stop the chain staying on properly.
The chain oil is known to leak.
The extension cords can become a nuisance.
Sun Joe SWJ802E electric pole chainsaw
8 inch Oregon bar and chain
Q
What are its dimensions?
A
3.6 x 5.5 x 112.7 inches
---
Q
What does it weigh?
A
7.9 pounds.
---
Q
What extension cord can be run with it?
A
100 inches with a 14-gage extension cord, or 200 inches with a 12-gage extension cord
The Sun Joe electric pole chainsaw has faults that even for its cost-effective price tag, can't buy popularity. It cuts well and handles well on its pole, but many users note the chain can come off easily.
This is a big flaw and one that can cause safety problems. Is it the best deal money can buy? No, but using it for small amounts of home maintenance it is a good option, and it can be bought with ease online.
Where to Buy Electric Pole Chainsaw?
All electric powered pole chainsaws in this buying guide can be purchased at affordable and competitive prices in any hardware store, and online.
The market for these saws online is vast, and it will pay to review and make comparisons between products to ensure you're getting the best electric pole chainsaw for the money.
Websites such as Amazon have a huge selection of saws for sale – including those on sticks, poles and with top handles. This buying guide will help you choose the top rated chainsaws for your needs at good prices.
Leading Electric Pole Chainsaw Brands and Manufacturers
Ranges of Electric Pole Chainsaw Prices
Electric pole chainsaws: $99 – $500
Related Guides