Quick Comparison Table
| | Wolfcraft 6197000 | Bora 543500 | Milescraft 1400713 | Kreg KMA2600 | Rockler 20047 | Collins Coping Foot | Bosch JA1012 | DEWALT N179861 |
| --- | --- | --- | --- | --- | --- | --- | --- | --- |
| | | | | | | | | |
| Price | $ | $ | $ | $ | $ | $ | $ | $ |
| Features | 2 steel clamps for fastening to workbench up to 60 mm thick (2.4") | Soft-grip, non-marring rubber clamping pad. | Can substitute for a chop saw. | Non-marring rubber feet. | Can be used for angle end cuts in drywall. | 14 gauge plated steel construction. | Articulating dust tube. | Folding handle with two metal latches. |
| Amazon FREE Shipping | | | | | | | | |
| | | | | | | | | |
How to Select the Best Jigsaw Accessories?
---
A good jigsaw is useful for accomplishing many jobs, but handy jigsaw accessories and attachments can give you more precise cuts. They can even increase jigsaw functionality for jobs you normally wouldn't do with a jigsaw. This buyer's guide reviews top-rated jigsaw accessories, brands available, and good places to buy them.
Reviews of Top 8 Rated Jigsaw Accessories
---
Types of Jigsaw Accessories
Jigsaw Table
In the absence of a scroll saw, you can adapt your jigsaw for scrollwork. By mounting your saw upside down underneath a table of a bench, you can move your work instead of moving your saw. This clever adaptation will give you more control and maneuverability for scroll cuts. You can buy a jigsaw table or make one yourself.
When using a jigsaw table, there are a few things to keep in mind. The jigsaw blade will point upward through a slot in the table, so you need to use a down-pointing blade like those made for laminate. You won't get exactly the same precision with a jigsaw table as with a scroll saw because the blade is fastened only at one end.
Also, you'll need a quick way to turn off your saw without reaching under the table, perhaps a cord with a built-in switch. If there's an emergency or accident, you'll want quick access to the power switch. Changing the blade will be a little more difficult too. Another note of caution: don't leave your jigsaw running constantly, which might damage the saw, and never leave it running unattended. If you're looking for a jigsaw table to buy, the Wolfcraft brand may be a good choice.
1
Wolfcraft 6197000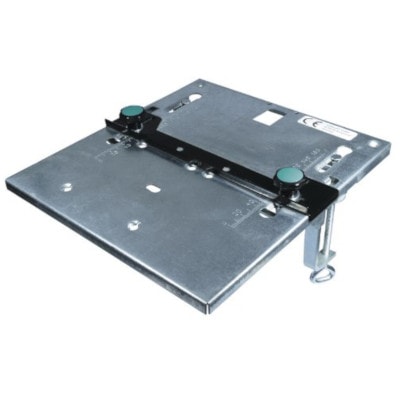 Pros:
Rigid table/well-constructed.

Easy to set up guide.

Good for transporting to worksite.
Cons:
Safety risk from exposed, moving blade.

Somewhat too small.

Blade can deflect while cutting.

Base plate might not fit all brands of jigsaw.
Marked line

Parallel stop

2 steel clamps for fastening to workbench up to 60 mm thick (2.4")
The Wolfcraft jigsaw table can help you achieve a more exact scroll cut than by cutting freehand. The table provides you a clear line of site with a marked line and parallel stop. Its sturdy construction and steel clamps provide stability for your workpiece.
Jigsaw Guides (Jigs)
Certain manufacturers make guides or jigs to go with your saw for improved cutting accuracy. Some of these guides are also used with circular saws, routers and other power tools. Two guides that are useful for jigsaws are straight edge and circle-cutting guides.
Straight Edge Guide
A straight-edge guide is a straight rail that fastens to your work table with an attachment that's placed on the jigsaw shoe. With the rail in place and saw locked into the rail, you can make a perfectly straight cut.
Often the guide and shoe attachment are sold separately. Before purchasing, make sure your jigsaw is compatible with the rail and shoe attachment. If you're in the market for a straight edge guide, the Bora Straight Edge Saw Guide could be a good option.
2
Bora 543500

Pros:
Versatile — for use with power saws, routers, and other portable power tools.

Expandable up to 100".

Interchangeable with other brands of clamp guides and straight edges.

Works for both right and left handed users.
Cons:
No option for angled cuts.
Saw plate.

50" and 36" clamps.

50" rail extension.

Rip handle.
Rigid aluminum rail.

Soft-grip, non-marring rubber clamping pad.
The Bora straight edge guide allows you to make straight cuts in plywood or sheet material up to 100" long. The rubberized clamp is made to grip all surfaces, and the rip handle lets you cut right or left handed with ease.
Parallel and Circle Guides
A parallel guide, also known as a rip fence, is a metal bar that runs parallel to the sawblade and is fastened to the shoe of the jigsaw. A guide on the other end of the bar runs along the edge of your workpiece as you make your cut. This guide allows you to make straight, accurate length-wise cuts that would otherwise be done on a table saw.
A circle-cutting guide has a beam that's slotted into the shoe of your saw, while a pin on the other end of the guide is placed in the center of your circle. While holding the pin, you insert the saw blade into a starter hole drilled just inside the cutting line and carefully make your cut. When you shop for circle or parallel guides, you'll often find them for sale together in a kit like one made by Milescraft.
3
Milescraft 1400713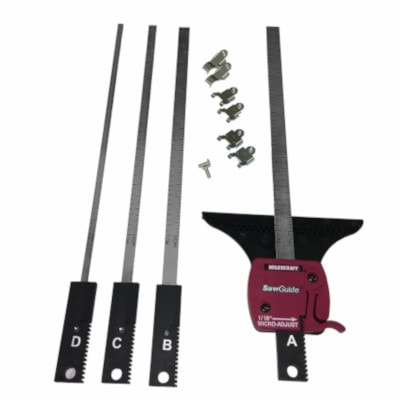 Pros:
Incremental trim feature for tool-less adjustments by 1/16".

Versatile — can use with different types and brands of saws.

Works well for circle cutting with jigsaw.

Good price.
Cons:
A little difficult to set up.

Guide is somewhat flimsy.

Hard to replace metric screws if missing.
Saw guide.

3 sets of clips.
For use with most brands of circular saws and jigsaws, the Milescraft saw guide allows for tool-free adjustments. It extends circular saw blades up to 9 1/2" inches from the edge of the workpiece and up to 6"' from the edge with jigsaws. This guide also allows circles to be cut from 4" to 19" inches in diameter.
Square Cut Guide
A square-cut guide is for making short, straight cross cuts in boards. It has an arm that sets against the edge of the board while the guide spans the width of the board. You keep the base of your saw against the guide to make a straight cut. Kreg makes a popular square-cut guide.
4
Kreg KMA2600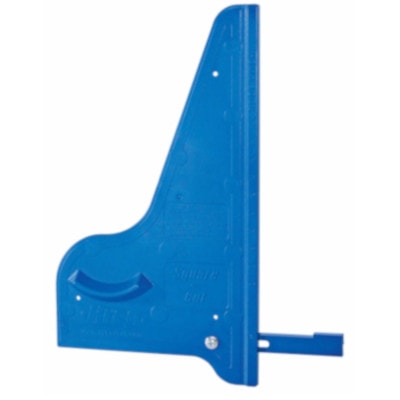 Pros:
Sturdy.

Easy to use.

Can substitute for a chop saw.

Ridge on top good for gripping while making cut.
Cons:
Doesn't work with all saws, especially left-handed Ryobi saws.

Guide sometimes needs to be trimmed.
Guide.

Non-marring rubber feet.
The Kreg square-cut guide is a handy, low-cost accessory for making square cross cuts in boards up to 12" wide. Its low-profile design keeps it from interfering with your power saw. The built-in roof pitch scale is helpful for cutting siding.
Molding Coping Jig
Cutting molding or baseboard is often done with a miter saw or handheld coping saw. However, coping jigs are available to cut molding perfectly with a jigsaw. A popular coping jig is the Rockler Speed Cope.
5
Rockler 20047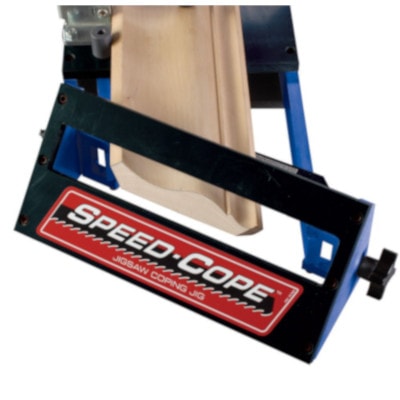 Pros:
Makes clean, accurate miters.

Good instructional video.

Can be used for angle end cuts in drywall.
Cons:
Assembly can be challenging.

Time consuming to use.
Coping guide.

Instructional DVD.
As an alternative to using a coping saw, the Rockler Speed Cope assists with making accurately coped cuts in trim and molding, including 40° and 90°inside miters; flat miters; and base, chair, and panel moldings. It adjusts to molding up to 7 1/4" wide.
Coping Foot
A coping foot is a dome-shaped base that fastens over the jigsaw blade against the shoe. It enables you to turn, bevel, and pitch the blade to change angles during a cut. Without changing the bevel adjustment on your saw, you can make freehand curves at different non-standard angles. Before buying a coping foot, make sure it's compatible with your jigsaw. The Collins Tools coping foot might be a good choice for you to consider.
6
Collins Coping Foot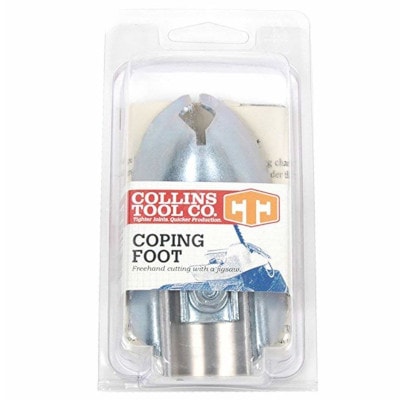 Pros:
Fits most jigsaws.

Can cope without jigs or templates.

Saves time.
Cons:
Doesn't work with all saws (Porter Cable, Bosch 1590 and 1591).
14 gauge plated steel construction
A Collins coping foot can make coping molding easier, with no need for jigs or templates. It allows you to cut various angles by hand, and it works with most jigsaw brands.
Dust Collection Kit
Dust collection kits include an adapter that allows you to connect your jigsaw to a vacuum cleaner. An attachment is connected to the dust port on your saw, and a vacuum hose is then attached. Usually sold separately from jigsaws, dust collection kits are priced between $10 and $20.
Make sure before purchasing that the kit is compatible with your jigsaw and vacuum cleaner. Some kits include universal adapters for use with any saw or vacuum cleaner. Bosch makes a dust collection kit specifically for Bosch JS572E and JS572EB jigsaws.
7
Bosch JA1012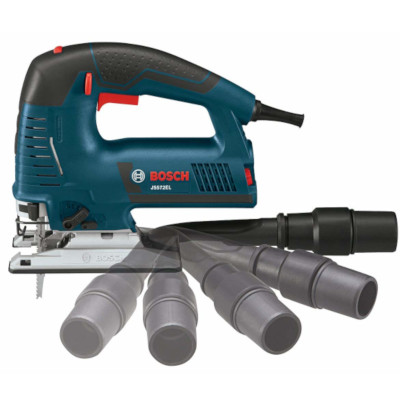 Pros:
Removes dust and chips.

Good price.

Vacuum hose doesn't catch while moving saw.
Cons:
Can be hard to install and remove.
Dust hood.

Suction nozzle.

Vacuum hose adapter.
Articulating dust tube.

Adapter for 1 1/4" and 1 1/2" vacuum cleaner hoses.
The Bosch dust collection kit, made for Bosch JS572 jigsaws, connects to 1 1/4" and 1 1/2" Bosch vacuum cleaner hoses. Its articulating dust hose provides for easy and versatile positioning of the vacuum hose. It collects both dust and chips.
Jigsaw Storage Case
A good jigsaw storage case will keep your tool clean, dry, and safe from damage. When shopping for a jigsaw case, make sure it will accommodate accessories like a charger and backup batteries for cordless jigsaws. Most cases for sale are made of durable plastic, but the latches are often the weak point.
What good is a strong case with weak latches? So to get the best value when choosing a case, make sure the latches are strong and reliable. A good option for a heavy duty storage case is the DeWalt jigsaw storage case.
8
DEWALT N179861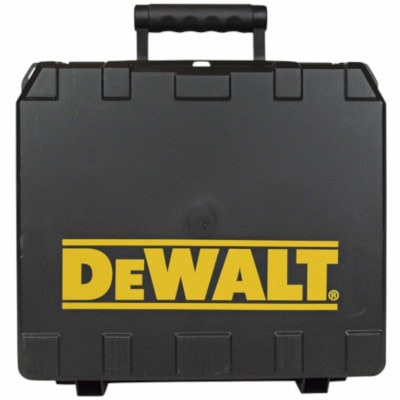 Pros:
Durable for use at construction sites.

Light weight.

Metal latches keep case closed.
Cons:
n/a
Hard plastic construction.

Folding handle with two metal latches.

Internal partitions for accessories.
The DeWalt case, compatible with the DeWalt DC330 jigsaw and DC330K kit, is made of heavy-duty plastic with two metal latches to keep your saw and accessories safe from damage.
Jigsaw Accessories Prices
Depending on the attachment, jigsaw accessories range broadly in price from $5 for a rip fence to $400 for a high-end rail guide.
Brands Producing Jigsaw Attachments
The leading jigsaw manufacturers—Bosch, DeWalt, Makita, and Festool—also make jigsaw attachments and accessories. Other manufacturers, introduced above, are successful makers of jigsaw accessories. These include Wolfcraft, Bora, Milescraft, Kreg, Rockler, and the Collins Tool Company.
Where to Buy Jigsaw Accessories?
Jigsaw accessories are available at many local stores. Prices at local stores might be higher, and some accessories are too rare to be found at local retailers. By comparison, the accessories described in this buying guide can be found at good prices online. The best deals will be found at Amazon, Ebay, and Walmart.
Related Guides