Quick Comparison Table
| | DEWALT DCS310S1 | Milwaukee 2420-21 | WORX WX550L | Milwaukee 2625-21CT | Bosch PS60-102 |
| --- | --- | --- | --- | --- | --- |
| | | | | | |
| Price | $ | $ | $ | $ | $ |
| Weight | 4.85 lbs | 5.3 lbs | 4.6 lbs | 9.25 lbs | 5.6 lbs |
| Dimensions | 17.4 x 8.9 x 3.8 in | 16 x 7.2 x 4.6 in | 9 x 5 x 6.5 in | 17.7 x 10.6 x 5 in | 14.8 x 7.2 x 8.8 in |
| Power Source | Battery-Powered | Cordless-electric | Battery | Battery | Battery-powered |
| Warranty | 3 Year Limited Warranty | n/a | n/a | n/a | n/a |
| Amazon FREE Shipping | | | | | |
| | | | | | |
How to Select the Best Mini Reciprocating Saw?
---
A portable sawzall has most of the features that the tool of regular size possesses, but is smaller and less powerful. Because it is so compact it has a better ability to get into small spaces. In addition, its lightweight exterior helps improve balance.
In our buying guide below, you can find more information on the key features of small sawzalls, and reviews of the top rated corded and cordless models.
What Can a Mini Sawzall Handle?
A mini sawzall can cut through a wide variety of materials depending on the model and blade type. You can work with plaster, drywall, softwood, hardwood, plastic, and metals. But due to its small size and decreased power exertion, a mini, one handed sawzall is not a good choice for cutting thick workpieces and denser materials like masonry, concrete or cast iron.
Efficiency Of A Portable Reciprocating Saw
The first parameter to take into consideration while estimating the efficiency of a sawzall is its power. The higher the amperage for a corded model, or battery voltage for a cordless one, the more powerful the mini sawzall will be. Generally, most corded models range between 4 amp (the lowest) and 10 amp (the highest). The battery voltage on cordless models usually falls from 12 to 20 volt.
Strokes per minute (SPM) basically show how fast a reciprocating saw cuts. For portable reciprocating saw models it ranges from 2500 to 3500 SPM. But the actual cutting speed will also depend on the stroke length and design quality.
Stroke length determines how much of material is removed with a single movement of the blade. A shorter stroke is good for cutting in a limited space when you don't want to hit a wall or other object in front of the saw. Whereas a longer stroke is more beneficial for faster, more aggressive cutting.
Features
Although there are common features all reciprocating saws share, manufacturers also equip their products with features unique to them. It is important to know which ones you need for your type of project.
Brushless vs Brushed
Carbon brushes are parts of an electric motor. They provide the contact between the rotor and the power supply. Over time they wear out due to the friction. In a brushless motor the circuit board directly delivers the current to the copper coils, which adjusts the power supply depending on the task at hand. With a brushed motor, you get the same amount of current at any given time. Brushless power tools are more efficient and long-lasting, but with their advantages comes a higher cost. Ultimately, the decision to choose a brushless or brushed motor relies on the price you are willing to pay for efficiency and durability. You might not need an expensive professional saber saw if you are not going to use it extensively and too often.
Orbital vs Non Orbital
Orbital cutting action moves the blade slightly up and down together with the main horizontal reciprocating movement. So the tip of the blade moves in a slight circular motion. This feature is often available even in cheap models.
Orbital cutting action is a good function if used for the right purpose. It helps when cutting through tougher and thicker workpieces like wooden posts: as you can cut faster and with less effort. However, it should be turned off when working with metals or if you need to make more precise cuts.
Adjustable Shoe
Every recip saw has a shoe. Its purpose is to increase the stability while cutting. But not every shoe lets you customize the cutting depth. Increasing it lets you use the part of the blade, closer to the clamp, that usually goes unworn, rather than replacing the blade sooner. Decreasing the cutting depth can be beneficial for jobs like sawing a drywall when you don't want to damage electrical wires behind it.
Variable Speed
Variable speed control is a popular feature included in most of the reciprocating saws sold today. Single-speed models only work at maximum SPM, while a saw with the speed control lets you go slower if you need to make a more precise cut.
There are two types of speed control: dial and trigger. A dial will look like a small wheel. Turning the wheel allows the user to alter the speed. Trigger speed control is pressure sensitive: push harder down on the trigger to cut faster or push it lightly to slow down. Unlike dial, trigger control lets you change the speed right while operating, while the dial control delivers more consistent SPM during each cut.
Anti-Vibration Technology
Vibration reduction technology is a feature that reduces the amount of vibration the reciprocating saw gives off to the operator. This means less hand fatigue, and little to no wear and tear on the joints. Also, vibration reduces the precision of the cut and accelerates the wear of mechanical parts of the tool itself. If you often use the saw for long periods of time during automotive repairs, body shop work, sunroof installations, this feature will be important for you.
No Tool Blade Change
Nowadays, more and more reciprocating saw models include the tool-less blade change feature. This allows for a quick and easy blade replacement. Models of the past still require you to use a screwdriver or a wrench which is inconvenient. It is important to identify if the sawzall you are interested in has a comfortable blade change system, especially if you frequently work with different materials, and therefore need to switch blades often.
Multi Position Blade Clamp
A multi position blade clamp allows you to install the blade in a several different angles (usually four). You can make the blade go upside down or perpendicular to cut in multiple different directions without having to turn your saw. This feature can prove to be especially useful if you frequently need to cut up to a wall or down to the floor.
Safety
Below are important safety precautions to take when operating a portable reciprocating saw:
Before operating, check to see if the portable reciprocating saw blade is compatible to cut the desired material.

Make sure your workspace is well-lit.

Put on safety equipment such as: goggles, mask, gloves, closed shoes. Pull long hair back and take any flowing clothing or jewelry off.

If the saw has a dial variable speed control, do not adjust it while cutting.

Firmly grip the saw and maintain a balanced position.

Hold the shoe tightly to avoid possible injury and/or blade breakage.

After turning the saw off make sure the blade has come to a complete stop before setting down.
Maintenance
Maintenance is the key factor in order to get the longest use out of your portable reciprocating saw. Here are a few tips on upkeep.
Always wipe clean with a dry cloth when you are finished using the tool.

Store the saw in a dry space and never let any liquid inside the casing.

Keep all working controls free of dust.

If the supply cord is damaged, it must be replaced. Contact your manufacturer or place of purchase for more information if this happens.

Clean battery pack with only a dry cloth.

Inspect your tool before using and tighten any loose screws.

Replace the blade if it looks dull or damaged.
Types of Compact Sawzalls
Cordless
Cordless or battery powered recip saws are especially popular these days because of being mobile. You don't have to worry about finding a plug around your house, outside, or near your workspace. On the other hand because of the weight of batteries, a power tool becomes heavier than a corded model, though it's rather a concern while using a full-size saber saw. Often with cordless sawzalls, you get a bit less power for the same amount of money, especially when the battery charge is not full.
Corded
Despite restricting you to the access to an outlet, corded tools offer more stability while operating: a cordless saber saw performs worse when the battery charge is low. On the flipside it's less mobile: if you frequently work outside without close access to a plug, you may need an extension cord. Also, you should watch the cable while operating, for not accidentally cutting it.
One Handed and Two-Handed
Most of mini reciprocating saws are one-handed, but there are also two-handed models that are also considered compact and have reduced power.
Reviews of 5 Top Rated Compact Cordless Reciprocating Saws
---
1
DEWALT DCS310S1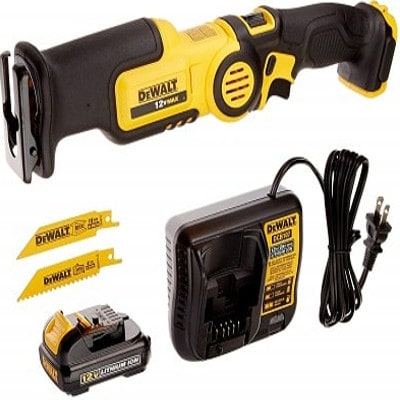 Pros:
The DEWALT DCS310S1 is loaded to the brim with many features.

Not only does it have a trigger variable speed control, tool less blade change, adjustable shoe and three-position handle, but it also has a LED light providing an additional illumination of the cut surface.

The DEWALT comes with blades, a battery, charger, and even includes a three-year manufacturer warranty.
Cons:
It's good mostly for light jobs.

For its price the saw slightly lacks power and drains the battery too quickly.
Three-year limited warranty

12 volt MAX battery

charger

wood cutting blade

metal cutting blade

kit bag
Adjustable shoe

Tool-less blade change

Three-position handle

Variable speed trigger

LED light for bright work area

Blade, battery, and charger included

0-2,700 strokes per minute

3-year warranty
If you like the appeal of a cordless tool, and want a reputable, well-rated portable reciprocating saw the DEWALT DCS310S1 is a good option. It comes with all the basic features you need, while even adding unique things like the three-position handle for more flexibility in confined spaces. Although the price is large and the power is slightly lower when compared to other corded tools on the market, the DEWALT is a great buy for electricians, plumbers, HVAC contractors, etc., who need the portability and versatility it delivers.
2
Milwaukee 2420-21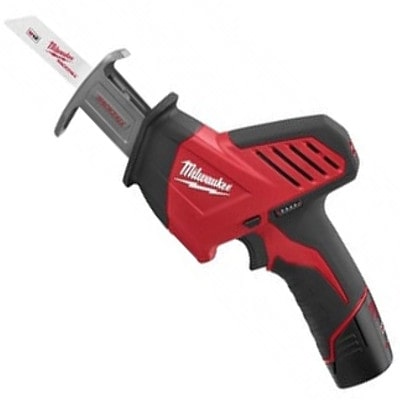 Pros:
For a lower price in comparison to the model above, you can get similar features with higher cutting speed: 3,000 strokes per minute.

This miniature model comes with helpful features like a LED light, tool-less blade change, and variable speed trigger.

The manufacturer makes it a point to highlight the lightweight and ergonomic design of this model as it weighs only 2.6 lbs.
Cons:
With any positives does come negatives, and the Milwaukee 2420-21 is no different.

The tool lacks vibration-reduction which is hard on the hand and joints.

The 12 V battery doesn't hold the charge long enough and the tool is powerful enough only to cut light materials.
12 volt lithium-ion batteries

charger

blade

carrying case.
12 volt battery and charger

0-3,000 strokes per minute

Lighter weight than other cordless saws (2.6 lbs)

Variable speed trigger

tool-less blade change

LED light
If you are in need of a cordless portable reciprocating saw with good features, but want something affordable Milwaukee 2420-21 may be the tool you've been searching for. It yields up to 3,000 strokes per minute and includes everything you need to get started on your first project. It cuts fast through a wide range of materials like PVC, drywall, and wood, however it's not powerful enough to work with something harder. With the tool-less blade change system blades can easily be changed out. The Milwaukee 2420-21 is not recommended for long and extensive use as it lacks vibration reduction and the battery does die fairly quickly.
3
WORX WX550L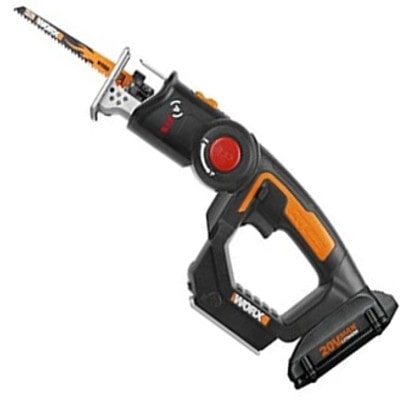 Pros:
The cost of the WORX WX550L is relatively affordable considering the fact that it comes with a battery, charger, and blades.

It has some unique features like a built-in blower to clear dust and debris, a motor on the side for reduced slippage or misalignment.

Apart from normal recip saw blades it also accepts t-shank jigsaw blades, and has up to 20 volt of power.

The best feature is that it can be easily converted from a reciprocating saw to a jigsaw, so essentially you are getting two tools for the price of one.
Cons:
The vibration can be a problem for this saw.

In addition, the battery is known to wear out quickly and the instructional manual is not detailed enough.
Includes lithium-ion battery

charger

blades
Converts to a jigsaw and accepts jigsaw blades

Motor on the side of the tool for better power transfer

Built-in blower

20 volt

0-3,000 strokes per minute

Includes battery, charger and blades
If getting more for your money is a high priority, the WORX WX550L fits the bill. Transforming from a reciprocating saw to a jigsaw, this model is more versatile. It cuts a wide range of materials: wood, PVC pipe, plastic, fiberglass, ceramic tile, aluminum, copper, thin steel, tree limbs & roots. The drawbacks are not clear enough manual, short battery life, and high vibration.
4
Milwaukee 2625-21CT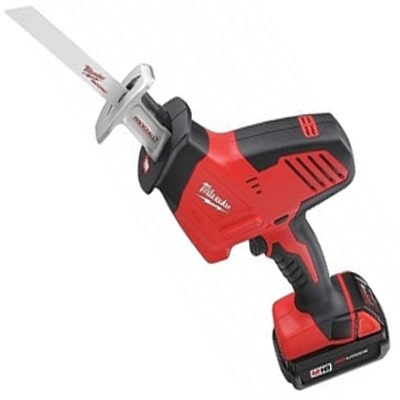 Pros:
The Milwaukee 2625-21CT can exert 0-3,000 strokes per minute and cut a wide range of materials: from wood and PVC to steel.

Feature wise, it contains a vibration reduction, LED light, and a tool-less blade change system.
Cons:
This model is a bit pricey and the battery life could have been longer.

The kit doesn't include the battery charger.
18 volt

tool less blade change

LED light

0-3,000 strokes per minute

Vibration reduction
Milwaukee 2625-21CT has both positives and negatives. On one hand it yields high strokes per minute and is quite powerful. It's also equipped with a good vibration reduction system. On the other hand, the model is pretty expensive and the battery life is slightly too short.
5
Bosch PS60-102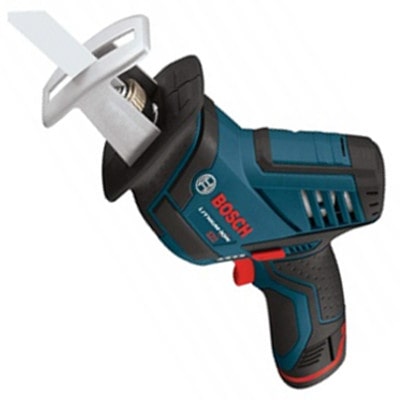 Pros:
The Bosch PS60-102 has a ton of features made for easier use.

It has a vibration reduction, 0-3,000 strokes per minute, a LED light, and even a battery fuel gauge so you can see how much power is left without the product dying in the middle of operation.

Another huge benefit to this model is that it is extremely reliable.

It has protection from overheating, overloading under voltage, and has a fast motor brake for safer cutting.

Finally, the tool has a very ergonomic soft-grip handle, efficiently minimizing hand fatigue.
Cons:
The battery is hard to remove and unfortunately it lacks the orbital action feature.
Lithium-ion battery

battery charger.
Ergonomic soft-grip handle

Lightweight

0-3,000 strokes per minute

Fast motor brake

Complete protection system

Durable

Vibration reduction

LED light

Battery fuel gauge
Despite being pricey, the Bosch PS60-102 is a pretty good deal for your money. You do get a durable and efficient pocket reciprocating saw. If safety is an important factor when purchasing a portable sawzall, this model is a great option. However, keep in mind that the Bosch PS60-102 lacks orbital cutting action feature.
Reviews of 4 Top Rated Small Corded Reciprocating Saws
---
1
DEWALT DWE357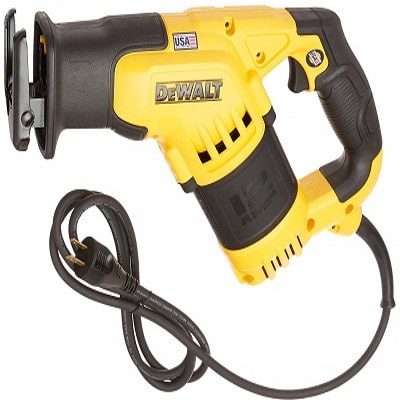 Pros:
Many features you could possibly need are included in the DEWALT DWE357.

With a 12 amp motor and up to 3,000 strokes per minute it is highly powerful for a compact model.

It is lightweight, has grips for easy use, vibration reduction, tool less blade change, 4-positions blade clamp and variable speed trigger.
Cons:
This saw is not a good choice for fine precise cuts.
Lightweight and balanced

Tool-less blade change

Four-position blade clamp

12 amp motor

0-3,000 strokes per minute

Compact design

Vibration reduction

Variable speed trigger
Compact enough to get into small spaces, but powerful enough to cut thick and dense materials the DEWALT DWE357 is widely versatile. It has more than only basic features you would desire in a small package. However, this tool is good only for rough cuts. With almost no negatives for a corded sawzall, it is overall a great buy.
2
Craftsman 17175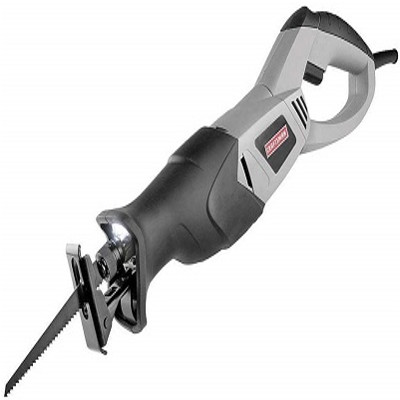 Pros:
The Craftsman compact reciprocating saw has a few key features like an adjustable shoe, variable speed trigger, heavy-duty gearbox, and a LED light.

But the biggest upside for purchasing this model is the affordable price.
Cons:
It lacks vibration reduction and sometimes comes with a faulty blade clamp.
Variable speed trigger switch

Adjustable shoe

Dual LED work light

Tool-less blade change

0-2,700 strokes per minute

Heavy-duty gearbox

6 amp motor
The Craftsman compact reciprocating saw is sure to appeal to the price-conscious. Overall, it is a pretty good option for the price point. It has the must-haves like an adjustable shoe, tool less blade change, and more, and though the strokes per minute and amperage is lower, it is still powerful. In the end, you must consider whether or not the features above and low price makes up for the slightly lower strokes per minute.
3
Ridgid R3031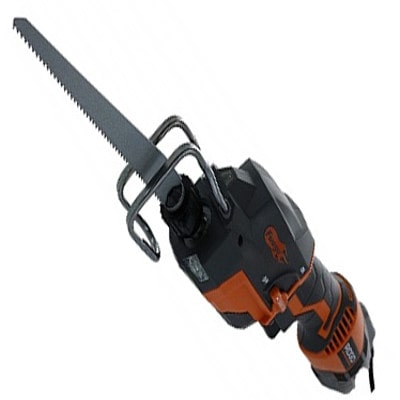 Pros:
The Ridgid R3031 exerts a whopping 3,500 strokes per minute.

It also has orbital cutting action, tool less blade change, variable speed trigger, and even an extra long cord.

It is light at only 5 lbs and has a comfortable rubber overmold for better grip.
Cons:
Not really a flaw of the model, but

with purchase only the tool is included, so you will have to purchase blades separately.
One-handed

0-3,500 strokes per minute

Lightweight

tool less blade change

Ergonomic grip

Variable speed trigger

6 amp motor

Orbital cutting action

Long cord
The Ridgid R3031 is an excellent model. Apart from the basic features it has additional ones that make the tool even more convenient to use. Take the longer cord, lightweight, and comfortable grip for example. Although this model is not the cheapest on this list, it provides a great value for your money.
4
VonHaus 5A Compact Reciprocating Saw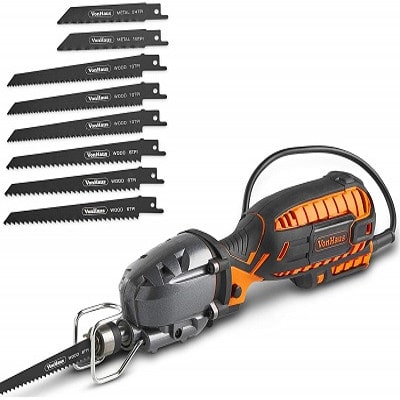 Pros:
The VonHaus compact reciprocating saw

exerts up to 3,000 strokes per minute and has an ergonomic grip, tool less blade change system.

This model also has a locking speed mechanism which allows the user to maintain a continuous maximum speed when operating without holding the trigger.

In addition, it

comes with eight blades that can be used on a wide variety of materials like m

etal, pipe, aluminum, brass, copper, and plastic.
Cons:
The tool slightly lacks power while cutting hard materials.

Although multiple blades are included, they are not of the best quality.
5 amp

16-foot cable

0-3,000 strokes per minute

Comfortable grip

Tool less blade change system

Locking speed mechanism
The VonHaus compact reciprocating saw comes with eight blades (not of the highest quality though), an extra long cable for an affordable price. This model has useful features like toolless blade change system and a locking speed mechanism. Despite the brand is not one of the absolute leaders on the market, this small and nice compact saber saw is not worse than most products of famous manufacturers.
Prices
Small Sabre Saws Under $100
For under $100 you can find many quality models of established brands. But cordless sawzalls most often come as bare tool: without battery and charger.
$100-$200
If your price range is between $100-$200 options become less limited. Some of the portable reciprocating saws within this price range come in kits: with battery and charger and sometimes a case or a bag.
Brands of Small Sawzalls
There are many manufacturers of mini sawzalls, but the two leaders on the market now are Milwaukee, who was actually the inventor of the hand held sawzall, and Dewalt. Both are known for their reliable and quality products. Other popular brands worth mentioning include: Makita, Ryobi, Ridgid, Bosch, Black & Decker, Hitachi, Porter-Cable, Craftsman, Skil, Hilti. Many of which made the top portable corded or cordless sawzall list above.
Where to Buy a Compact Reciprocating Saw?
Compact reciprocating saws are most likely available for sale in your local store, but the best deals are always online: in stores like Amazon, Walmart and Ebay, that offer the widest variety of products.
Related Guides