Quick Comparison Table
| | DeWALT DW3106P5D60I | HICO | INGTERCO | TWIN-TOWN | TOMAX |
| --- | --- | --- | --- | --- | --- |
| | | | | | |
| Price | $ | $ | $ | $ | $ |
| Weight | 3.3 lbs | 2.5 lbs | 12 ounces | 9.3 ounces | 1.8 lbs |
| Dimensions | 14.5 x 11.4 x 0.6 in | 12.9 x 12.9 x 0.6 in | 7.8 x 7.6 x 0.6 in | 10.1 x 9.6 x 0.7 in | 12.1 x 11.7 x 0.8 in |
| Application | Fine Finish | Fine Finish | Fine Finish | Framing | Fine Finish |
| Cutting Diameter | 10 in | 12 in | 7 ¼-in | 7 ¼-in | 10 in |
| Teeth | 60 teeth | 80 alternate top bevel teeth | 60 alternate top bevel teeth | 24 teeth | 60 teeth |
| Amazon FREE Shipping | | | | | |
| | | | | | |
How to Select the Best Miter Saw Blade?
---
When you've invested a substantial amount of money into the purchase of a miter saw, you want it to operate with precision and accuracy for as long as possible.
The easiest way to ensure you get the longevity you would expect is by purchasing premium miter saw blades that suit your saw perfectly.
It's easy to assume that any blade will suit your miter saw, because aren't they all the same? While they look the same, every miter saw and its needs differ.
In fact, every manufacturer, every brand and every model of miter saw differs. This means you need to put time and effort into ensuring you've got the right blade for the right saw.
To make the process easier, we've reviewed five top-rated miter saw blades that are popular among the woodworking community.
While not all are going to suit your price range or your saw, by weighing up the pros and cons of each, you can get a fair idea of which features will work for you, and which won't.
Work Type
The type of miter saw blade you need can ultimately come down to your work type. What kind of cut are you looking to make?
To break it down simply, there are two types of cuts, and three types of blades. You're either looking to make a coarse cut or a fine cut.
A blade that's manufactured for coarse cut will be able to make crosscuts and rip cuts in both hard and soft woods, whereas a blade designed for fine cuts is more suitable for plywood, chipboard, and parquet.
Once you've established the work type – and wood type, keep an eye out for a blade that suits your requirements. The manufacturer will have listed whether the blade is suitable for coarse or fine cuts on the packaging.
Safety
To be able to cut through hardwood, miter saw blades have to be reasonably sharp. So, if they can cut through wood, they can most certainly cut through skin and bone.
When you're installing the blade, using the saw, and removing the blade for sharpening, it's essential that you take care.
Focus on the job at hand, remove obstacles from your work area, and never attempt to multitask. It also helps to ensure the miter saw is turned off at the wall socket before trying to remove the blade.
Features
As there are three main types of blades, features will vary from one brand or model to the next. Steel blades are the most affordable option for woodworkers, and they're suitable for cutting softwood. If you were to use them for hardwood, they would dull very quickly.
High-speed steel blades are not suitable for every miter saw, so check your manufacturer's guide to see whether this is the case for yours. They are used for a wide range of cutting tasks at high speeds and don't dull as quickly.
Carbide-tipped blades are usually a favorite blade type out of all three main options. While they're generally for sale at the highest price, they do stay sharper for longer, and their cuts are very smooth.
In fact, they produce the least amount of tear-out which more than makes up for the cost of the blade in many cases.
Maintenance
There's a common misconception that you can simply install a blade, cut with it, then chuck it away once it's dull. However, did you know that simple maintenance on your saw blade could save you money in the long run?
Not only can you improve the lifespan of the blade with maintenance, but you can also reap the rewards of far better cuts as well.
Firstly, you need to care for the teeth. They are prone to wearing out, becoming dull, breaking and chipping – especially when they're not cared for correctly.
Therefore, as part of your maintenance routine, it's essential to ensure there is nothing in the way of the teeth that can lead to them breaking or chipping. It also helps to remove all nails from workpieces and stick to the manufacturer's recommendations concerning the wood you can cut with it.
Secondly, it's helpful to keep the blades clean. After plenty of use, your miter saw blade can start looking a little worse for wear. It might have built up with dirt, oil, and grime, not to mention sap from wood.
Not only does cleaning it protect your workpiece from getting grimy, but it can prevent it from rusting and maintains the cut quality as well.
And, finally, it's vital that you keep your blade sharp. As any experienced woodworker would know, cutting wood – or any material – with a blunt blade is not a satisfying experience.
In fact, it can ruin the workpiece and cost you hundreds of dollars in the process. Therefore, it's crucial that you keep on top of sharpening. If you don't have a sharpening kit, take your blades to a professional to have them sharpened.
Budget
It's always helpful to do a little research before you jump right in and purchase a new miter saw blade. As the materials can vary, so too can the price. The best miter saw blade for the money cany cost anywhere between $16 and $160.
5 Best Miter Saw Blades Reviews
---
1
DeWALT DW3106P5D60I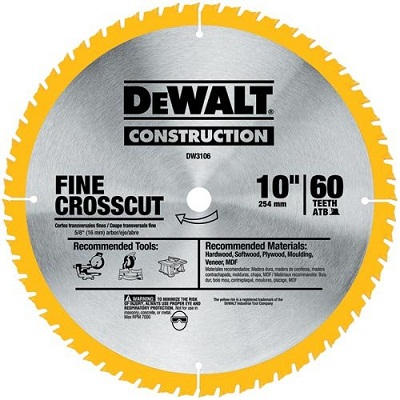 Pros:
The cutting action is fast and smooth due to the thin kerf.
The finish is better, and there's not as much vibration because of the computer-balanced plates.
It offers better durability and accuracy than several other miter saw blades on the market because of the DeWALT exclusive wedge shoulder design.
It comes with two blades.
It's quite affordable.
Cons:
The yellow paint on the blade – DeWALT's branding – rubs off onto workpieces.
There isn't much carbide on the teeth so after being sharpened a couple of times, you will need to replace the blade.
2x DeWALT Fine Finish Saw Blades.
Weight: 3.3 pounds.
Dimensions: 14.5 x 11.4 x 0.6 inches.
Application: Fine Finish.
Cutting Diameter: 10 inches.
Teeth: 60 teeth.
Q
What is it suitable for?
A
Softwood, hardwood, chipboard, and plywood.
---
Q
Can it be used for cutting laminate flooring?
A
Yes.
---
Q
What is the kerf size and arbor?
A
The kerf size is ¼-inch, and the arbor is ⅝-inch.
This DeWALT blade is an excellent example of what a fine finish saw blade should be. It's easy to use, offers minimal vibration, provides very little tear-out, and is well-priced on the market.
While it's suitable for both table saws and miter saws, it has one fault. As it's coated in yellow paint for DeWALT's branding, it seems to rub off on workpieces which causes grief for woodworkers.
Overall, however, it's one of the best miter saw blades for the money.
2
HICO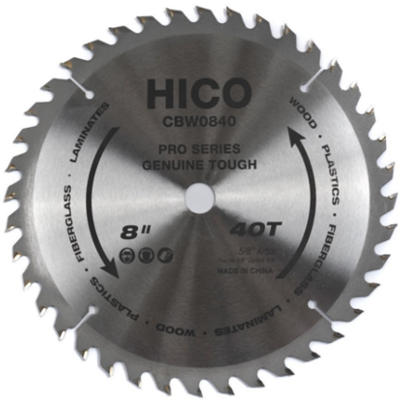 Pros:
It's one of the most affordable miter saw blades on the market.
It's suitable for most kinds of wood – including hardwood, softwood, plywood, and chipboard.
The thin kerf means the cutting action is fast and smooth.
It's carbide-tipped, so it doesn't dull as quickly as other blades for sale.
It has reduced vibration and noise.
Cons:
The factory might have quality control issues, as many customers said their blades arrived warped.
Some surface rust is apparent when delivered from online buying platforms such as Amazon.com.
It gets very hot and can begin smoking with hardwood.
HICO Fine Finish Saw Blade.
Weight: 2.5 pounds.
Dimensions: 12.9 x 12.9 x 0.6 inches.
Application: Fine Finish.
Cutting Diameter: 12 inches.
Teeth: 80 alternate top bevel teeth.
Q
Can it be used with other tools, aside from the miter saw?
A
Yes, it can also be used with a table saw and circular saw.
---
Q
What is the arbor and kerf?
A
1-inch arbor and 0.11-inch kerf.
---
Q
What is the hook angle?
A
15 degrees.
For the weekend warrior who is in need of a good quality blade at a low price, this HICO blade meets the mark.
It's far cheaper than several other blades on the market and suits a wide range of buyers with its 80 teeth and ability to cut through various types of materials.
However, it has a few minor flaws. It wouldn't be suitable for professionals due to not being able to cope with extended use, and there's a high chance your blade will arrive warped.
For the cost in comparison to what you get, you are still getting one of the best deals available for miter saw blades.
3
INGTERCO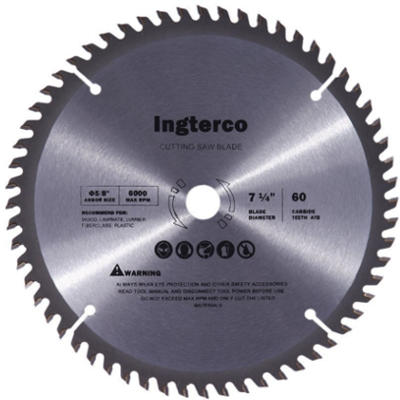 Pros:
It's affordable.
It has a kickback-reducing design.
It's a heavy-duty production blade that's designed to work well for extended periods of time.
The tips are titanium carbide for a longer life and sharper cuts.
It has a non-stick coating to protect it against rust and resin.
It can be used on a variety of wood types.
Cons:
The listing says it's a general saw blade, but it's actually more suitable for fine finishes.
INGTERCO Fine Finish Miter Saw Blade.
Weight: 12 ounces.
Dimensions: 7.8 x 7.6 x 0.6 inches.
Application: Fine Finish.
Cutting Diameter: 7 ¼-inch.
Teeth: 60 alternate top bevel teeth.
Q
What is the kerf and arbor?
A
⅝-inch arbor and 0.094-inch kerf.
---
Q
What is the hook angle?
A
15 degrees.
---
Q
Can it be used with a circular saw?
A
Yes.
This fine finish miter saw blade is the epitome of quality. Not only do you get the best deal with it being so affordable to buy online but it's a high-quality carbide blade that handles both hardwood and softwood well.
As an all-around quality blade, it's clearly one of the best miter saw blades for the money.
4
TWIN-TOWN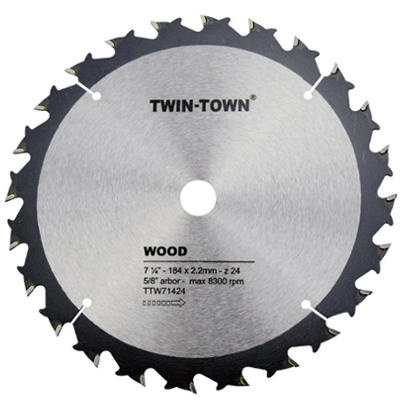 Pros:
It's very affordable.
It's suitable for a range of wood types.
It has tungsten carbide teeth for a more extended blade life.
It has a thin kerf for faster and smoother cutting.
In comparison to other blades, it has minimal vibration, reduced heat on the blade, and a reduced risk of blade warp.
Cons:
It's an odd size, so the market isn't very big for such a blade.
TWIN-TOWN Framing Miter Saw Blade.
Weight: 9.3 ounces.
Dimensions: 10.1 x 9.6 x 0.7 inches.
Application: Framing.
Cutting Diameter: 7 ¼-inch.
Teeth: 24 teeth.
Q
What is the arbor?
A
5/8 inch diamond knock-out arbor.
---
Q
What kind of wood is it suitable for use on?
A
Hardwood, softwood, plywood, and chipboard.
---
Q
What is the recommended RPM?
A
Up to 8300.
Considering it's so inexpensive, this blade is holding its own on the marketplace.
While it's not suitable for long-term professional use, it is capable of catering to the needs of hobbyists and weekend warriors who need a durable blade to get the job done.
It can be used on most wood kinds and even has carbide tips for blade longevity. It's not the best saw on the market, but it's undoubtedly top-rated and favored by many.
5
TOMAX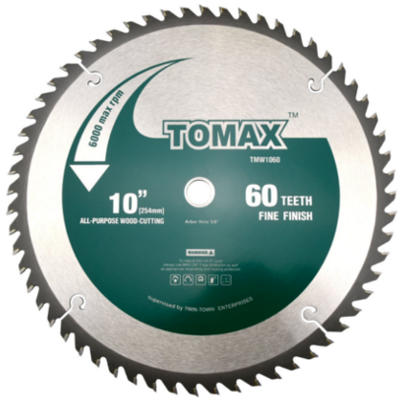 Pros:
It's suitable for all wood kinds.
The carbide teeth are construction-grade for a longer lifespan.
It has an electrophoretic coating to reduce the risk of rusting or corrosion.
It comes with a limited lifetime warranty which is very unusual for blades.
It's very affordable.
Cons:
It's known to wobble.
Some people's blades arrived with warps in them.
TOMAX Fine Finish Miter Saw Blade.
Weight: 1.8 pounds.
Dimensions: 12.1 x 11.7 x 0.8 inches.
Application: Fine Finish.
Cutting Diameter: 10 inches.
Teeth: 60 teeth.
Warranty: Limited lifetime warranty.
Q
What is the arbor?
A
⅝-inch.
---
Q
What is the recommended RPM limit?
A
Up to 6,000 RPM.
---
Q
Does it make a flat cut or is it angled?
A
Flat cut.
If there's ever a saw blade to stand out from this rest, this TOMAX miter saw blade would be it. Not only does it hold its place on the market as a reliable and well-made blade, but it even comes with a limited lifetime warranty.
This is unheard of! So, if you're looking for a saw blade that doesn't skimp on quality – and is refundable if you're not happy with its performance – then this TOMAX blade is for you.
Where to Buy Miter Saw Blades?
Whether you're a professional or a hobbyist, you will find great pleasure in getting to choose from a range of miter saw accessories online.
Not only can you buy the miter saw itself on Amazon.com, but you can then fill your workshop with all the accompanying accessories. The blades are no different. Whether you're looking for the best deal or a top-rated blade no matter the cost, you are sure to find what you're looking for online.
While traditional stores are still suitable for buying your blades from, nothing quite beats the ease of being able to purchase equipment with the click of the mouse, to have it delivered directly to your door.
Leading Miter Saw Blades Brands and Manufacturers
Related Guides