Quick Comparison Table
1
About Oregon Chainsaw Manufacturer
Oregon is rated as one of the best producers of saw chains, guide bars, forest accessories, outdoor equipment parts and sprockets in the world.
Their products are not only top rated and affordable, but they are also the sign of leading technology, and being ahead of the competition. Oregon Saw Chain Manufacturing Corporation was born in 1947, and started with just four employees. Now part of Blount Inc, it operates with over 3,000 employees and thousands of products.
Its innovative team were responsible for producing 'world firsts' in many areas, including the commercial grade chain which was based on the teeth of a larvae insect. Oregon consistently produce some of the best and top rated accessories and chains on the market today.
2
Oregon Chainsaw Models
Because Oregon is so focused on producing quality chains and accessories for other leading brands, they don't produce many of their own saws. Currently on the market they have two cost-effective options. Both have bode well in online reviews and this buying guide.
These two models include the Oregon CS1500 18 inch electric powered chainsaw, and the Oregon CS300-A6 16 inch electric powered chainsaw. When you purchase a chainsaw built by Oregon, you know you are buying one of the best on the market today.
You are also guaranteed the best deal, as Oregon price their saws well in the market to be competitive alongside other makes, models and manufacturers.
List of Top Rated Oregon Chainsaw Models
---
#1 Oregon CS1500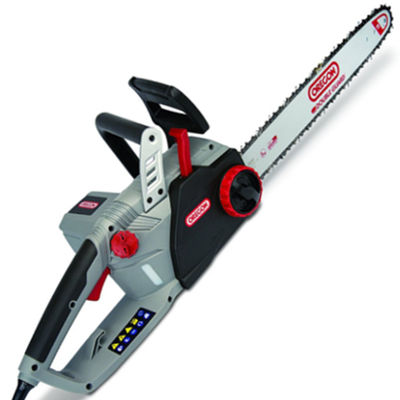 Pros:
The blade is self-sharpening.
The only maintenance required is refilling the

bar and chain

oil.
It has a powerful 15 amp motor.
Its 18 inch chain cuts through a wide variety of logs and branches.
Cons:
It requires a power source.
It's not designed for professionals or commercial grade use, therefore the market is limited.
You will need a heavy duty extension cord.
Oregon CS1500 electric powered chainsaw.
18 inch bar and chain.
2 year warranty.
Dimensions: 10.5 x 37.5 x 18 inches.
Weight: 12.6 pounds.
Bar Length: 18 inches.
Power Source: Electric corded.
Warranty: 3 year warranty.
Q
Where can PowerSharp replacement chains be purchased?
A
PowerSharp chains and sharpening stones as a kit are purchased through any Oregon dealer, or online at Amazon.
---
Q
Does it have an automatic oiler?
A
Yes.
---
Q
Does it start well from cold?
A
It is an electric, instant push button start.
---
Q
Is it noisy?
A
No, it produces very little noise.
It's hard to believe the Oregon CS1500 is not a gas saw. If it weren't for the low maintenance attributes and reduced noise levels, you would think it was! The sheer power on offer with the 15 amp motor ensures this chainsaw will get any domestic cutting job done with ease – even those big winter wood piles.
This chainsaw is packed full of features and is very affordable to buy. It's clear to see this electric powered saw is the best Oregon chainsaw for the money.
#2 Oregon CS300-A6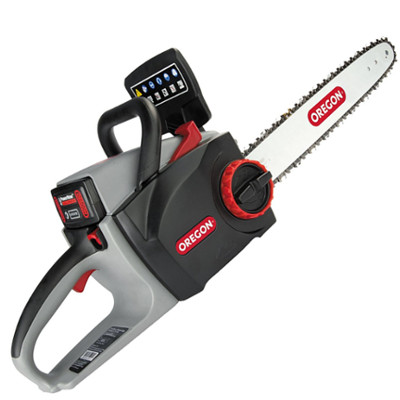 Pros:
The chain is self-sharpening.
It requires no maintenance.
The battery is long-lasting.
It's a powerful saw.
Cons:
You have to buy a more expensive chain to make it self-sharpening.
You can't take it far from a power source unless you have spare batteries.
It can be difficult to replace the chain.
Oregon CS300-A6 electric powered chainsaw.
16 inch bar and chain.
3 year limited warranty.
Optional battery and charger (pay extra).
Dimensions: 12.13 x 11.13 x 16 inches.
Weight: 12 pounds.
Bar Length: 16 inches.
Power Source: Battery.
Warranty: 3 year limited warranty.
Q
How long does the battery last for?
A
It can cut up to 400 branches at around 2-3 Inch in diameter.
---
Q
What kind of battery does it take?
A
40V Max Lithium Ion. Users can opt for 2.4Ah, 4Ah or 6Ah.
---
Q
Is the chain self-sharpening?
A
Yes.
---
Q
Top handle or rear handle?
A
Top handle.
If you don't have time for maintenance and domestic cutting is all you require, this CS 300-A6 ticks all the boxes. It's durable, quiet, affordable, has top rated features and in comparison to other brands of similar specs, is great value for money.
Reviews online for this chainsaw have been outstanding, and you are sure to get the best deal when purchased from Oregon dealers and online at Amazon.
3
Oregon Chainsaw Accessories
4
Oregon Chainsaw Replacement Parts
5
Oregon Chainsaw Prices
6
FAQs
Who makes Oregon chainsaws?
Blount Inc, under the Oregon brand.
Where are Oregon chainsaws made?
United States, Canada, Brazil and China.
Where do you buy Oregon chainsaws?
You can find Oregon products in hardware stores in over 100 countries and online on websites such as Amazon.
Related Guides