Quick Comparison Table
| | BearMoo | Deulen | Fulton | Taylor Toolworks | Steelex D1123 |
| --- | --- | --- | --- | --- | --- |
| | | | | | |
| Price | $ | $ | $ | $ | $ |
| Weight | 1.6 pounds. | 1.2 pounds. | 12.8 ounces. | 4.8 ounces. | 5.6 ounces. |
| Dimensions | 7.1 x 1.2 x 2.4 inches. | 13.6 x 5.7 x 1.8 inches. | 7.2 x 5.9 x 1.6 inches. | 5.8 x 5.2 x 0.9 inches. | 8.1 x 3.3 x 1 inches. |
| Sharpening Grit | 3,000/8,000 grit. | 6 to 15 inches. | 6 inches. | 300 and 600 grit. | 400 grit. |
| Warranty | 30 day return policy. | N/A. | N/A. | N/A. | N/A. |
| Amazon FREE Shipping | | | | | |
| | | | | | |
How to Select the Best Wood Planer Blade Sharpening Tool?
---
The task of a wood planer sharpener is to ensure your wood planer is never without a sharp blade. While it seems like an easy task to carry out – and one that any planer blade sharpening machine can do – not all are created equally.
In fact, by reading our buying guide below, you will learn this very quickly. We have reviewed five top-rated wood planer sharpeners that have been recommended for a range of wood planers.
While it's clear to see there are plenty to choose from, from various manufacturers, it can take a bit of research to find the best wood planer sharpener for the money.
Read through the pros and cons for each brand, make comparisons between all the specifications, and eventually, you will find the sharpener that suits your needs the best.
Work Type
There are several different wood planers on the market, and all are used differently to achieve various results with wood. This means that not all blades are the same, and are not sharpened in the same way.
Because of this variety, it's important that you read the description for each sharpener you come across, as well as your user guide. Your user guide will outline your maintenance requirements for your blades, and the sharpener description will specify what it's useful for.
Safety
Not much can go wrong when you're using a wood planer sharpener, but the key is to always be aware of where your hands are. While your planer blade isn't sharp enough to plane wood, it's still sharp enough to take skin from bone.
Therefore, ensure you carefully uninstall the blade from the planer and use caution when using a sharpener to get back that sharp edge. Some sharpeners help to remove some of the danger by enabling you to sharpen it while still attached to the planer body.
Efficiency
The level of grit for effective sharpening can vary from one planer sharpener to the next. It varies so greatly that while one sharpener might be effective for sharpening your planer blade with ease, the next might only be able to hone it.
If your blade has several nicks and cuts, it pays to be aware of the grit level on the sharpener. The lower the grit count, the more effective it is for smoothing out those edges. The higher the grit count, the more suitable it is for final touches.
Features
The most effective wood planer sharpener is one that offers the following:
Double-sided sharpening stone – some are made with one side featuring a coarse grit, and the other side featuring a fine grit. This means you can remove nicks from the blade, before finally polishing it on the opposite side.
A high-quality grindstone that's fit for the application.
A non-slip base to accurately and safely sharpen blades.
Maintenance
While a wood planer sharpener doesn't require any standard maintenance, it still doesn't hurt to check it over before you put it into use. Ensure it has no imperfections in the grinding stone, and make sure the handle is in good condition.
If the handle is worn or damaged, this could prove inconvenient when you're trying to maintain a good level of grip for sharpening. Some stones also require you to submerge them in water for 20 minutes prior to use.
Budget
Because they have very few parts, you don't have to open your wallet too wide to afford a wood planer sharpener. They are normally for sale for between $14 and $70 when you choose to buy online.
Top 5 Wood Planer Blade Sharpeners Reviews
---
1
BearMoo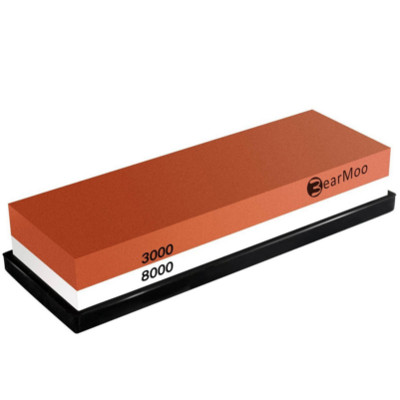 Pros:
It has a high-grit and low-grit side for convenience.
It's well-priced on the market.
It's versatile for a range of blades.
It has a non-slip base for ease of handling.
You can return it after 30 days if you're not happy with it.
Cons:
Many users note that the grit level doesn't appear to be as advertised.
It can chip easily.
It promises a mirror finish on blades, but can't deliver.
BearMoo wood planer sharpener.
30 day return policy.
Weight: 1.6 pounds.
Dimensions: 7.1 x 1.2 x 2.4 inches.
Sharpening Grit: 3,000/8,000 grit.
Warranty: 30 day return policy.
Q
How do you prepare the stone for use?
A
Soak it in water for 20 minutes before use.
---
Q
Can it hone?
A
Yes.
---
Q
Where is it made?
A
It's made in China.
Whether you're honing or sharpening, you are sure to find this BearMoo wood planer sharpener exceptionally convenient. It's easy to hold, and even offers two grit levels – one for sharpening, and one for polishing.
It costs very little to own, and has a 30-day return policy as well. The only negative statement to make about this sharpener is the grit level. While it's advertised as being 3,000 on one side and 8,000 on the other, this is incorrect.
Most users note that the grit levels are closer to 1,000. Aside from this fact, it represents good value for money.
2
Deulen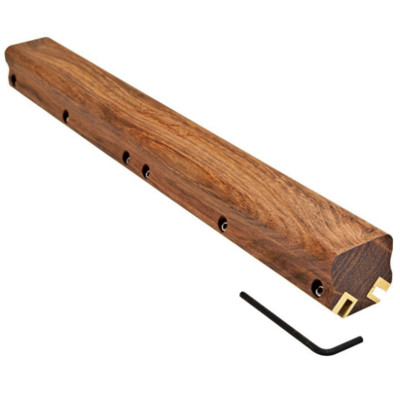 Pros:
It comes with a 'how to' video.
It's easy to use.
It can suit a range of blades.
It enables you to save money on replacing blades.
Cons:
It's not very affordable.
The angle is not going to be correct for all planers.
Deulen wood planer sharpener.
Weight: 1.2 pounds.
Dimensions: 13.6 x 5.7 x 1.8 inches.
Sharpening Capacity: 6 to 15 inches.
Q
What is the blade angle of the jig?
A
45 degrees.
---
Q
Can it be used for double-sided blades?
A
Yes.
---
Q
What is the distance between the knives when in the jig?
A
Approximately 2 inches.
The best part about this Deulen device is how easy it is to save money. It's able to effectively and efficiently sharpen most kinds of planer blades with ease – including those that are double-sided.
This means you will end up with more money in your pocket since you're not buying more blades! While it's not affordable to purchase in the first instance, it will save you money in the long run.
3
Fulton
Pros:
It's easy to install.
It's made from durable aluminum.
It can hold two planer knives at a perfect angle.
It's cost-effective.
It's lightweight.
Cons:
The angle might not suit all kinds of planers.
Fulton wood planer sharpener.
Weight: 12.8 ounces.
Dimensions: 7.2 x 5.9 x 1.6 inches.
Sharpening Capacity: 6 inches.
Q
What is the sharpening angle?
A
90 degrees.
---
Q
Is it suitable for planers as well?
A
Yes.
---
Q
Does it come with sandpaper?
A
No.
Easily considered one of the best wood planer sharpeners for the money, this tool trumps many others on the market. It's small, easy to hold, lightweight, and certainly represents good buying. It can be used for all kinds of blades, and has a 90-degree sharpening angle for consistency.
4
Taylor Toolworks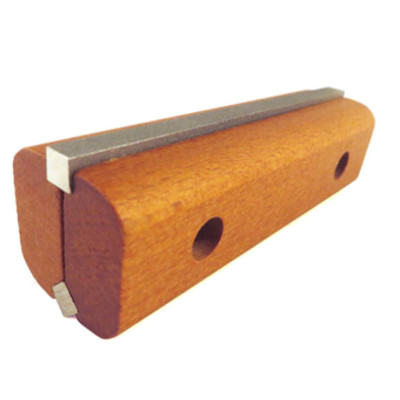 Pros:
You don't need to remove the blades from the planer to sharpen them.
It offers both 300 and 600 grit diamond stones.
The stones are reversible.
It's very affordable.
Cons:
It doesn't come with instructions and it's not overly obvious on how to use it.
The grit isn't high enough for polishing.
Taylor Toolworks wood planer sharpener.
Weight: 4.8 ounces.
Dimensions: 5.8 x 5.2 x 0.9 inches.
Sharpening Grit: 300 and 600 grit.
Q
Can it bevel both face sides and bevel?
A
Yes.
---
Q
Can you change the second side for a different finish?
A
No.
---
Q
Do the stones need submerged in water?
A
No.
If you don't want the hassle of disassembling your wood planer for a quick sharpening job, then this is the tool for you. While the grit is more suitable for harsh sharpening jobs, it does the job in an effective manner.
There's no wasting time with assembling and disassembling, and it can smooth out nicks with ease. It's one of the best wood planer sharpeners for the money.
5
Steelex D1123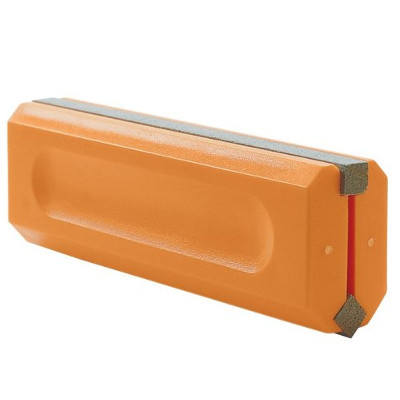 Pros:
You don't have to remove the blades from the planer.
It offers a flat stone for bevels and a diagonal stone for flat edges.
The stones have four surfaces which can be adjusted for a fresh sharpening surface.
It's one of the most affordable options on the market.
Cons:
Both sides are the same grit which isn't convenient for polishing.
It's more of a hone than a sharpener.
It doesn't sharpen very well.
It doesn't provide a nice edge on the blade.
Steelex wood planer sharpener.
Weight: 5.6 ounces.
Dimensions: 8.1 x 3.3 x 1 inches.
Sharpening Grit: 400 grit.
Q
Is it suitable for double-sided blades?
A
Yes.
---
Q
Can you change the stone for a different grit count?
A
No.
You get what you pay for, and in this case, many people believe that isn't much. While a number of customers are happy with what's on offer with this model, there's just as many that aren't. If a knife is very dull, it takes a lot of sharpening to get it up to standard, and the end result isn't very good.
The sharpened edge isn't perfect, and you can't swap over to the other side of the stone for a polish as it's the same 400 grit stone. It's not a top-rated product, nor is it suitable for regular, everyday use.
Where to Buy Wood Planer Sharpener?
When you're looking to get the best deal, there's no better place to look than the internet. Amazon.com, among other platforms, is ideal for customers to hunt for both homeowner and professional blade sharpening devices.
The best part is, once you've found what you're looking for, you can then get it delivered directly to your door, without ever having to leave the house!
Leading Wood Planer Sharpener Brands and Manufacturers
Related Guides