Quick Comparison Table
How to Select the Best Chainsaw Chain?
---
When you've broken or worn down a chain and are looking for a replacement, it's important you choose the right one. Too many chainsaw users are purchasing chains that fit but aren't appropriate.
Chainsaw operators should always consider the work they will be undertaking, the features they require, and the safety levels they need. What may be suitable for one job may not be suitable for the next. Choose wisely and opt for quality every time.
Work Type
The type of work you are undertaking will solely determine the kind of chain you will need to buy for your chainsaw. If you're a professional with dirty, abrasive wood to fell deep in the forest, you would more than likely opt for a semi-chisel chain.
However, if the wood is soft and clean, full chisel teeth will suffice. For wood that is sure to test your chainsaw's limits, you may even opt for a low profile saw chain. These are chains which handle the bulk of wood – hard and soft.
It definitely pays to know what work your chain will be carrying out before you purchase one. This buying guide can help you determine the different kinds of work types in relation to the chain brands and models.
Safety
Considering the chainsaw is the most dangerous power tool on the market, it pays to have the correct chain and other components in order to get the job done safely.
The leading cause of injury and death in chainsaw accidents is caused by kickback. A chain must have accurate depth gauges in order to cut to its full potential. If depth gauges are high it will not cut as quickly.
However, if they are too low, there is a far heightened risk of kickback. Match your chain with a quality chain sharpener which can help you accurately sharpen and measure your depth gauges.
Efficiency
Getting the right efficiency from your chain can be a balancing act. There are so many factors to consider such as the wood type, the wood's condition and the power of the chainsaw. A bit of user experience comes into play as well.
As a rule of thumb, full chisel chains split wood fibers really quickly, therefore they can get a job done a lot faster if the wood type suits the chain type.
Semi-chisel teeth have rounded corners which make them slightly less sharp but more capable of cutting through dirty, dry or icy wood. Low profile chains can allow less downtime due to the ability to power through any kind of tree.
Features
It can be relatively easy to tell the difference between a full chisel, semi-chisel and low profile chain. The teeth on a full chisel chain are sharp, angled and square.
They can also be sharpened to an unmarked edge. Semi-chisel chains have rounded teeth, whilst low profile chains are generally identified, brand-dependant, by either a colored dot on the chain or the packaging it came in. The colored dot will represent the level of kickback the user can experience from a particular chain.
Maintenance
Chainsaw chains are what enables your chainsaw to do what it does best – cut. Therefore, you must always keep on top of chainsaw chain maintenance. Because some chains are so affordable, many people opt to just buy a new one instead of maintaining the current one, but you can easily save yourself some money by caring for the one you have.
Maintenance includes:
Sharpening the chain using either a manual or electric sharpener.
Making sure the tension is right before use.
Making sure the depth gauges are correct.
Oiling and lubricating the bar and chain.
Clearing debris from the chain when not in use.
Replacing it when the teeth are below 4mm.
Budget
As mentioned in previous buying guides, it pays to buy the best chain, not the cheapest. This could mean making comparisons between similar chains to find out which will provide you with the best bang for your buck.
Once you find a brand that works for you, you will undoubtedly stick with it. In most cases chain brands will match that of your chainsaw. It may not be the cheapest, but it may be the chain that works the most effectively and safely.
Available Chainsaw Chain Types on the Market
---
#1 Semi-Chisel Saw ChainsFull Chisel Saw Chains
#2 Semi-Chisel Saw Chains
#3 Low-Profile Saw Chains
Top 5 Full Chisel Chainsaw Chains Reviews
---
1
Oregon S52
2
Oregon D72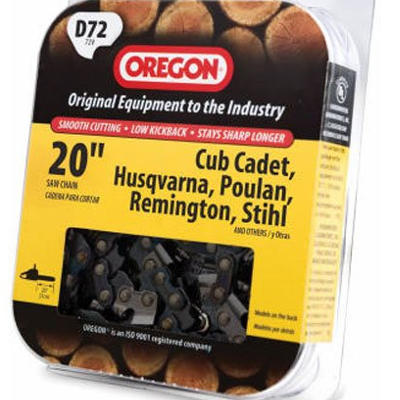 3
Husqvarna
4
Oregon D70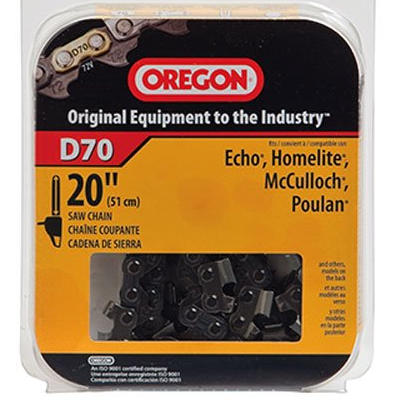 5
STIHL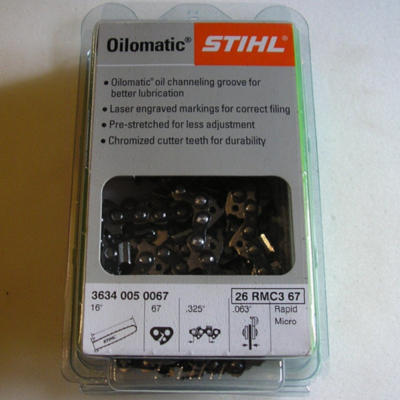 Top 5 Chainsaw Semi-Chisel Saw Chains Reviews
---
1
Oregon S56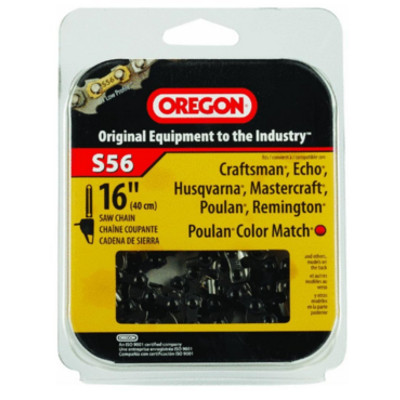 2
Oregon S62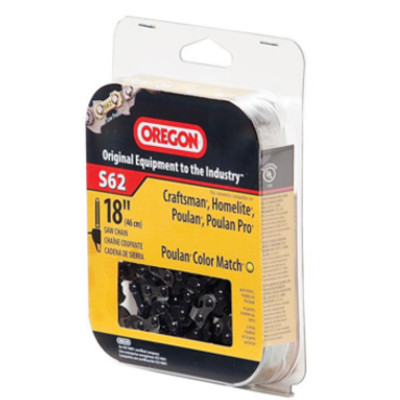 3
Oregon S49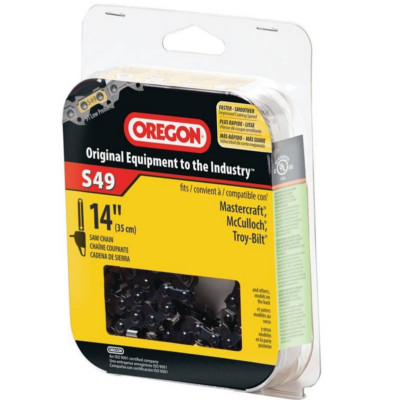 4
Oregon S55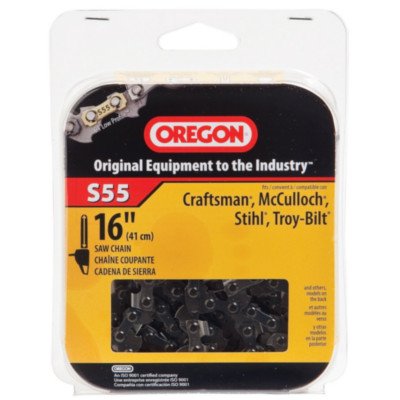 5
Oregon S40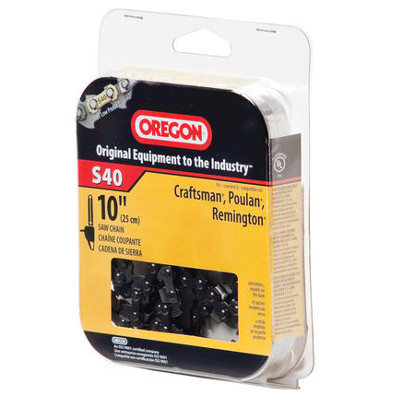 Top 5 Chainsaw Low-Profile Saw Chains Reviews
---
1
Oregon 91VXL062G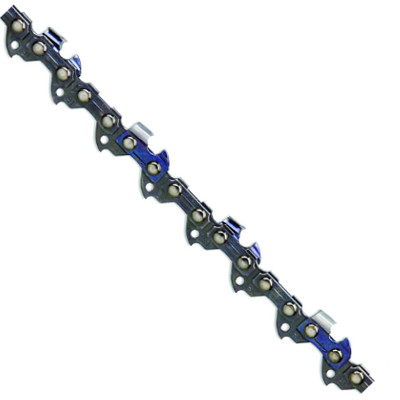 2
Oregon 91VXL056G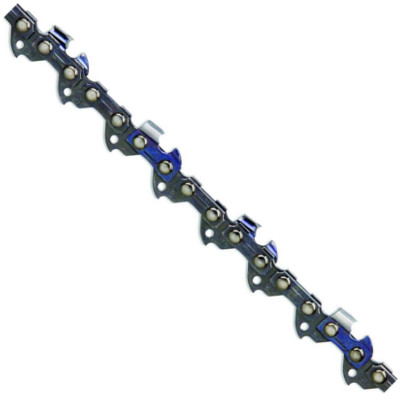 3
Oregon 90PX052G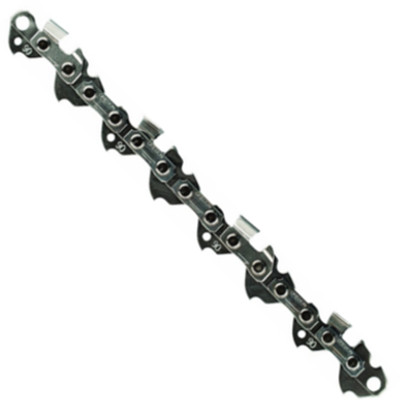 4
Oregon S63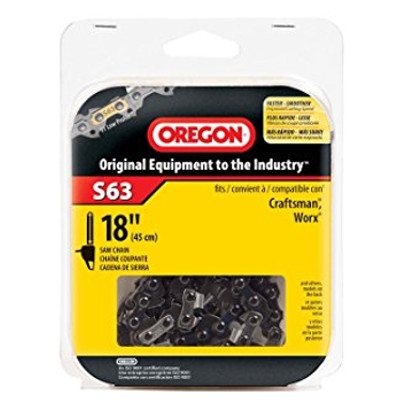 5
Oregon 91PX063G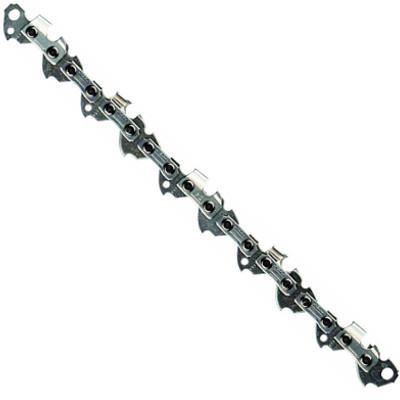 Where to Buy Chainsaw Chains?
Chainsaw chains can be purchased both online and in leading hardware and chainsaw stores across the world. However, it's common knowledge that in order to get the best deal, you should shop online. Websites such as Amazon can offer 'package deals' as well as offering a range of competitively priced chains otherwise not found in stores.
Related Guides