Quick Comparison Table
| | ICS 680ES | Husqvarna K970 | STIHL GS 461 ROCK BOSS | ICS 695XL |
| --- | --- | --- | --- | --- |
| | | | | |
| Price | $ | $ | $ | $ |
| Weight | 28.6 lbs | 28.3 lbs | 16.8 llbs | 30.7 lbs |
| Dimensions | 18 x 11.5 x 10 in | 26 x 12 x 12 in | n/a | 18 x 12 x 14 in |
| Power Source | gas-powered | gas-powered | gas-powered | gas-powered |
| Warranty | limited warranty | n/a | n/a | n/a |
| Amazon FREE Shipping | | | | |
| | | | | |
How to Select the Best Concrete Cutting Chainsaw?
---
Due to the nature of the cost involved in purchasing the best gas powered concrete chainsaw for the money, plenty of research must be done.
If you're in the market to buy a professional tool such as this one, it really does pay to read as much information as you can. This will ensure that whatever manufacturer, model or brand you go with is the right one for you.
Work Type
How you choose the best gas powered concrete chainsaw depends on the work it will be undertaking. Are you in the professional roading industry? You may need a commercial grade saw. Are you in need of one for a small concrete path at your home?
You may need to consider whether it's in your best interests to purchase one, or simply hire a professional. Are you cutting holes in concrete, precision cutting, removing stone, working on a sculpture or pile cutting? The type of concrete saw you purchase is all dependent on what you require it for.
Safety
There are many things you need to do when using a gas powered concrete chainsaw to ensure the environment and yourself are safe.
These include:
Making sure there are no cracks or holes in the chain side cover
Making sure the slurry baffle and drainage are in place, are tightly secured and don't have damaged fins
Making sure the bottom guard flap, which acts as a mud flap, is securely in place
Adjusting the hydraulic flow when adding different tools to the power supply unit
Wearing protective gear
Ensuring the top handle or handling components aren't broken
Installing the chain the correct way around
Using both hands on the saw at all times
Efficiency
The best way to ensure your saw is running efficiently is to keep up with maintenance. When chainsaws become clogged or dirty, the engines are working harder to keep them going.
This can not only cause the engine to blow, but it can also cause injury to the operator should something go wrong. You can retain efficient use of the saw by using the right fuel, maintaining the saw, and knowing all the ins and outs of correct operation. The goal is to get the job done quickly and safely.
Features
The features a concrete chainsaw have are all dependent on the manufacturer, model and brand. Each manufacturer is trying to get ahead of its competition, so features will vary from one machine to the next. However, below are basic features found on many gas powered concrete chainsaws:
Maintenance free air filters
Maintenance free starters
Anti-vibration systems
Belts to improve transmission and reduced tensioning
Diamond chains
Multi-chamber air intake
Easily accessible fuel mixture systems
Maintenance
Because a lot of money is being outlaid for the purchase of a gas powered concrete chainsaw, you want to make sure you're on top of maintenance. These maintenance tips include those which should be done after every use, as well as after several days of use.
Check your user guide for what applies to your saw.
Rinsing the saw, bar and chain with water
Tightening all bolts, screws and fasteners
Checking sprockets for wear and replace if the teeth are pointed
Cleaning the air filter. If it's any color other than white, or it has holes, replace it
Spray lightweight oil on the saw, bar and chain
Grease the chain tensioner
Lubricating the starter recoil spring
Cleaning flywheel fins and pawls with a wire brush and grease the pawls
Changing spark plugs
Adjusting electrodes
Checking and/or replacing/cleaning the fuel filter
Cleaning the spit back screen
Budget
Due to the incredible power and technologically advanced features of a petrol powered concrete chainsaw, they are not cheap to buy. However, for what they are and what you require them for, they are generally affordable for professionals.
Commercial grade concrete chainsaws are well worth the money for those in the concreting industry. However, you need to do your research to ensure you get the best bang for your buck.
Top 5 Gas/Petrol Concrete Chainsaw Reviews
---
1
ICS 680ES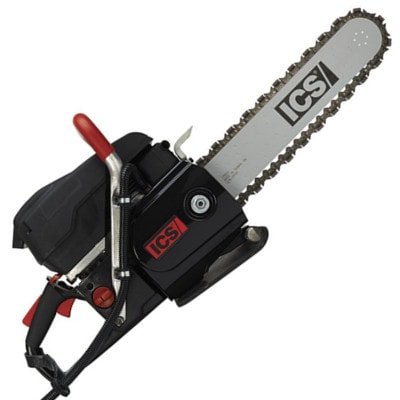 Pros:
The chains are good for at least 50-100ft of cutting, dependent on what's being cut.
It's easy to handle and control.
It's extremely powerful and cuts through concrete effectively.
It's reliable.
It doesn't hesitate when cutting.
Cons:
Replacement chains are very expensive.
It's heavy.
It's very loud at 100 dB.
It's messy.
Gas powered ICS 680ES concrete saw
14 inch guide bar
Twinmax-32 chain
Q
How much does it weigh?
A
28.6 pounds.
---
Q
What are its dimensions?
A
18 x 11.5 x 10 inches
---
Q
What is the blade length?
A
14 inches
---
Q
What is the sound level when in use?
A
100dB
---
Q
How much horsepower does it have?
A
5HP
---
Q
What is the fuel mix?
A
25:1 ratio
When you're looking for a reliable concrete saw that is exceptionally powerful to get the job done, this is a top rated option! It has a 2-stroke air cooled single cylinder 77cc engine for power, and cuts through the toughest of concrete.
It's been noted as being heavy, messy and loud, but that can be expected when cutting through something generally not meant to be cut through. The only true negative is the price of the chains at approximately $400 each.
2
Husqvarna K970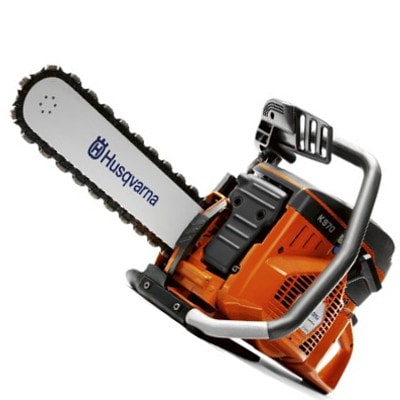 Pros:
It has a 6.4 HP engine with X-Torq for more power and less emissions.
It has a dampener to reduce sound and vibration.
It's exceptionally powerful.
It's quiet in comparison to its competition.
Cons:
The chain doesn't come with it and has to be purchased separately
Husqvarna concrete saw body
14 inch bar
Q
How much does it weigh?
A
28.3 pounds.
---
Q
What are its dimensions?
A
26 x 12 x 12 inches
---
Q
Does the chain come with it?
A
No
---
Q
What horsepower does it have?
A
6.4HP
The Husqvarna brand is known to be reliable and this concrete saw is no exception to the rule. It's efficient, it runs well and it's a lot quieter than some other brands for sale. However, it can be inconvenient when purchasing as it does not come with a chain.
This needs to be purchased separately and can add upwards of $400 to the initial price. You need to read the fine print carefully to realise it does not come with one.
3
STIHL GS 461 ROCK BOSS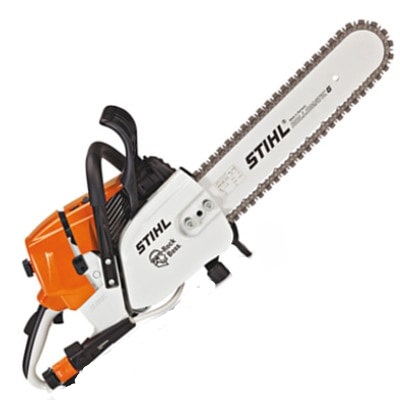 Pros:
It cuts more than just standard concrete, it also cuts reinforced concrete, blocks, bricks, asphalt and stone.
It's a lightweight unit.
It has a low emission engine.
It has a quality diamond chain.
It has a top handle for comfort and ease of use.
Cons:
It cuts slowly if you compare it to a standard chainsaw.
The replacement chains are expensive.
It's not designed for use indoors which limits the market.
You need a constant water supply to run the saw.
STIHL GS 461 ROCK BOSS concrete saw
Guide bar
Diamond abrasive chain
Q
How much does it weigh?
A
16.8 pounds.
---
Q
What is its engine power?
A
4.3 kW
---
Q
What is the bar length?
A
16 inches
The beauty of this top rated saw is that the manufacturers have done all they could to reduce emissions, noise and mess. It comes with a low emissions exhaust system, a heavy duty air filter, advanced water settings to control the mess and low vibration for easier handling.
All the boxes have been ticked in terms of making your job easier, and the reliability of this machine is second-to-none. When you're looking for the best gas powered concrete chainsaw for the money, this one rates highly.
4
ICS 695XL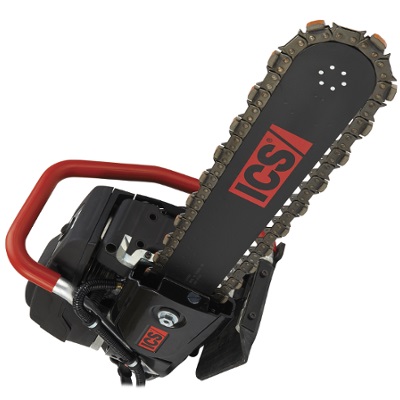 Pros:
It starts with ease.
It's easy to tune.
It comes with the chain when many don't.
It cuts through concrete and ductile iron.
It has quality, long-lasting parts.
Cons:
It's louder than others on the market.
It's towards the higher end of the price scale.
ICS 695XL concrete cutting chainsaw
14 inch guide bar
TwinMAX chain
Q
What does it weigh?
A
30.7 pounds.
---
Q
What are its dimensions?
A
18 x 12 x 14 inches
---
Q
How much horsepower does it have?
A
7 HP
---
Q
How much sound does it produce?
A
104dB
The ICS 695XL concrete saw is well placed on the market for professionals looking to branch out to a lesser-known brand. It performs exceptionally well, is powerful, and can easily be considered the best deal for what's included in the price.
However, it is marketed towards those at the higher end of purchasing. It's a commercial grade saw and one that will continue to perform as long as regular maintenance is carried out.
Where to Buy Concrete Cutting Chainsaws?
The internet is a treasure chest for finding the best deals on chainsaws for concrete and cement. When you're in need of the best gas concrete cutting chainsaw for the money, you will most certainly find the best deal online.
Amazon is one of the best sources of top rated products for sale. You can also source concrete saws locally from many hardware stores aimed at the industrial sector.
Leading Concrete Chainsaw Brands and Manufacturers
Ranges of Concrete Chainsaw Prices
Related Guides