Quick Comparison Table
| | Carvex PSC 420 EBQ | Makita BJV180 | DEWALT DCS331M1 20V Max | Bosch JSH180B | Makita VJ06R1J | Milwaukee 2445-21 M12 | Craftsman Nextec | Bosch GST 10.8 V-LI | WORX WX550L.9 2-in-1 |
| --- | --- | --- | --- | --- | --- | --- | --- | --- | --- |
| | | | | | | | | | |
| Price | $ | $ | $ | $ | $ | $ | $ | $ | $ |
| Features | Variable blade speed reaching up to 3800 spm. | Variable speed motor delivering 0-2,600 strokes per minute. | Variable speed 0-3,000 spm. | Tool-less blade change for convenience. | 5-speed control dial (800-3, 000 SPM) gives you various speed options. | T-Shank blade clamp for easy change. | Variable speed 1400-2000 SPM. | Bosch Electronic Cell Protection (ECP) protects the battery against overload and overheating. | 2-in-1 Jigsaw / Reciprocating Saw which converts by simply pushing a button. |
| Amazon FREE Shipping | | | | | | | | | |
| | | | | | | | | | |
How to Select the Best Cordless Jigsaw?
---
A frequently asked question is whether to buy a corded or cordless jigsaw and which one could be better. In fact, both have their pros and cons. However, having used both types for several years, I tend to lean more towards the cordless jigsaw for the following reasons.
The portability of such a machine makes it easy to use without being restricted by distance to an outlet. It is also safer to work with. It prevents any chances of the cord getting in the way of the blade during the cutting.
In this buying guide, we will discuss the key aspects you should consider before buying the best cordless jigsaw and the top models of this type of handheld power tool you can find today.
Cordless Jigsaw Uses
Due to the increased consumers' demand, these days manufacturers make cordless models more powerful and almost matching the efficiency of corded jigsaws.
However, you should expect to pay a little more for the cordless ones because of the additional price for a battery and charger. A cordless jigsaw is an indispensable tool for the purpose of cutting various types of soft or hard materials such as:
Wood: the most common use of jigsaw is to cut all types of wood.

Metal: it can cut through sheet metals like steel, aluminum and iron.

Ceramic tile: its fine blade can cut tiles precisely.

Laminate: easy cutting of kitchen worktops to install appliances.

Plastic: it can cut plastic or perspex with ease.

Plasterboard: for cutting holes in drywall to fit electrical sockets.
However, keep in mind that a jigsaw will not cut cast iron or concrete. Professionals, as well as DIY enthusiasts, love this tool because of its flexibility in making various types of cuts: straight, bevel, curves and even circles.
Especially while cutting intricate curves, the absence of the cord makes it a lot easier to work with this tool, since you don't have to worry about the cable getting in the way. On the other hand, the attached battery makes the tool heavier and more difficult to control when you first start using it. So, either you will learn and gain confidence with experience or you can avoid using heavier tools to carry out more delicate cuts.
Of course, there are different types of blades depending on the type of work and material. Using the correct blade will put less load on your machine and result in saving time and more accurate cuts.
Efficiency Of A Battery Jigsaw
When you are looking for a jigsaw, you need to check out some technical specifications to ensure that the tool can produce the desired results.
Power And Battery Voltage
The power of the cordless jigsaw is measured in volts (V). This means that the thicker or harder the material is, the more power you will need to cut it. If your work is mainly cutting smaller workpieces of softer materials, then a portable model of a lower voltage, around 12V, should be sufficient for most of small jobs.
However, if your work includes cutting harder materials like metal, hardwood and thick pieces of softwood, then you must go for a more powerful 18-20 V jigsaw. You should also bear in mind that a higher voltage battery will give you more capacity to store the charge, which means longer run time.
It is highly recommended to invest in an additional battery. There is nothing more annoying than stopping your work to recharge the only battery you have.
Cutting Capacity (Depth)
The cutting depth, which is also called cutting capacity of the jigsaw, varies depending on the type of material you are working with. Here is a guide for the cutting depth of wood, non-ferrous metals such as aluminum and copper as well as mild steel:
Wood: 1½" – 6″

Non-ferrous metals: ⅜" – 1½"

Mild steel: ¼" – ⅝"
Jigsaws that come with a greater cutting depth are much more versatile as you are able to cut through a wider range of materials. However, the downside is that the deeper cutting action can cause the blade to deflect, which can affect the accuracy of the cut.
Strokes Per Minute
The cutting speed of a jigsaw is measured in strokes per minute (SPM). The simpler way to understand the stroke rate is to view it as a number of times the blade moves up/down each minute. The majority of models available on the market have speed around 3,000 SPM, which should be enough for most projects. However, some high-end and heavy duty models can reach the speed of 3800 SPM.
Stroke Length
The stroke length of the jigsaw is measured by the distance the blade goes up and down, which varies from ¾" to 1″. A longer stroke, like 1″ will allow to cut much faster and more easily even in thicker materials.
However, jigsaws having a shorter stroke of about 18mm can give you a smoother cut.
An additional benefit of the longer stroke is that it helps to remove sawdust efficiently which results in less stress put on the blade.
Design Quality
On average jigsaw models of reputable brands tend to be more efficient and reliable in comparison to cheaper products. The main trick is in allowing more power to be transferred from the power source to the blade. This helps to use the consumed electrical power more efficiently, so a better-designed tool cuts through the same workpiece faster and easier than a cheap model of the same voltage.
You may pay more for a jigsaw of a reputable brand, but it will be more efficient, more economical to run and the tool will last longer.
Features
Orbital Or Pendulum Action
Some people often get confused between a pendulum and orbital action. Both of these terms mean the same. To put it simply, the blade obviously moves up and down, but with a pendulum motion it also moves back and forth. This lets you cut through softwoods significantly quicker. The only downside is that you may end up with a rougher finish.
The pendulum motion oscillates the blade in and out of the cutting area, allowing the blade to stay cooler as it cuts. This clearly makes for longer blade life, and also the higher speed with which the work is completed, gives the motor a longer life.
It is advisable to turn off the pendulum setting while cutting hard metals because it will cause vibration to the workpiece resulting in less control. However, you can use a low setting to cut aluminum and plastic.
Another advantage of this feature is that the sawdust will drop off the cutting line, which will give you a clear view, resulting in a faster and accurate cut. The jigsaw sometimes comes with 4 or 5 pendulum settings, and you can adjust the aggressiveness via a switch. It is highly recommended to choose a jigsaw that has orbital action, as the difference in cutting speed is significant.
Brushless vs Brushed
In the past few years brushless models of jigsaws have become very popular. Brushes are parts of an electric motor that mechanically wear out over the time. The reason of the wear is that they are in a constant contact with the commutator inside the tool. When the commutator rotates, it creates friction which results in the brushes wearing out.
Friction also causes heat that slowly damages the motor. As a result, a brushless motor will last longer than a brushed one. Keep in mind that having a regular brushed motor tool, you may need to replace the brushes every so often if you use your jigsaw on a regular basis.
In a brushless jigsaw, the part of the power from the battery is not lost in the process of overcoming the friction. Since the batteries don't have to work as hard, you will be able to perform more work per one charge and this will also prolong the battery life in general.
Although, brushless models come with a higher price tag, they are more powerful, reliable and drain batteries slower. However, if you don't need a heavy duty tool for a frequent use, you might find a more affordable brushed saw more cost-efficient.
Variable Speed
Jigsaws are available with a single or multiple speeds. The single speed might be a fast rate of, for example, 3000 SPM, which can be comfortable for cutting materials like pine, fiberboard and plywood. However, it will be too fast for materials such as hardwood, aluminum, steel and fiberglass. You will also need the slower speed when you are cutting complicated curves and tricky corners. A jigsaw with a variable speed will allow you to start your cutting slowly for precision and increase the speed once the saw is on the right path.
The variable speed jigsaws come with two types of speed controls: dial or trigger. Understanding the two controls is easy if you take the example of a car. The dial is like the gears and the trigger is like the accelerator.
You can push the trigger harder in order to control the speed right during cutting. While using the dial the top speed of the jigsaw will be limited to the setting you have selected. In order to change the speed, you will need to stop cutting and adjust the speed on the dial.
Scrolling Jigsaws
There are jigsaws that come with scrolling action. This function allows you to change the direction of the blade for up to 360 degrees. This is a handy feature for cutting complicated and tight curves. It is also helpful if you are working in a limited space so you won't need to move the entire jigsaw to change the direction. The rotating knob is located on top of the tool's body, in line with the blade, to make it easier to rotate during the cutting.
Anti-Splintering Insert
It is a handy attachment and really does what it says. It gets clipped to the shoe of the jigsaw and prevents splintering of fragile materials. In addition, it also helps to get straight and clean cuts.
Laser Guide
The laser beam assists you in achieving a higher cutting accuracy by helping you follow the cutting line.
LED Light
A LED light illuminates the cutting surface for better visibility. It may be handy especially if you are working outdoors and running out of daylight.
T-Shank vs U-Shank and Hook/Bayonet Shank
Jigsaws are also classified by the type of blade shank they are compatible with. Blades come with either T-shank (tang shank) or U-shank (universal shank). T-Shank is the newest standard and the most convenient one because it allows a quick and easy no tool blade change process. These blades come with a tang on top which fits into the blade holder of a jigsaw. Nowadays this kind of blades is the most popular on the market.
The U-shank blade is shaped like a "U" on the top. This type is becoming less acceptable because you will need a tool to replace it – a wrench or a screwdriver. You should also bear in mind that the word "universal" does not mean that it will fit any jigsaw. Some U-shank blades have holes in them, others don't. If your jigsaw's mounting mechanism requires fixing a blade with a screw, you need a U-shank blade with a hole or two holes, depending on your model.
You may have also heard of another type of blade known as Hook or Bayonet shank. It is an obsolete standard now with the advent of newer models. This type was mostly used in the older models of Black and Decker jigsaws.
Overall, it is highly recommended that you choose a jigsaw that supports T-Shank blades. They are easily available and very convenient to use. However, you can also find some models that support both U-Shank and T-Shank blades, which might be suitable for those who are carrying a stock of unused U-shank blades.
Dust Collection (Extraction) vs Dust Blower
Some jigsaws feature a dust blower that directs air onto the cutting line to remove the splinters for better visibility while following the cutting line. The downside to this system is that it may spread the dust all over your workshop. You can also find models that have a port in the rear you can attach a workshop vacuum cleaner hose to.
If your jigsaw does not have this feature, then you can always get a dust collection kit. This is basically an adaptor which allows you to connect a vacuum cleaner to your jigsaw. You can find them for $10-$20. However, you need to make sure that the kit is compatible with your jigsaw model as well as with your vacuum cleaner.
Bevel Cut Setting
Most of the time, jigsaws are used with the shoe set perpendicularly to the base. However, there will be times when you need to make bevel cuts in your projects. For this purpose, a lot of the models allow the jigsaw shoe to tilt at the desired angle.
Most of the tools available nowadays will allow you to set the angle up to 45 degrees. This is done by loosening a screw on the bevel cutting gauge. In most cases, you will need an Allen key or a screwdriver to loosen the screw. Once the screw is loose, you can easily tilt the shoe to any required angle and then tighten the screw.
Some models offer toolless shoe adjustment by providing a built-in lever which will loosen and tighten the base. This makes the tool more user-friendly instead of having to carry an Allen key with you.
Anti-Vibration Technology
Some vibration is unavoidable and should be considered as the nature of the beast.
However, leading manufacturers are introducing more dynamically balanced tools which guarantee less tool vibration. In some cases, quite substantially up to 40% less. This should be enough to make the work less stressful for your hands and at the same time, produce more precise and accurate cuts.
On Board Blade Storage
Some models of jigsaws come with an on-board blade storage compartment which is usually located on the side of the tool and can store up to 2/3 blades. This is a convenient feature so your blades are always readily available when you need to use them.
Weight
The weight of a jigsaw is an important factor to consider, especially if you are a person with limited physical strength. Lighter jigsaws are a lot much easier to control than heavier models.
Safety
Lacerations are common injuries when using a jigsaw. They can happen when the operator's hand gets close to the blade resulting in cutting the skin or worse. To prevent this, the use of appropriate gloves is essential.
Do not try to force the jigsaw if it's stuck in a hard material. Stop to check the cause. Also, keep other people or pets away from the jigsaw while it's being in use.
Maintenance
Regular cleaning and maintenance of your tool will result in better efficiency and longevity. This includes oiling the blade from time to time so it does not jam while cutting. In addition, you need to clean the ventilation slots so that they don't get clogged with dust or debris which can result in overheating. Use a toothbrush to clean the blade guide (very important) and then give it an overall cleaning with a dry cloth.
Above all, the battery maintenance should never be underestimated. It is the lifeline of your tool. Your jigsaw will come with one of these two types of batteries:
Nickel Cadmium (NiCad): they are less expensive and fairly durable. However, they do deteriorate after fewer number of charges than Lithium Ion. They also add extra weight to the tool.
Lithium Ion (Li-Ion): they offer a much longer life and can be charged as often as you like. They require little charging time and almost no maintenance. However, they are more expensive than NiCad and should not be left uncharged for a long period.
Regardless of the battery type, they should be recharged regularly and should be allowed to reach full charge. Store your batteries in a cool and dry place in a carrying case so they don't get damaged or scratched.
Types Of Cordless Jigsaws
All cordless jigsaws are portable but the power of the tool depends on the battery voltage. You can find jigsaws ranging from 12V to 36V.
There are also tools available which combine the function of a jigsaw and the reciprocating saw. This is done simply by pressing a button which will pivot the blade from a horizontal position of a reciprocating saw into a vertical position which can then be used as a jigsaw.
Reviews of Top 4 Rated Cordless Jigsaws
---
1
Carvex PSC 420 EBQ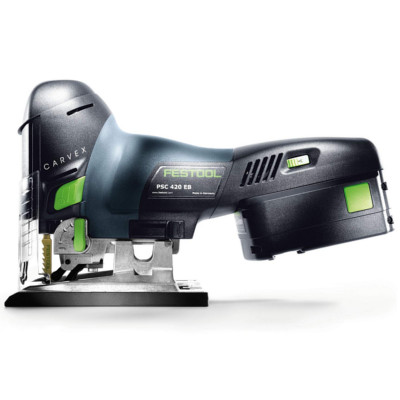 Pros:
The visibility of the cutting line is enhanced by the LED stroboscopic system.

Long battery life.

Very easy to change the blade.

Cuts tight curves very well.
Cons:
The power switch may feel uncomfortable to reach with the thumb.

It takes a while to get used to changing the setting of the LED.
Carvex PSC 420 EBQ 18V Jigsaw.

18 Volt Lithium-Ion battery.

TRC 3 charger.

2 Wood blades.

Chip catcher.

Splinter guard.

Systainer 1 T-Loc carrying case.
Variable blade speed reaching up to 3800 spm.

LED light offers better visibility and comes in three settings.

3.0 Ah Lithium-ion battery.

Brushless motor.

Tool-less base change.

Triple blade guide system.

T-shank blade standard.

Bevel adjustment: +/- 45°

3-Year Limited Warranty.
You will be impressed by the features of Carvex PSC 420 Jigsaw. The tool-free blade changing system, stroboscopic LED and easy base changing option certainly stood out for me. This is a serious tool designed for professionals. It's pricey, but if you are not too restricted by your budget and need a high-end jigsaw, it should be seriously considered to become a part of your toolbox.
2
Makita BJV180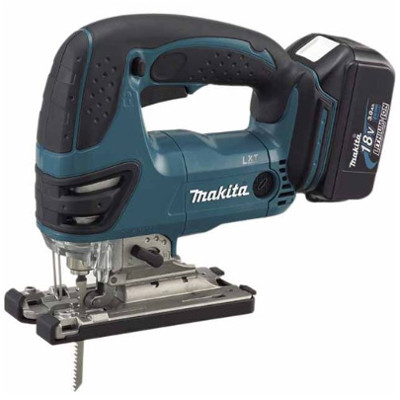 Pros:
"Tool-less" push-in blade lock is very convenient to install and remove the blade quickly.

Low vibration and noise level, allow better control.

It has plenty of run time to finish the job.
Cons:
A bit pricey but really worth the price. As the saying goes " you get what you pay for".

This model is discontinued by the manufacturer, only available while stocks last.
Makita BJV180 jigsaw.

2 18V LXT Lithium-Ion battery.

30-Minute rapid charger.

Blade set (B-10, B-13, B-22).

Cover plate.

Anti-splintering device.

Contractor bag.
Variable speed motor delivering 0-2,600 strokes per minute.

3 Orbital and 1 straight cutting settings.

Built-in LED light.

Lithium-Ion battery.

Push-in lock blade system does not require any tools for a fast and easy blade change.

Compact and ergonomic design weighing only 6.1 lbs.

3-year warranty on tool and 1-year on the battery and charger.
Makita are known for their quality and after-sale service. They have always produced great tools and this one is no exception. Features like 4 cut settings (3 orbital and 1 straight), tool-less blade change system and variable speed settings backed up by Makita 3 years warranty, certainly give it an edge over other tools.
3
DEWALT DCS331M1 20V Max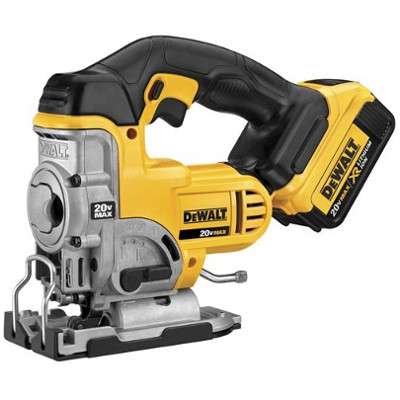 Pros:
Quick and easy blade change with key-less action.

A plenty of power with a 20V battery.

Dust blower is effective and keeps the cutting line clean.

The blade stops instantly upon releasing the trigger.
Cons:
It does not come with a light.

A little pricey but the battery and charger are included.
Dewalt DCS331 Jigsaw.

1 Li-Ion battery.

1 fast charger.

1 Jigsaw blade.

1 Kit box.
4-position orbital action.

Variable speed 0-3,000 spm.

Keyless shoe bevel up to 45°.

Keyless blade change.

Dust blower for cleaner cutting surface.

Anti-slip grip for better control.
DEWALT DCS331 Jigsaw may appear to be a bit pricey but remember that it comes with the battery as well as the charger. In addition, when you take into account all the features such as the variable speed, keyless blade change, 4-position orbital action and much more, this tool is well worth the price.
4
Bosch JSH180B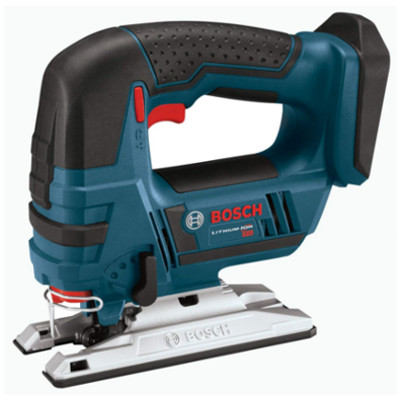 Pros:
Tool-free blade change mechanism.

Onboard Allen wrench to change the angle of the baseplate.

Plenty of power even to cut through metal with ease.

Electronic protection system against overload or overheating.
Cons:
Battery and charger are not included.

It does not come with a hard case.
The Bosch JSH180B Jigsaw.

3 Jigsaw blades

1 Anti-splinter insert
Tool-less blade change for convenience.

The footplate is adjustable allowing cuts up to 45 degrees.

Lighter weight in comparison to its close competitors.

Incorporated dust blower.

LED light for better visibility.

The motor is protected against overload.
Bosch has earned their reputation worldwide through providing high-quality tools for DIY enthusiasts and professionals. You can't go wrong with this Bosch JSH180 lithium-ion jigsaw. It is loaded with features like easy one hand blade change, a powerful blower and LED light. It is also backed up by Bosch warranty and an efficient customer support.
5 Best Rated Small Cordless Jigsaw Reviews
---
5
Makita VJ06R1J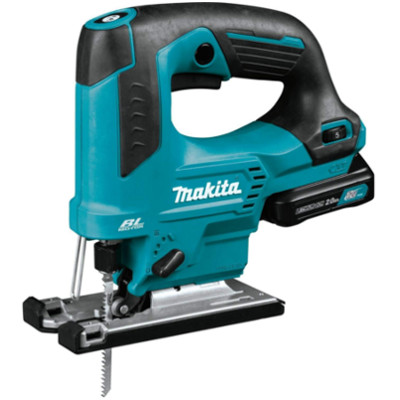 Pros:
Battery and charger are included.

Very lightweight, weighing only 4.1 lbs with battery.

Firm grip with rubber handle.

Brushless motor provides a longer life.

The heavy gauge aluminum base for accurate cutting and durability.
Cons:
The price is a bit too high.
1 Makita Jigsaw.

2 Lithium-Ion 2.0Ah battery.

1 Lithium-Ion Charger.

1 Interlocking case.

1 Jigsaw blade.
5-speed control dial (800-3, 000 SPM) gives you various speed options.

Brushless motor for better power and longer battery run time.

3 orbital settings and straight cutting provide more accurate cuts.

Tool-less blade change system.

Built-in dust blower.

Speed trigger with lock-on button for your convenience.
The compact and ergonomic design of Makita VJ06R1J is liked by a lot of users. It delivers efficient cutting and is easy to maneuver due to its lightweight and comfortable grip. Makita offers a 3-year warranty to give you a long trouble-free use of this tool. The price includes the battery and the charger, which makes it a better investment.
6
Milwaukee 2445-21 M12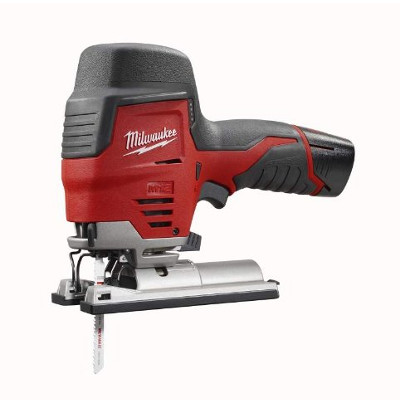 Pros:
It is compact and has great cutting performance.

The barrel grip feels a lot more comfortable in your hand.

Good price considering that it comes with a battery and a charger.

The battery holds the charge for a long period.
Cons:
A bit too pricey for its class.
Milwaukee M12™ Jigsaw.

Lithium-ion battery charger.

1 Battery pack.

1 Wood cutting blade.

Anti-splintering insert.

Contractor bag.
T-Shank blade clamp for easy change.

Tool-less bevel adjustment at 45° with positive lock at 90°.

LED light for improved visibility.

The ergonomic grip provides better cutting control.

It is designed to minimize vibration for smooth cutting.
The Milwaukee M12 cordless jigsaw is an ultra lightweight and compact tool for a wide variety of applications. It provides a good cutting control with its hybrid grip. The tool-free bevel capability allows you to change the adjustment quickly. The powerful 12V Lithium-Ion battery provides the power to cut through wood, metal, tiles and plastic with ease.
7
Craftsman Nextec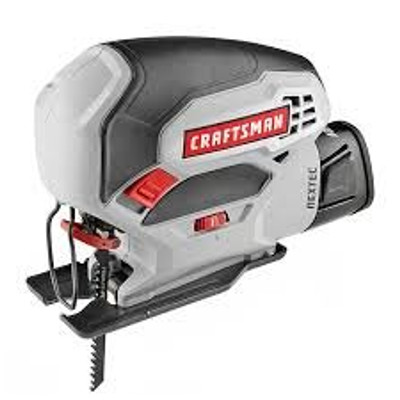 Pros:
Palm grip feels comfortable.

Ergonomic shape offers a good control.

Tool-less blade change.

1-year warranty.
Cons:
Battery and charger are not included.

The power switch is not conveniently located for one hand operation.
1 Craftsman Nextec Jigsaw.

1 Wood blade.

1 Allen key.
Variable speed 1400-2000 SPM.

Jigsaw uses a 5/8" blade stroke to cut through materials of any thickness.

The battery gets fully charged within 30 minutes with its quick boost charger.

Integrated LED light.
The Craftsman 12v Cordless Jigsaw is a powerful lightweight tool which is ergonomically designed to give you accurate cutting. You can recharge its lithium Ion batteries very fast with the quick boost charger. Other useful features include tool-less blade change, LED light and delivering 1400-2400 strokes per minute. If you are still not sure which cordless jigsaw to buy, this should certainly be in your shortlist.
8
Bosch GST 10.8 V-LI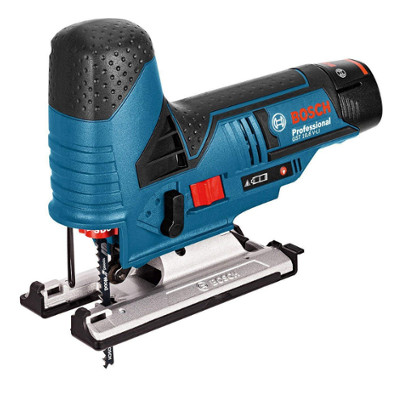 Pros:
The grip position is very close to the cutting line which allows accurate cuts.

Barrel grip makes this tool comfortable to work with.

It is very compact and lightweight.

Battery lasts for a long time.
Cons:
Battery and charger are not included.
1 GST 10.8 V-LI Jigsaw

2 Saw blades

1 Anti-Splinter guard

1 Dust extraction set

1 Glide Shoe

1 Inlay for L-boxx
Bright LED light provides a good view of the cutting line.

3-stage pendulum action for tear-free cuts.

Long battery runtime.

Bosch Electronic Cell Protection (ECP) protects the battery against overload and overheating.
Bosch GST 10.8 V can be a great addition to your toolbox. It is a powerful tool with variable speed and pendulum action which will give you total control regardless of the material. A LED light is situated directly above the blade to brighten the cutting line. You can also adjust the footplate to an angle up to 45°, and Bosch has put in a battery level indicator so you don't run out of power suddenly.
9
WORX WX550L.9 2-in-1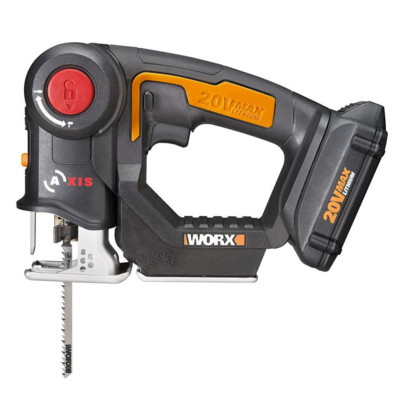 Pros:
Converts easily from a jigsaw to a reciprocating saw.

Can be operated with almost any brand of blade to cut a variety of materials.

Inexpensive.

The grip handles feel very soft and comfortable.
Cons:
Battery and charger are not included in basic price.

It does not have LED light.
WORX WX550L.9 Reciprocating saw/jigsaw.

1 Blade.

You have the option to buy it with the battery and charger at an extra cost.
2-in-1 Jigsaw / Reciprocating Saw which converts by simply pushing a button.

Accepts tool-less change of reciprocating saw and jigsaw blades.

The saw is very lightweight with a compact design.

Ergonomic grip for better control.

Built-in dust blower.
The WORX 20V AXIS is a great tool to have and can be converted from a reciprocating saw to a Jigsaw simply by the push of a button. It is lightweight, weighing just nearly 4 lbs. It also features an orbital cutting action and is compatible with both jigsaw and reciprocating saw blades. In addition, it comes with a built-in blower to remove sawdust or debris for better visibility.
Leading Cordless Jigsaw Brands and Manufacturers
We recommend you to give priority to well-established manufacturers. They tend to be more careful with the design quality, offer you a valid warranty and, more importantly, they usually have a good after sale service. When it comes to jigsaws, the most popular brand is Bosch. Other leading brands are:
Milwaukee
Dewalt
Makita
Ryobi

Ridgid

Bosch

Festool

Black & Decker
Hitachi
Porter-Cable
Craftsman
Skil

Harbor Freight
Prices of Cordless Jigsaw
The price of a jigsaw depends on the brand, features and quality of the tool. Cordless jigsaws are often sold without a battery and the charger because many users prefer to buy it separately as they may already have a compatible battery/charger from their other tool of the same brand, for example a drill, so they can save. You will also find full kits available which come with the battery and the charger and sometimes a case or a bag at a higher price.

Cordless Jigsaws under $50
You can even find cheap models starting from just $30, of course, they won't have the battery and the charger included. Nevertheless, they may even have features like variable speed, dust blower or orbital action, and be manufactured by a leading brand. They can be a good option for beginners in DIY or if you only need to use them for occasional small projects at home.
Jigsaws under $100
In this price range you can find even well-established manufacturers selling affordable jigsaws with a battery included. However, for the most part, there are inexpensive models of unknown brands.
$100-$300
There are a lot more offers if your budget allows you to buy in the price range of $100-$300. You can find a variety of solid heavy duty tools. Typically, cordless kits with battery and charger start at the point of $175.
$300 and above
In this range, you can find high-end professional models with all the much-needed features as well as accessories such as hard cases. The most expensive models can cost up to $600.
Where to Buy a Cordless Jigsaw?
You can buy cordless jigsaws from many brick and mortar stores near you. But the best deals are most often available online, particularly on Amazon, eBay and Walmart. Remember to check during the holiday season when sales and special offers appear on their sites.
Related Guides